Cornilleau Competition 740 ITTF Indoor
$1,849
$2,220.00
Save $371.00 (17%)
FREE SHIPPING with liftgate delivery to contiguous US locations. Most deliveries take 5-9 business days.
This is the latest edition with minor aesthetic changes.
Approved by the International Table Tennis Federation (ITTF) for competition play, the Cornilleau 740 ITTF indoor tennis table is unparalleled when it comes to quality of play and performance.
The Cornilleau 740 ITTF Indoor features:
• 1" high-density chipboard playing surface with SKILTOP® finish for excellent ball adherence and bounce, ITTF Approved
• 2 3/4" structural galvanized steel frame to support the playing surface
• All galvanized steel frame construction designed to be sturdy and easy to handle
• 5" rubber-coated ball bearing casters with locks
• Retractable net that automatically folds in-between the tops for protection and to reduce storage space
• 3 years warranty on materials and workmanship

SKU#117600
• Package dimensions: 62" x 56" x 8"
• Shipping weight: 293 lbs
Cornilleau has designed, developed, and produced high-quality table tennis (ping pong) tables at their plant in France for more than 45 years. Cornilleau products are available in over 75 countries worldwide. State-of-the-art production methods, high quality materials, and a thorough quality control process result in the best tables on the market. Cornilleau tables are produced using galvanized steel and other anti-corrosion materials to provide many years of play.
The Cornilleau Pro 510 Outdoor is an extremely sturdy stationary table for heavy-duty use by parks, resorts, prisons, camps, and the discriminating homeowner. The table can be bolted to the ground to prevent tampering. It features the same quality and material used in all Cornilleau tables including galvanized steel to provide many years of trouble-free play.
Competition 740 ITTF Pros and Cons
Pros:
• The 740 ITTF Indoor is a competition-level table built for enthusiasts who demand professional performance and sturdy construction.
• 1" SKILTOP surface offers an incredible bounce with optimal friction for spinny shots.
• The DSI folding and locking mechanism is one of the most secure systems on the market. With a central release handle that controls 16 locking points, it's incredibly safe and easy to use.
• This table is ITTF approved.
• Fold-up playback mode.
• Cornilleau stands behind their indoor tables with a 3-year warranty.
Cons:
• This is a heavy table that weighs 257 lbs.
• Fixed net system is convenient but limits replacement options.
• Does not have built-in ball or racket holders.
• This table requires considerable assembly. For a product with similar performance that arrives fully-assembled, check out the JOOLA 3000-SC.
-Only available in blue. Looking for a green table? The Butterfly Centrefold 25 is another excellent option.
Additional Material
Cornilleau has been making tables in France for over 45 years. They utilize state-of-the-art production methods for their tables, use only the highest quality materials, and employ a thorough quality control process resulting in some of the most durable tables on the market.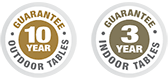 Cornilleau Warranty
Cornilleau tables are backed by some of the strongest warranties in the industry with a 10-year warranty on outdoor tables and a 3-year warranty on indoor tables.
This warranty applies to all the various components with the exception of wear parts (wheels, net and net posts). All Cornilleau tables adhere to the European safety standard EN 14468. In order to ensure the highest level of safety, Cornilleau has positioned itself a long way above this standard.
---
See what's on sale in May 2020.
What to look for, what to avoid, and more.
Truck delivery info, extra services etc.
Warranty Plus: Additional Warranty Support If Needed
Megaspin offers an additional layer of support to standard manufacturer policies, at no extra charge, to ensure that any warranty claim or product defect issue is resolved with the manufacturer in the shortest time possible and to your maximum benefit. Our responsive and enthusiastic support team will be there to help you when you need us. See what others are saying.
Best Price Guarantee
We guarantee to have the lowest prices (shipping included) in the US. Please tell us if you see a lower price.
Reviews of Cornilleau Competition 740 ITTF Indoor (4)
External Review

for

Cornilleau Competition 740 ITTF Indoor

on October 19, 2014
Same table as Killerspin RAD. Sturdy, has quick set up, and an excellent bounce, noticeable even on edge balls. Net posts and post mounting are plastic attached to the frame. It's DHS made high quality top is 25mm thickness. Not as compact when folded as Butterfly Centrefold 25, but still rather compact, unlike say Stiga tables.
---
External Review

for

Cornilleau Competition 740 ITTF Indoor

on September 15, 2013
External Review

for

Cornilleau Competition 740 ITTF Indoor

on February 21, 2012
The table has an excellent bounce, the table is also really convenient. The spin is the same as most pro tables too.
---
External Review

for

Cornilleau Competition 740 ITTF Indoor

on April 11, 2010
Pros: the table full of superlatives. the best folding mechanism I have ever seen. Multiple securities, consistency over time, only one person required. Easily adjustable posts. 10 years spare parts guarantee. The wheels are perfect and durable.
Cons: the net locking system with a chain of beads is strange (unless we're missing a part).