Cornilleau Black Code
FREE SHIPPING with liftgate delivery to contiguous US locations. Most deliveries take 5-9 business days.
This Black Code Ping Pong table is endowed with a neat and modern design. Arched legs for greater stability, big wheels like an adventurer, and racket holders on the sides. Easy opening and folding of the net to save some space. This table tennis table has top of the range features and will be perfect for fun games at a reasonable cost and triumphant design for your garden.
Specifications
Reference
Model: Black Code
Colors of tops: 133814
Use: Outdoor
Playing Quality
Thickness: 5mm - black
Coating: SOFTMAT
Tabletop Durability
Playing Surface: Resin laminate Ultra-durable
Frame Surface: Aluzinc Outdoor Ultra-durable
Safety
Compact Technology: Yes
Locking System: DSI (Double Safety Integrated)
Locking Points: 16 points
Corner Pads: Yes X4
Stability
Frame height: 50 mm
Leg dimensions: 100 x 60 mm
Leg type: Arched
Adjustable leg pad: Ø 120 mm
Wheels type: Special Outdoor (Double wheels Oversize)
Brakes: 4
Equipment - Ergonomics - Manoeuvrability
Wheels (thickness x diameter): 32 mm x 200 mm
Centralized control: Yes
Racket storage: 4
Ball storage: Yes
Solo Game: Yes
Wheelchair play: Yes
Net type: Folding
Dimensions
Table weight: 67 kg
Packaged weight: 77 kg
Playing dimensions: 2740 x 1525 x 760 mm
Warranty
Pieces Warranty: 10 years with exceptions (wheels, net, and net posts)
Playing Surface Warranty: 10 Years
Approval: FFTT LEISURE (HIGH QUALITY)
Category (European Standards): EN 14468-1 – CLASSE C
Additional Information
Cornilleau has been making tables in France for over 45 years. They utilize state-of-the-art production methods for their tables, use only the highest quality materials, and employ a thorough quality control process resulting in some of the most durable tables on the market.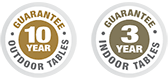 Cornilleau Warranty
Cornilleau tables are backed by some of the strongest warranties in the industry with a 10-year warranty on outdoor tables and a 3-year warranty on indoor tables.
This warranty applies to all the various components with the exception of wear parts (wheels, net and net posts). All Cornilleau tables adhere to the European safety standard EN 14468. In order to ensure the highest level of safety, Cornilleau has positioned itself a long way above this standard.
---
Tables to order in August 2019
What to consider when ordering a table
Truck delivery info, extra services etc.
Best Price Guarantee We guarantee to have the lowest prices (shipping included) in the US. Please tell us if you see a lower price.
Reviews