Cornilleau 850 Wood ITTF Indoor
$2,499
$3,000.00
Save $501.00 (17%)
FREE SHIPPING with liftgate delivery to contiguous US locations. Most deliveries take 5-9 business days.
The Cornilleau 850 ITTF Wood is the newest indoor table manufactured by Cornilleau. The table is a unique combination of outstanding performance and elegant design. This table is approved by the International Table Tennis Federation (ITTF) for competition play.
Formerly known as Cornilleau Competition 850 Wood .
The Cornilleau 850 Wood ITTF features:
• 1" high-density chipboard playing surface with SKILTOP® and spin-sensitive finish specifically designed for plastic balls
• Non-reflecting, mat, water-based and environment-friendly paint
• Frame 2 3/4"solid wood legs, allow better channeling of vibrations for unmatched sound
• Angle apron (on playing edge)
• ITTF Approved
• 5" rubber-coated ball bearing casters with locks
• Retractable permanent net posts with cotton net with tension and height adjustment
• Permanent weather-resistant polyester net system with tension and height adjustment - Wheel brakes to secure the table in play mode or storage mode
• Adjustable leg height to smooth out uneven surfaces
• 3 years warranty on materials and workmanship
The table weighs 268 lbs and folds compactly for storage at 62" H x 74" W x 30"D
SKU#118602
• Package dimensions: 62" x 56" x 6"
• Shipping weight: 308 lbs
Cornilleau has designed, developed, and produced high-quality table tennis (ping pong) tables at their plant in France for more than 45 years. Cornilleau products are available in over 75 countries worldwide. State-of-the-art production methods, high quality materials, and a thorough quality control process result in the best tables on the market. Cornilleau tables are produced using galvanized steel and other anti-corrosion materials to provide many years of play.
The Cornilleau Pro 510 Outdoor is an extremely sturdy stationary table for heavy-duty use by parks, resorts, prisons, camps, and the discriminating homeowner. The table can be bolted to the ground to prevent tampering. It features the same quality and material used in all Cornilleau tables including galvanized steel to provide many years of trouble-free play.
---
Customers who purchased Cornilleau 850 Wood ITTF Indoor also purchased:
Additional Information
Cornilleau has been making tables in France for over 45 years. They utilize state-of-the-art production methods for their tables, use only the highest quality materials, and employ a thorough quality control process resulting in some of the most durable tables on the market.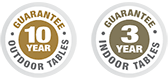 Cornilleau Warranty
Cornilleau tables are backed by some of the strongest warranties in the industry with a 10-year warranty on outdoor tables and a 3-year warranty on indoor tables.
This warranty applies to all the various components with the exception of wear parts (wheels, net and net posts). All Cornilleau tables adhere to the European safety standard EN 14468. In order to ensure the highest level of safety, Cornilleau has positioned itself a long way above this standard.
---
Tables to order in November 2019
What to consider when ordering a table
Truck delivery info, extra services etc.
Best Price Guarantee We guarantee to have the lowest prices (shipping included) in the US. Please tell us if you see a lower price.
Reviews