The Best Outdoor Ping-Pong Table for 2023
First published on Tuesday, January 4, 2022
Last updated on Monday, January 2, 2023
Perhaps you've already got a nice table in your house and want a second for the yard, or maybe you don't have enough space inside and are seeking a solution. An outdoor table could be exactly the thing you need and we'll help you find the right one!
Now, you might be thinking, how hard can it be to pick out an outdoor table?
Well, have you ever suffered from buyer's remorse? That feeling of regret after making a large purchase. Thoughts such as, "Should I have gone with the first one?" and "I knew I should've listened to my gut!" are commonplace. Most of the time, these feelings are unwarranted and they subside as quickly as they appeared. However, fast forward a few years down the road…
Do you want to look out your window and see a table that has stood the test of time or a pile of rusty metal and warped wood that provides no clues as to what came before it?
To help you make the right purchase that leads to years of enjoyment, we'll discuss the most important features and what sets certain tables apart. Durability, portability, and playability are three key characteristics to explore and we'll also show you our most popular tables.
Best Outdoor Tables
Here are some of our most popular outdoor tables. Don't worry if you do not understand all of the terminology yet. We will cover the features in great detail and provide a framework for what you need to consider when purchasing an outdoor table. There are also in-depth overviews of these tables at the end of this article.
JOOLA United Pro: The United Pro combines JOOLA's ingenuity and experience in a value-driven design. You won't find any flashy bells and whistles on the United Pro Outdoor, but you will find a reliable table that can bring years of fun and enjoyment.
Cornilleau 300X: The 300X is the epitome of a well-balanced table. With its lightweight build, one-piece design, and oversized wheels, it is an exceptionally portable table with an array of features. The anti-glare 5mm playing surface and fixed net offer great playability.
Cornilleau 700X: With just one look at the 700X from Cornilleau, you might start pulling out your pocketbook to take inventory. This high-end table has a one-piece design, 8mm anti-glare tabletop, oversized wheels and a fixed net system. Sturdy and portable, the 700X brings a lot to the table.
Cornilleau Park: A hulking hunk of metal transformed into a powerhouse of a table. The galvanized steel frame supports a 9mm resin laminate top with anti-glare coating. Built for institutions and heavy use, the Park Outdoor fits right in at large universities, complexes, and public parks. This stationary one-piece table is incredibly resilient, not to mention fireproof.
JOOLA Berkshire: A high-end, multi-functional outdoor table that doubles as a dining room or conference room table when the net is detached. JOOLA's extensive experience lends itself to a next-level creation with a designer look and durable construction.
RS Barcelona You and Me - White: RS Barcelona's motto of "Intense Living" shines through with this delightful designer table. With the goal of promoting unforgettable experiences and shared moments, the RS Barcelona You and Me is a tremendous success. The versatility of this table is unparalleled, with the only limit being your imagination.
In order to choose the best table for you, it's important to take certain factors into consideration.
Who is the table for? Families looking for a fun activity to do at home will prioritize different features than a large recreational complex or institution. There are many industrial-strength tables that can stand up to years of heavy use and plenty of lower-end options that have all the features needed for a good time. Make sure to pick the table that matches your situation.
Where is the table going to be used? Certain tables are made for permanent installation while others can be stored easily in between playing sessions. Consider the playing area and storage options. Think about how often the table will be folded up for storage, and what that process will be each time. Weight, wheel size, and table design all play a role.
What is your budget? Outdoor tables start out around $500 and can cost upwards of $6,000. The higher you go, typically the more features and better materials you find. However, it isn't necessary to break the bank because there are many well-priced tables from respected manufacturers. With sufficient research and a little guidance, you can find great value.
Most Important Features
Essentially, an outdoor table consists of the tabletop, frame, folding mechanism, wheels, net, and optional features such as accessory holders.
Tables can be classified into different categories by their design, primary or intended use, and price. Whether you're picking out a table for your backyard or a dozen for your commercial properties, these will be the specifications to take into account.
Table Design
Much like indoor tables, outdoor tables fall in a few different categories based on their design.
Two-piece tables consist of two separate halves and it is the most common design among lower-end outdoor tables. There is no central folding mechanism, rather each half folds up on its own. This design allows for the most compact storage, since the two halves can be pushed together to lay flat against each other. The weight is also more manageable, since each half moves independently. The two-piece design is simple and popular. An added bonus is that these tables typically have fold-up playback mode for solo practice.
One-piece folding tables are usually mid-range to high-end options, but certain low-end tables also share this design. The two table halves are connected by the frame and folding mechanism. Using safety locks and release handles, one-piece folding design tables are a very secure option that still allows for portability. Typically, one-piece folding tables have large wheels to provide stability on rough or uneven surfaces. It is less common to find solo playback mode on one-piece outdoor tables.
One-piece stationary outdoor tables are reminiscent of high-end designer indoor tables, except instead of dazzling with their beauty, they impress with their mighty stature. Often referred to as "Park" or "Institutional" tables, these are built for heavy use, relying on sound engineering and durable construction. They do not fold up and the legs are often fixed to the ground for security. Made of industrial-grade materials, these tables are built to last for a long time. Portability is traded for durability.
Tabletop Specifications
A tabletop is judged based on two main factors, the surface thickness and material used. The thickness affects the bounce and the material determines the useful life of your table.
Indoor tables mostly range from 15mm to 25mm, with some outliers. On average, outdoor tables have thinner playing surfaces. You will find a lot of tables between 4-6mm, and higher-end tables can go up to about 10mm. All else equal, you should choose the table with the thickest playing surface. Tabletop thickness plays a major role in the consistency of the bounce and overall playability of the table. Tables with thicker tabletops tend to be heavier. While high-end indoor tables still offer the best performance, top outdoor tables such as the Cornilleau 700X can provide a bounce that compares to ITTF-Approved tables.
The material of an outdoor table is also different. You can find a lot of particleboard and wood on indoor tables, but outdoor tables rely on composite materials and special treatments. Aluminum and plastic composites are common on lower-end tables. Another material found across the entire spectrum of tables is melamine, an incredibly durable and heat-resistant resin.
One more worthwhile feature is anti-glare coating. This will help reduce glare during the brightest times of the day and improve the table's playability. Many brands advertise this feature due to its importance. As with most optional features, you'll find it more often on the higher-end tables. Watching product videos and reading reviews can be a helpful way to see how well a table handles glare. Worst case scenario, you can wear your coolest pair of shades.
Frame & Supporting Structure
While the tabletop gets most of the attention, the frame of a table offers vital support and determines the structural integrity of the table. Much like offensive linemen in the game of football, the frame is the unsung hero that empowers the other components to perform at their best. The frame of a table needs to be strong without being cumbersome. When compared to an indoor table, an outdoor frame has even more work to do since it is exposed to the elements. Sun, rain, dirt, and the frustration of poor sports, all add up to more punishment and a need for protection.
The best tables use reinforced metals and alloys to build their supporting structure. UV and scratch-resistant coatings are employed to level up the durability and keep the tables looking fresh for years to come.
Legs & Wheels
The leg design of outdoor tables is fairly standardized and goes along with a table's level of portability.
Stationary one-piece tables made for permanent installation usually have four points to secure the table to the ground. These are found at the bottom of the leg structure. It's most common to see four individual legs, but some models have beams that lay on the ground and run between each corner point.
Portable one-piece tables usually have 4 legs at the corners of the table and a central structure with wheels under the middle of the table. The legs fold up under each half and the whole table rolls together on the central wheels. It's most common to see two wheels on under each side of the net, with a supporting bar connecting all four.
Two-piece tables have the same style legs under each corner but there is a separate wheel structure under each side of the table. The legs with wheels look like an upside-down letter "T". Each half folds up and balances over the wheels for movement and storage.
With all this talk about the legs, we can't forget the wheels. After all, unless you are permanently installing the table somewhere, you're going to be moving it fairly frequently.
Low-end tables have smaller wheels, whereas high-end tables often boast about "oversized" wheels for enhanced portability. The larger wheels definitely help when moving the table over rough or uneven surfaces. Wheels that are 6" or larger are a good idea if you need to move the table often, over long distances, or on uneven ground. If you look hard enough, you can even find this feature on select low-end tables.
Folding Mechanism
There are many different ways to accomplish the same goal, opening and closing the table. You should look for a folding mechanism that lends itself to safe and easy use. There should be locks to secure the table in each position and conveniently-placed handles for smooth operation. The ingenuity of the folding mechanism is proportional to the table's price and place within the manufacturer's product lineup. Low-end tables will be less secure and possibly more frustrating than the advanced setup of high-end tables. The more often you plan to fold your table up for storage, the more important the folding mechanism becomes.
Net System
Ping pong players spend a lot of time cursing their luck after a ball dribbles off the net onto their side, but it's also an important feature for outdoor tables. An indoor net set only sees the light of day when we crack a window, but a high-quality outdoor net needs to withstand extended exposure to the elements.
Fixed net systems are much more common on outdoor tables and they can be a convenient option. A fixed net is always attached to the table, even when folded up for storage. This means that the net is right there as soon as you open the table as well. These nets are often made of durable materials, but the convenience of a fixed net is offset by a more challenging replacement process. Since each fixed net system is unique to the table model or brand, replacement parts are not as readily available, especially if you have an older table. Fixed nets are most commonly found on one-piece design tables, with institutional tables often having metal nets for increased durability.
Detachable nets, such as clamp or clip-on nets, are the simplest. Nearly all of the lower-end outdoor tables, especially those with two-piece design, have detachable nets. These nets can be taken off and stored safely in between uses. This should prolong the life of the net, but even if there are any issues they are easy to replace. Most other detachable nets should work as a substitute, but check to make sure they will work with the thickness of your tabletop. Sometimes the clamp or clip has an opening that is not compatible with certain tables.
Assembly Process
The assembly of a table can range anywhere from zero minutes to a few hours, with varying degrees of difficulty. If a table arrives pre-assembled, you're sure to see this featured in the product description as it is a great selling point. Some tables require complex assembly so it's best to familiarize yourself with the process beforehand. Read the manual and product reviews. Watch any available videos to get a feel for the assembly process.
For the most part, assembly should be manageable but if you do not feel up to the task, choose a table with easy assembly or hire someone with the skills to get the job done.
Warranty
No one wants to have issues with their table, but things happen and sometimes it is inevitable. A manufacturer's warranty goes a long way to provide peace of mind when dealing with product issues and defects. You can find warranties as short as one-year and all the way up to ten. It's important to familiarize yourself with the terms of the warranty before making your purchase since not all manufacturers provide the same coverage. A warranty is especially important for outdoor tables because of the extra stress they endure. Choose a table from a reputable brand so that you can be confident that any problems during the warranty period will be addressed and resolved in a quick and fair manner.
Additional Features
We've covered the main components of an outdoor table, but there are a couple more interesting features. Accessory holders and playback mode are most appealing to beginner and recreational players, but they can be found on a wide range of tables.
Certain tables have accessory holders on the sides or in the corners and this provides a simple way to store rackets and balls in between playing sessions. Now, you certainly don't want to store your custom racket with your table as it sits outside, but these holders can be useful to store all-weather rackets and balls. It doesn't get any easier than walking out to your table, picking up your racket, and jumping right into the game!
Playback mode allows you to fold up one half of the table and practice without a partner. This feature is most commonly found on two-piece design tables. It caters to the beginner and recreational audience. The ball will fly off the table if you hit it too hard or with too much spin, but playback mode can be a fun way to get a feeling for the game and pass the time.
Appearance & Style
You want to choose a table that fits your tastes and is pleasing to the eye. The most common color is blue but you can also find green and gray, as well as more unique colors. Ask yourself, do you want flash or subtlety? How will the table look in my backyard?
The styling of a table is an important consideration, and perhaps it is something that we can only evaluate subconsciously. After meticulously scanning the product data sheet, poring over the customer reviews, and watching promotional videos, you might still be undecided.
Visualize your ideal table and ask yourself, what does it look like? What features does it have? If you have conducted your due diligence, chances are one of the tables you've found will match up with your mental image.
Table Types & Uses
Safe to say, a table in your backyard doesn't have the same demands placed on it as one in a public park. Personal and private use aren't the only differentiating factors though. In order to pick out the right table, you need to consider how often it will be used and for how long.
If you are a new player or just want to play occasionally with friends and family, a low-end table will be more than sufficient for home use. Try to find a two-piece table with a detachable net that has large enough wheels to maneuver around your playing area. Look out for features such as playback mode and accessory holders. For recreational fun, tabletop thickness takes a backseat to portability and price. There are plenty of solid options priced between $500 and $1,000.
For serious players and organizations that expect moderate to heavy use, it's best to go with mid or high-end tables that offer increased durability while still remaining portable, unless the table will be permanently set up. A portable outdoor table is great to have on nice days and it's sure to help time fly by. The flexibility of a portable table means you can set it up in the perfect place every time and then store it safely after each use. These tables tend to carry a price tag of between $1,000 - $2,500.
Large institutions, complexes, and public parks should examine their needs and choose a table accordingly. There is a reason that the heavy-duty one-piece tables are known as "Institutional" and "Park" tables, they were built precisely for these applications. Nearly indestructible, these tables are designed to withstand constant use for many years. Their exceptional durability and long lifespan justify the high price of tables in this category. You will see options ranging from about $1,800 to almost $5,000. Purchasing one of these tables should be viewed as an investment.
Overview of Top Outdoor Tables
---
JOOLA United Pro Outdoor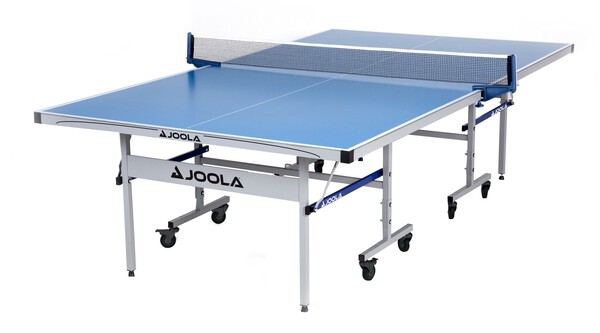 Design: Two-piece
Tabletop: 6mm aluminum-plastic composite
Weight: 166 lbs
Storage dimensions: 67" x 62" x 22"
Net Style: Detachable
Assembly: 15 minutes/Easy
Playback mode: Yes
Accessory holders: No
Wheels: 3" casters (8)
Warranty: 1-year against factory defects
The JOOLA United Pro Outdoor is the type of table that you can come home to everyday with a smile on your face, knowing you made a sound purchasing decision. JOOLA dominates the budget-friendly section of the outdoor table market and it is easy to see why. JOOLA tables are lightweight, portable, and decades of experience have been ingrained in the details.
This table weighs 166 lbs and has a 6mm aluminum-plastic composite top. You will notice that a few features are missing, which is common for lower-end tables. There are no accessory holders or oversized wheels. The small 3" wheels may be difficult to move over uneven surfaces, but this shouldn't be a big issue since the table is lightweight. The playing surface does not handle glare as well as higher-end tables with a special coating.
From a durability standpoint, this table excels and many reviews highlight how well the table holds up over time. When you combine this with easy assembly and compact storage, it's clear why the JOOLA United Pro Outdoor is a popular choice for recreational players and families.
Order JOOLA United Pro Outdoor on Megaspin
---
Cornilleau 300X Outdoor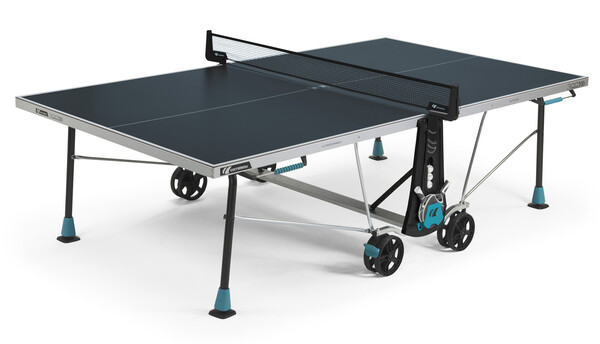 Design: One-piece portable
Tabletop: 5mm resin laminate with anti-glare finish
Weight: 123 lbs
Storage dimensions: 65.75" x 61" x 29.5"
Net Style: Fixed/Folding
Assembly: Requires considerable assembly
Playback mode: Yes
Accessory holders: Yes
Wheels: 8" double wheels (4)
Warranty:10-year on non-wear parts (excludes wheels, net, and net posts)
Cornilleau is a French manufacturer with a long history and outstanding product lineup. Their tables consistently rank among the best in the mid to high-end categories. The Cornilleau 300X Outdoor finds itself at the intersection of cost-conscious connoisseurs and demanding enthusiasts.
It is downright shocking to see how much performance is packed into a table that weighs only 141 lbs. Playback mode, accessory holders, fixed net system, and a fantastic folding mechanism all play their part in making this table an excellent choice for your backyard or patio. Four 8" double wheels make it easy to navigate uneven ground. The legs and frame are made from galvanized steel for maximum support and then coated in resin to make them even more resistant.
Perhaps the star of the show is the 5mm tabletop that is made of a resin laminate and finished with an anti-glare coating called "SOFTMAT". These materials are used to reduce glare and optimize playability. Cornilleau stands behind the table with an industry-leading 10-year warranty on non-wear parts. Considerable assembly is required to get started with this table.
For players who demand exceptional performance and portability, the Cornilleau 300X is simply brilliant.
Order Cornilleau 300X Outdoor on Megaspin
---
Cornilleau 700X Black Outdoor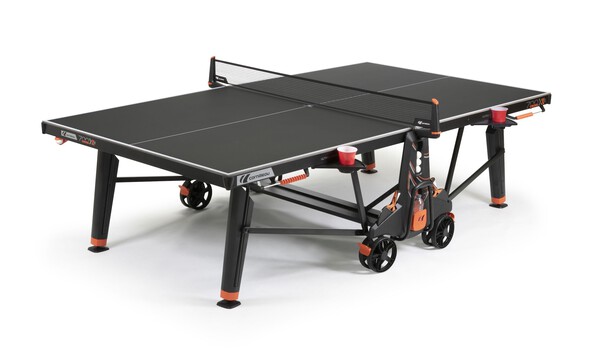 Design: One-piece portable
Tabletop: 8mm resin laminate with MATTOP anti-glare finish
Weight: 196 lbs
Storage dimensions: 65.75" x 61" x 29.5"
Net Style: Fixed/Retractable
Assembly: Requires considerable assembly
Playback mode: Yes
Accessory holders: Yes
Wheels: 8" double wheels (4)
Warranty: 10-year on non-wear parts (excludes wheels, net, and net posts)
Building upon the excellent performance of their other table models, Cornilleau has crafted a portable outdoor table that commands respect and sits atop their revamped outdoor table lineup. The Cornilleau 700X Outdoor is not for the faint of heart.
Similar to the 300X, the 700X has accessory holders, large double wheels, playback mode and a fixed net system. Additionally, both tables utilize Cornilleau's DSI folding mechanism with 16 locking points and a central release handle, for safer operation and ease-of-use.
In addition to the accessory holders, the 700X also has corner protectors, two conveniently-placed cup holders and ball dispensers. The adjustable-height feet allow for leveling adjustments on uneven surfaces and the point counters make keeping score a total breeze.
The 8mm resin laminate tabletop has an anti-glare "MATTOP" coating, which is only found on the higher-end tables from Cornilleau. Supported by a 60mm Aluzinc frame, this table is incredibly sturdy. Considerable assembly is required to get started with this table (video instructions and assembly manual available
For serious players and high-use environments that demand portability and excellence, the Cornilleau 700X is a verifiable juggernaut of the outdoor table market.
Order Cornilleau 700X Crossover Outdoor on Megaspin
---
Cornilleau Park Outdoor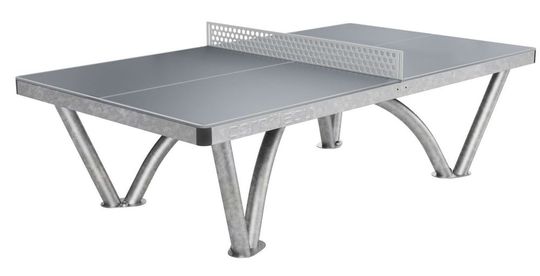 Design: One-piece stationary
Tabletop: 9mm resin laminate with anti-glare finish
Weight: 365 lbs without additional weight
Net Style: Fixed, metal
Assembly: Easy setup
Playback mode: No
Accessory holders: No
Wheels: No
Warranty: 10-year
The Cornilleau Park Outdoor is an industrial-strength table that could almost pass as an art installation. There is a rugged and minimalist essence, perpetuated by the metal net with hexagon cutouts and the galvanized steel tubing that supports a tabletop that would best be described as a giant slab of metal.
The 9mm resin laminate playing surface lays on top with a gray MATTOP anti-glare finish. This table is easy to clean and extremely durable. So durable in fact, that Cornilleau goes out of their way to try and destroy it. In their product video, a lumberjack chops wood on the playing surface, a skateboarder balances on top of the metal net, and a graffiti artist tries to leave their mark. These attempts to damage the table are ultimately unsuccessful. By design, the Park table is weatherproof, fireproof, shock and graffiti resistant, and it can support over 3,500 lbs.
Built for permanent installation and heavy use, this table is perfect for large institutions and public areas. No matter what is thrown its way, the Cornilleau Park won't back down. Players who are looking to test their mettle will search far and wide to conquer this beast.
Order Cornilleau Park Outdoor on Megaspin
---
JOOLA Berkshire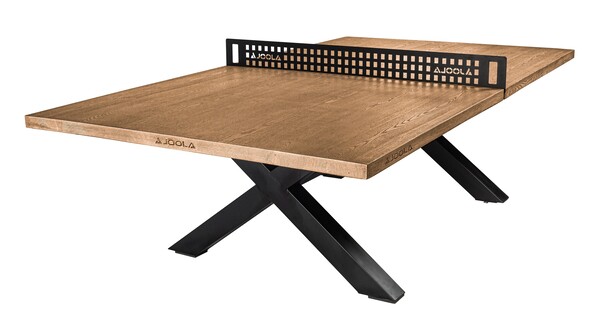 Design: Stationary one-piece, multi-use table
Tabletop: MgO concrete surface with simulated wood finish
Weight: 350 lbs.
Storage dimensions: Semi-permanent, non-folding (108" x 60" x 30")
Net Style: Detachable steel net set
Assembly: Moderate (approx. 1 hour), requires multiple people due to weight
Playback mode: No
Accessory holders: No
Wheels: None
Warranty: 1-year against factory defects
The JOOLA Berkshire is not just any ordinary outdoor table. Although based on the styling and design, that might be a rather obvious observation. Whether you are soaking in the sun on the patio, playing for points in the office, or even dining in with company, the JOOLA Berkshire will serve you well.
At first glance, it's easy to see why this table stands apart from the competition. One minute, the Berkshire table is a ballistic battleground, and the next, a classic dining room table fit for a feast (after detaching the net), or a conference room colossus that's all business (9 ft table sits 10-12 people).
Now, there's no fold-up playback mode, compact storage, or portability options here. This is a table designed to be shown off and played on. With this in mind, the concrete surface and powder-coated steel base combine for a well-engineered marvel built to stand the test of time.
The JOOLA Berkshire is a masterpiece built for a modern world that demands multi-functionality. Looking for a high-end, designer table that thrives in any environment? Bring the Berkshire to you!
Order JOOLA Berkshire on Megaspin
---
RS Barcelona You and Me - White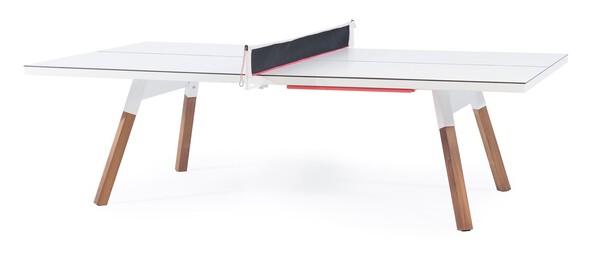 Design: Stationary one-piece, multi-use table
Tabletop: High-Pressure Laminate (HPL)
Weight: 231 lbs.
Storage dimensions: Semi-permanent, non-folding (108" x 60" x 30")
Net Style: Detachable coated-polyester net
Assembly: Moderate (approx. one hour)
Playback mode: No
Accessory holders: Yes (under-table storage compartment)
Wheels: None
Warranty: 2-year against manufacturer's defects
Wow! Is that a modern art installation? Where did you get that? And most importantly, can we play on it?
You may tire of such questions, or perhaps not, after laying claim to such a high-end and multi-functional table. The RS Barcelona You and Me presents an array of possibilities for outdoor fun, or as RS Barcelona likes to say, "Intense Living". This table might just be the ultimate "designer" option available in the table tennis world. Enduring the everlasting push and pull between form and function, the RS Barcelona You and Me meets the demands of even the most design-conscious consumer. Centered around a minimal design, with hidden storage, and built from premium materials, this table delivers a primetime playing experience on the patio or in the house.
The RS Barcelona You and Me is also available in Black (outdoor), Oak (indoor), and Walnut (indoor) versions. With understated elegance and meticulous attention to detail, the RS Barcelona You and Me could be just what you have been searching for.
---
Related Articles