Sanwei Target National: A great and genuine hybrid rubber
Wednesday, October 26, 2022
by ThePongProfessor
As someone who uses Hurricane 3 as his FH rubber, I am always interested in evaluating new tacky rubbers, especially when they come with the promise of a more dynamic sponge. Here, I tested the second-generation Target National rubber from Sanwei.
Sanwei has optimized the 2nd generation Target National (2TN) rubber for the new 40+ plastic ball by combining a sticky topsheet with a highly elastic sponge. According to Sanwei this compensates for the loss of spin and speed that the introduction of the new 40+ ball caused. Supposedly, the 2TN allows for easier execution of counterattacks due to improved power transmission from the sponge to the topsheet. To me, this sounds like a boosted Hurricane 3 or, at the very least, a new hybrid rubber. Either way, this sounds interesting.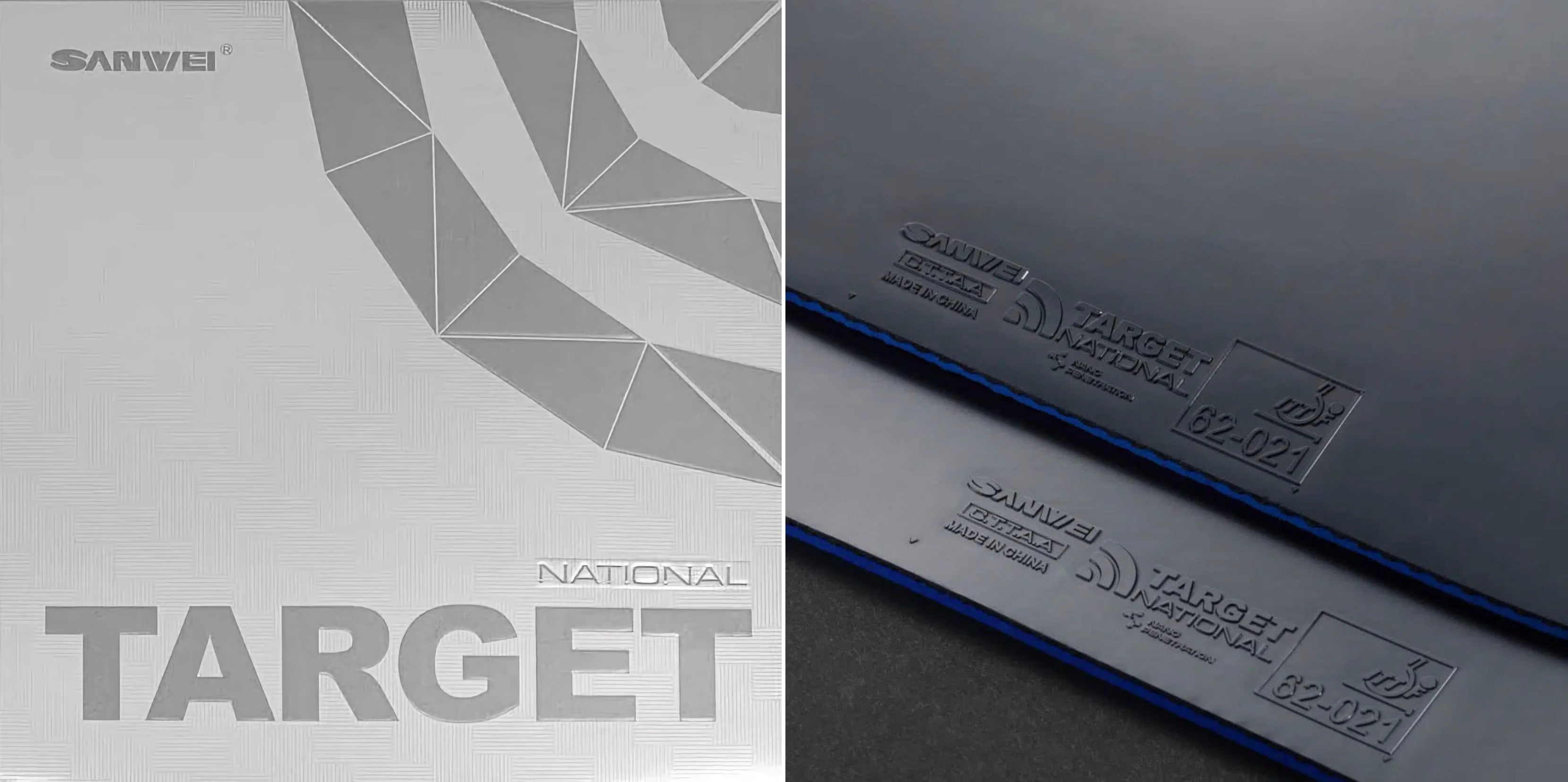 The Chinese-made 2TN arrives in a glossy, silver-colored cardboard wrapper. Marketing information and a general description of the rubber's characteristics are provided on the back. The topsheet is protected from exposure to air by a thin adhesive film.
The dark-red topsheet is very grippy, very tacky, and feels sturdy. The thin, densely spaced cylindrical pimples are not visible through the matte topsheet. The blue sponge has a high density of small pores and feels fairly hard to the touch; I rate it as ~38-39 degrees on the DHS scale. The sheet has a faint rubbery smell and curves quite extensively. The sheet has an unusual, rounded trapezoidal shape (lower width ~ 162 mm, upper width ~ 108 mm, height ~162 mm) and weighs 59 grams uncut and ~45 grams when cut to the test blade (158x151 mm).
Testing protocol
I tested the brand-new 2TN (red, max) as a FH rubber on a 7-ply all-wood blade with an ayous/limba ply construction, whilst using my regular driving-type short pips in my BH. I attached the rubber to the blade using 2+1 layers of the Revolution 3 glue (sidenote: the 2TN's cake sponge absorbed an above-average amount of glue when the first layer was applied). I evaluated the rubber over two long sessions playing a mix of regular and match-like drills and matches against my regular high-level practice partner (a two-winged looper) and handicap matches against intermediate-level club mates. 40+ ABS training balls were used throughout this test.
Playing Impressions
Given the nature of the 2TN rubber, I will be making frequent comparisons to the prototypical Chinese rubber, i.e., Hurricane 3 (H3). For starters, the 2TN is tackier than an H3 sheet, easily capable of lifting a ball for several seconds.
Driving
The 2TN produces a rather crisp sensation on FH drives. It is not like a Butterfly Tenergy 05 (T05), but certainly far crisper than an H3. The 2TN is also considerably livelier than an H3. Thus, I would categorize the 2TN as a mid-to-high OFF- rubber, whereas an unboosted H3 is ALL+. FH drives are quite snappy, with a long trajectory. I enjoyed excellent consistency and rather liked the dynamic feeling.
Looping
Standard FH warm-up loops are a breeze with the 2TN. The topsheet grips the ball very well (except if excessively dusty, new balls are used), but the throw angle produced is medium-low, which calls for the use of a more open bat angle. With proper adjustment, my FH loops became very consistent. Not as fast as with a T05, nor as spinny as with an H3, but simply solid and consistent. The differences relative to H3 are quite clear. The 2TN does more work for you, whereas the player must generate nearly all of momentum when looping with an H3.
The 3rd ball FH attack drills (i.e., FH loops against long pushes) revealed that while the 2TN is noticeably faster and easier to use than an H3, it is less spinny, and thus less dangerous overall, at least against a high-level player whose reactions are fast enough to anticipate the shots. Nonetheless, I enjoyed excellent consistency on my 3rd ball attacks and when the relatively high speed of this rubber is combined with good ball placement, it is possible to make outright winners.
The more dynamic nature of the 2TN vis-à-vis H3 resulted in either-or-scenarios on 5th ball drives/loop-drives, i.e., I was either able to make fast winners, or I overshot the table. Undoubtedly, the slower H3 is more stable on these types of shots, but also requires greater physical effort from the player if fast, powerful shots are to be produced.
The 2TN works like a charm in FH loop-to-loop rallies far from the table. I enjoyed outstanding consistency, without having to exert myself as is typically the case with the H3. While not being excessively spinny, nor outrageously fast, the FH topspins seemed always to sail onto the table. My practice partner normally has the upper hand in these rallies, but not this time around.
Flicking
To me, the behavior of the 2TN is somewhat ambivalent on FH flicks. Thus, the feeling generated was not sufficiently crisp to give me the confidence to execute aggressive FH pancake-type flicks (although when successful, these types of flicks turned out to be quite dangerous). In contrast, the livelier nature of the 2TN posed some challenges for me when executing more traditional flicks, i.e., mini-loops played with a wristy motion while the ball is in the descending phase, inasmuch my flicks tended to overshoot the table. I would need more practice with the 2TN to become more comfortable on FH flicks.
Blocking
Passive FH blocking with the 2TN feels great due to the rubber's crisp nature and moderate catapult effect, which is fast enough to give the shots additional pep but not so fast that you overshoot the table. I generally enjoyed excellent consistency. The feeling of control translated to match-like situations, during which I was able to guide the block in hard-to-reach places. The resulting blocks are not as fast as with rubbers like Butterfly Dignics 09C, but still respectably fast to be troublesome for the opponent. Some people worry about the putative spin-sensitivity of tacky rubbers, but I was not able to detect any such characteristic whilst FH blocking.
Smashing
The 2TN is a clear improvement over the H3 whilst smashing and flat hitting. The 2TN is far more dynamic and it is easily possible to produce outright winners.
Pushing
This is perhaps the shot category where the 2TN poses the greatest disadvantage relative to the H3. My long FH pushes against short backspin serves often either went into the net or – when I used more aggressive stroke mechanics – popped up and easily overshot the table. I had to rotate the shoulder of my playing hand towards the net and use soft hands to land the shots with better consistency. Unfortunately, I never became truly comfortable with these shot types, and my pushes were accordingly less spinny and easier for my practice partner to attack. In contrast, I can play very aggressive long FH pushes with the H3, which are harder to attack against.
Short pushes and touch shots with the 2TN were ok, although the somewhat binary nature of the rubber required some adjustment, i.e., it is slow on low-impact shots, but more bouncy when more active stroke mechanics are used.
Serving
I quite enjoyed the 2TN for serves, although spin levels seemed to be a little lower than with the H3 (but higher than with non-tacky rubbers). The faster nature of the 2TN worked great on long side/top-spin serves, which I could place close to the endline.
Conclusion
In my opinion, the 2nd generation Sanwei Target rubber is a genuine hybrid rubber, unlike many recently released rubbers that are marketed as such. Thus, the 2TN has a very grippy and tacky topsheet that is paired with a dynamic, relatively fast, and not overly soft sponge. As far as real hybrid rubbers go, the 2TN is the best of the lot. It produces a crisp feeling, is more dynamic, and offers advantages on drives, loop-to-loop rallies far from the table, aggressive blocking, and smashing relative to an H3. However, it has deficits in the short game. Despite claims of improved power coupling, FH loops executed with the 2TN lack the top-end power that advanced players can generate with an H3. However, the 2TN is considerably easier to play with than an H3, which places greater demands on a player's technique, positioning, and ability to generate power. Many intermediate (and advanced) players ought to give the 2TN a try, especially if they have a more direct game style, whilst still wanting to reap the benefits of a tacky rubber.
About The Author
Patrick "ThePongProfessor" Hrdlicka is a table tennis enthusiast, who was introduced to the sport by his parents at the age of six. He progressed to play in the top national cadet and junior leagues in his native Denmark. With college looming, Patrick quit the sport for nearly twenty years. During this hiatus, he obtained a Ph.D.-degree in chemistry and moved to the US as he accepted a chemistry professor position. Since his return to the sport in 2015, he has been combining his analytical skills with his passion for table tennis by testing and writing about a wide range of table tennis equipment. He is a ~2200-USATT-rated left-handed doubles specialist who counts his 2017 US Open (O40 doubles) and 2018 Portland Open (open doubles) titles and Top-16 finish at the 2018 World's Veteran Championships (40-44 year doubles) among his fondest memories. He has a controlled offensive playing style and currently uses a 7-ply limba/ayous based all-wood blade and DHS Hurricane 3 and driving-type short pips in his FH and BH, respectively.
Related Links
---
Related Articles