Falco Long-Term Booster Comparison
Tuesday, April 11, 2023
by ThePongProfessor
Introduction to Boosters
Boosters emerged on the table tennis scene, after the International Table Tennis Federation banned speed glues in 2008 due to health concerns related to volatile organic solvents and replaced them with water-based glues. Unlike speed glues, water-based glues do not provide any performance enhancement of rubbers. Recreating the power and sensation of speed-glued rubbers through developments in rubber technology has proven challenging. Applying an oil-based booster onto the sponge prior to assembly of the paddle, can render a rubber more dynamic and give the player an improved felling for the ball, as the tension of the top-sheet is increased.
Falco Boosters
Falco produces two long-term boosters that are available from Megaspin - the Falco Tempo Long and the Falco Tempo Platinium. According to Falco, both boosters will improve the overall spin, speed, and feeling of rubbers and maintain their effect for 8-12 weeks, with the Tempo Platinium booster being faster than the Tempo Long booster.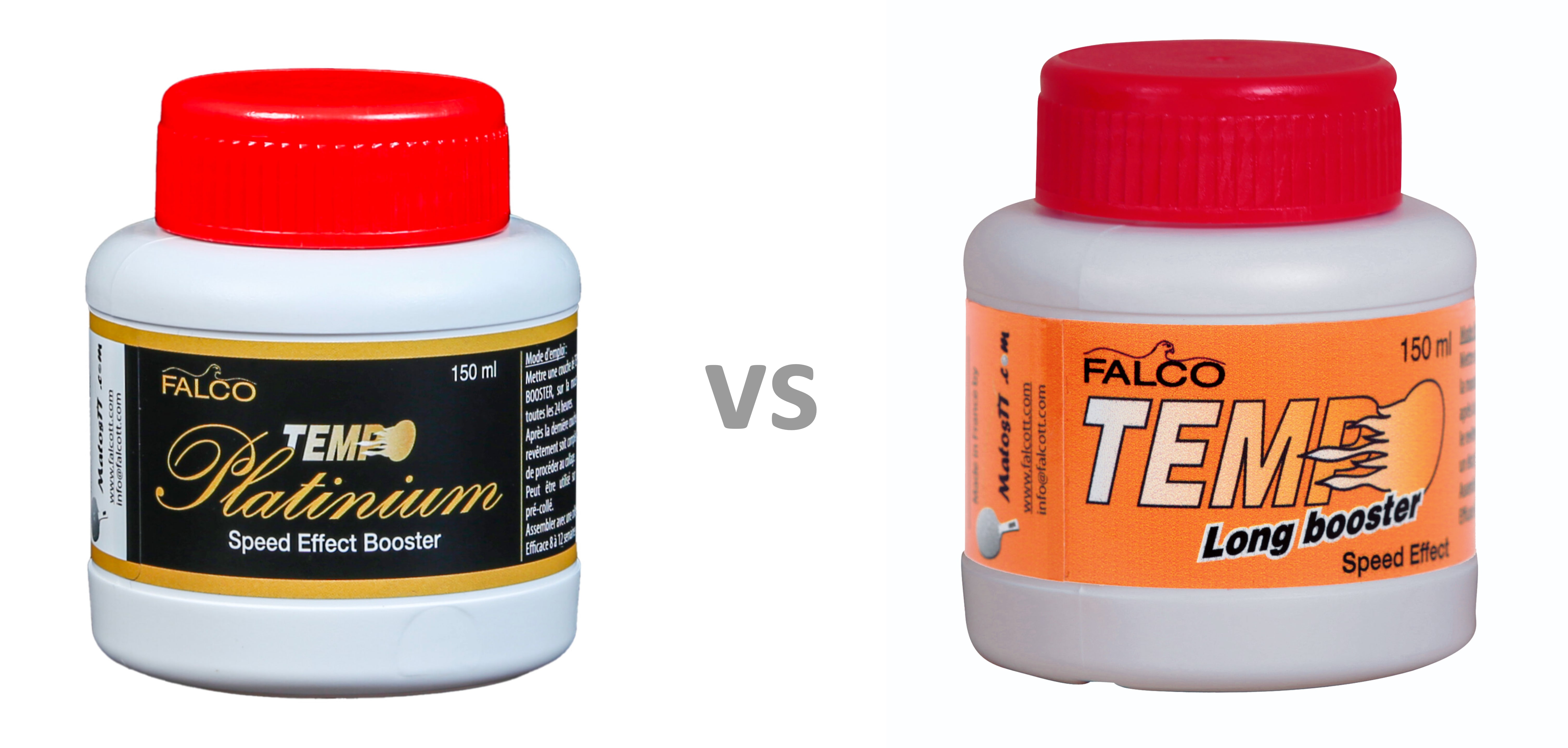 Both boosters are thin and yellow oils, though the Tempo Platinium is considerably stickier. The Tempo Long has a deeper engine-like smell whereas the Tempo Platinium has a fresher, more lemon-like scent. I typically apply two thin layers of booster on the sponge (one layer is applied and allowed to fully absorb, followed by application of a second layer and complete absorption; the boosted rubbers are then attached to the blade using water-based glue as usual). It takes 1-2 hours for the Tempo Long booster to be fully absorbed into the sponge, whereas it takes most of a day for the Tempo Platinium to be fully absorbed.
In my experience, both boosters:
increase the speed and springiness of the rubber,
render it easier to generate spin on slow and medium-fast shots due to increased tackiness and a livelier top-sheet/sponge interface,
increase the throw angle for improved clearance over the net
Effect Comparison
The effects are more pronounced with the Tempo Long booster. Rubbers treated with the Tempo Long booster also feel significantly softer than the corresponding unboosted rubbers, whereas rubbers treated with the Tempo Platinium remain firmer, which some players will prefer.
FH loops executed with a Tempo Long-boosted Hurricane 3 are very spinny due to the tackier surface. FH flicks are also facilitated by the grippier topsheet and higher throw angle. The softer nature of Tempo Long-treated rubbers is particularly evident when blocking as the rubbers are livelier. Pushes and serves are more spinny. In my opinion, the Falco Tempo Long booster is best suited for very hard rubbers that are to be rendered more dynamic.
FH loops executed with a Tempo Platinium-boosted Hurricane 3 are also spinny, but slower compared to the corresponding Tempo Long-boosted rubber. The throw angle is flatter than with a Tempo Long-boosted rubber. The grippier nature of Tempo Platinium-boosted rubbers helps curl FH flicks over the net. The firmer nature of Tempo Platinium-boosted rubbers means that blocks and counterdrives will be more consistent than with corresponding Tempo Long-boosted rubbers, but pushes will be slightly less spinny as it is more difficult to generate "easy spin". In my opinion, the Tempo Platinium booster is best suited for mid-hard rubbers that are to be rendered a little snappier, without turning their sponges into soft mushy messes.
Choosing the right one for you
Choose the Falco Tempo Platinium if you want a rubber that still feels nearly as hard and linear as the unboosted rubber but has greater friction power on high impact shots, whilst facilitating blocking.
Choose the Falco Tempo Long if you want a rubber that feels softer and bouncier than the corresponding unboosted rubber, and which allows for higher spin values on low-to-medium impact shots.
About The Author
Patrick "ThePongProfessor" Hrdlicka is a table tennis enthusiast, who was introduced to the sport by his parents at the age of six. He progressed to play in the top national cadet and junior leagues in his native Denmark. With college looming, Patrick quit the sport for nearly twenty years. During this hiatus, he obtained a Ph.D.-degree in chemistry and moved to the US as he accepted a chemistry professor position. Since his return to the sport in 2015, he has been combining his analytical skills with his passion for table tennis by testing and writing about a wide range of table tennis equipment. He is a ~2200-USATT-rated left-handed doubles specialist who counts his 2017 US Open (O40 doubles) and 2018 Portland Open (open doubles) titles and Top-16 finish at the 2018 World's Veteran Championships (40-44 year doubles) among his fondest memories. He has a controlled offensive playing style and currently uses a 7-ply limba/ayous based all-wood blade and DHS Hurricane 3 and driving-type short pips in his FH and BH, respectively.
Related Links
---
Related Articles