Butterfly Revoldia CNF – A detailed review
Thursday, October 13, 2022
by ThePongProfessor
This time around, I had the pleasure to try out a little-known, high-end blade from Butterfly, i.e., the Butterfly Revoldia CNF. What sets the Revoldia CNF apart from other composite blades in the Butterfly range is the fact that it uses a natural composite material, i.e., Cellulose NanoFibers (CNF) which have been derived from wood pulp. According to Butterfly, the inter-woven wood pulp of the CNF increases the interactions with the wood plies, leading this blade to feel like a carbon blade on attack shots, whilst providing a soft woody touch on soft and medium effort shots. For someone like me who has struggled to make the switch from all-wood blades to composite blades, these characteristics sound very intriguing.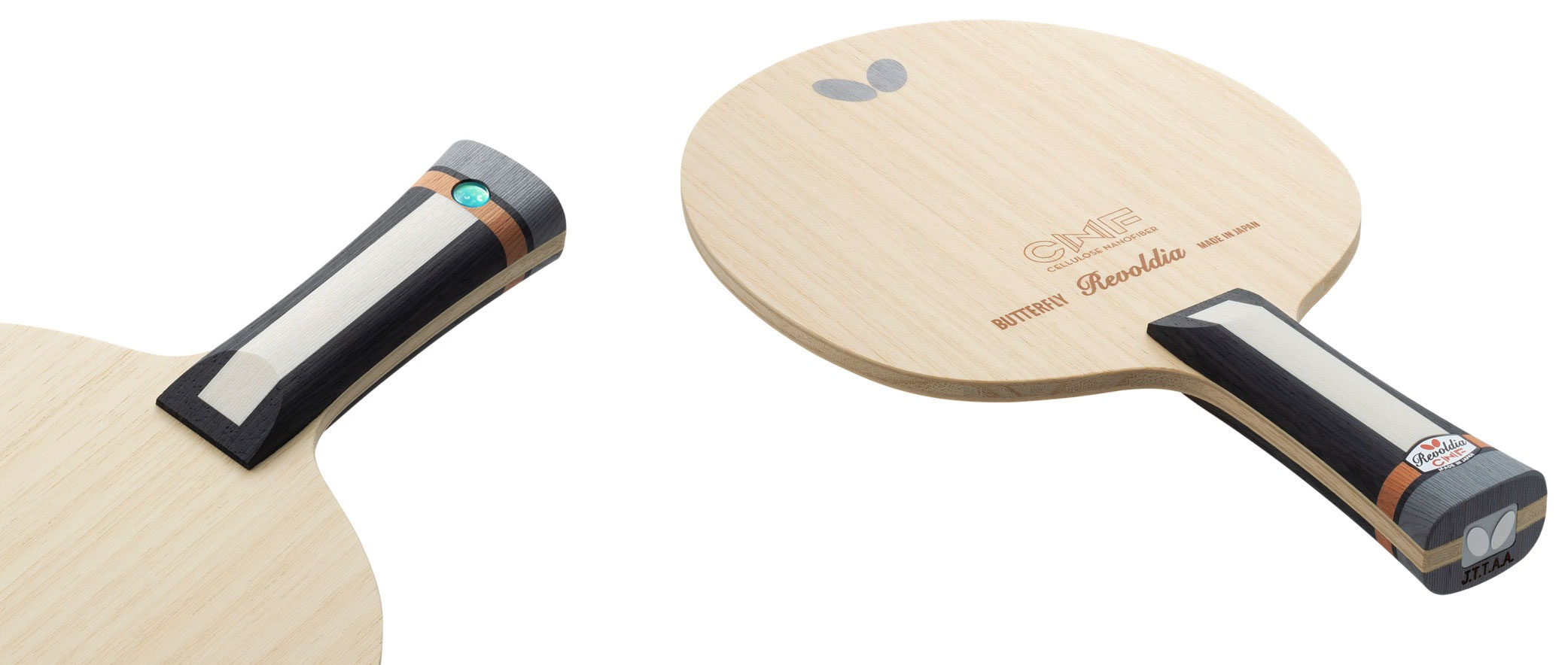 Butterfly rates the Revoldia's vibration and reaction at 9.5 and 11.7, respectively. As a reference point, the Butterfly Viscaria blade has corresponding ratings of 10.3 and 11.8. Thus, the Revoldia promises to have a softer feeling but be as fast as the Viscaria.
The Revoldia arrives in a sturdy, silver cardboard box that provides excellent protection during shipping. A sticker with the blade name is placed on the front lip of the box, along with generic caretaking instructions on the back. The name of the blade is printed on the FH side of the straw-colored playing surface, whereas the BH side is devoid of text. The handle is mostly dark grey with a wide cream-colored vertical center stripe. The lower part of the handle features a salmon-colored and light-grey horizontal stripe, along with a beautiful silver metallic lens that gives the blade a premium look. A standard, silver, rectangular Butterfly tag is placed on the bottom of the handle. The BH side of the handle features the usual, small, circular holographic lens. The blade looks amazing. However, the prominent cream-colored center stripe will likely get dirty with use. The blade seems to be well-made, even though the wings and edges do not appear to have been sanded.

The Revoldia CNF is a 5+2 ply blade with the CNFs immediately below the outer ply. Unfortunately, Butterfly does not provide the ply composition for this blade, but it is rumored to have koto outer plies, followed by the CNFs, an ayous intermediate layer, and a thick kiri core. According to my measurements, the playing surface of the Revoldia has the following dimensions (height x width): 157 mm x 150 mm with a thickness of 5.8 mm. The FL handle has the following dimensions: length ~100.3 mm, width ~25.9-33.9 mm, and height ~23.2-24.6 mm. The test blade was quite heavy (91 g) and produced a main resonance frequency of ~1435 Hz when I bounced a ball on the naked blade, which puts it in a similar range as the Viscaria blade.
Testing protocol
I tested the Revoldia blade using my standard FH and BH rubbers, i.e., a 40-degree orange sponge DHS Hurricane 3 and Spinlord Waran II short pips, respectively, which I attached using one layer of the Revolution 3 glue. I tested the set-up over 5-6 sessions playing a mix of regular and match-like drills against my regular high-level practice partner (two-winged looper) and a weekly league against lower-level players using 40+ ABS training balls throughout this test.
Playing characteristics
Initial impressions
The Revoldia's center of gravity is tilted slightly towards the head. This has the effect to give most shots inherent forward momentum. Despite the blade's above-average weight, it felt fairly nimble during gameplay. The slender FL handle facilitates the use a relatively loose grip. Driving. As promised by the marketing material, the feeling upon hitting the ball whilst playing warm-up drives is butter-soft, yet the blade is quite rigid and linear. The Revoldia is almost as fast as the Viscaria blade (low OFF) but produces shots that have a lower trajectory. Thus, my FH and BH drives were relatively flat and long but still cleared the net comfortably.
Looping
The consistency of my warm-up FH loops using the Revoldia/H3 combo was good. The shots had a medium-long trajectory and enough of an arc to clear the net. While the loops were not spectacularly fast, I was able to load them with high levels of spin, presumably due to the slightly extended dwell time and the head-tilted center of gravity. The Revoldia almost has a hinoki-like feel to it when looping. Unlike hinoki blades, however, which typically feel soft and springy, the Revoldia is soft and rigid, which takes some time to get used to. Whilst playing third-ball attack drills, I had the most success when I focused on out-spinning my practice partner rather than trying to over-power him through speed. Toward this end, I used a more open bat angle than normal to compensate for the lower throw angle.
My consistency in loop-to-loop rallies far from the table was only so-so, as I found the outcome to be more timing- and bat-angle-dependent than normally. I think this is due to the blade's rigid nature. Thus, when I contacted the ball with a bat angle that was slightly too open, the ball had a high probability of going long. Similarly, my BH short pip openers against backspin were quite bat-angle-dependent. If the angle was just a little too open, the shot would go wide. When getting the timing and bat angle right, I was able to play relatively fast BH openers that were uncomfortable for my practice partner due to a significant amount of spin inversion (i.e., knuckleball effect), which was aided by the relatively rigid nature of the blade.
Flicking
While the soft and vibration-less feeling that the Revoldia produces on flicks normally would have decreased my confidence in these shot types, I felt that the moderately fast nature of the blade and its rigid nature, facilitated controlled pancake-type FH and BH flicks. Thus, I was able to execute both diagonal and down-the-line flicks with good consistency. The also-present soft nature of the blade also enabled traditional mini-loop type flicks to some degree at least.
Blocking
The Revoldia confers a feeling of security whilst blocking during warm-up drills. Its rigid nature provides stability, whereas its moderate speed minimizes the risk of overshooting the table. During match play, however, I found that the outcome is quite bat angle-dependent. In other words, the margin for error is quite low. Get it right, and you will produce a dangerous block, but leave the bat angle a little too open, and the ball floats past the table. Of note, my BH short pip blocks were "glassy" and quite spin-inverted, which rendered it challenging for my practice partner to maintain a high looping consistency.
Smashing and flat hitting
The rigid nature of the Revoldia works well on smashes and flat hits, even though it isn't an overly fast blade.
Short game and pushing
The Revoldia worked outstandingly well on long pushes. I was able to really slice the ball and load it up with high levels of backspin. My pushes were low, long, and spinny, and my practice partner struggled to produce effective loops against these shots. On these types of shots, the Revoldia feels like a fine brush in a master artist's hand – complete control. The soft, linear nature of the Revoldia also worked great in the short game. Thus, it was a breeze to create short touch shots during match play.
Serving
I was able to generate high levels of backspin on my pendulum serves, due to the Revoldia's soft nature and extended dwell time. Similarly, I was able to impart high spin levels on short and long side/topspin and my service game was more dangerous than with any of the other Butterfly composite blades that I have tested.
Conclusion
The Butterfly Revoldia CNF is a very interesting blade since it occupies a unique place in Butterfly's blade range. Thus, it produces a very soft, almost hinoki-blade-like feeling, but it does not have the strong catapult effect of hinoki-based blades. Instead, it is relatively rigid and linear, yet different than prototypical 7-ply all-wood blades which feel thicker and produce a stronger cracking sensation. Butterfly's marketing material got it right when stating that the blade feels like a carbon blade on attack shots, whilst providing a soft woody touch on soft and medium effort shots. In my opinion, the Revoldia will appeal to players who want to transition away from all-wood blades but don't enjoy that sharp feeling of traditional carbon blades, and who want a balanced blade for spin-offensive strategies.
About The Author
Patrick "ThePongProfessor" Hrdlicka is a table tennis enthusiast, who was introduced to the sport by his parents at the age of six. He progressed to play in the top national cadet and junior leagues in his native Denmark. With college looming, Patrick quit the sport for nearly twenty years. During this hiatus, he obtained a Ph.D.-degree in chemistry and moved to the US as he accepted a chemistry professor position. Since his return to the sport in 2015, he has been combining his analytical skills with his passion for table tennis by testing and writing about a wide range of table tennis equipment. He is a ~2200-USATT-rated left-handed doubles specialist who counts his 2017 US Open (O40 doubles) and 2018 Portland Open (open doubles) titles and Top-16 finish at the 2018 World's Veteran Championships (40-44 year doubles) among his fondest memories. He has a controlled offensive playing style and currently uses a 7-ply limba/ayous based all-wood blade and DHS Hurricane 3 and driving-type short pips in his FH and BH, respectively.
Related Links
---
Related Articles