Ping-Pong Table Dimensions
First published on Thursday, May 14, 2020
Last updated on Tuesday, March 23, 2021
Official Regulation Size of a Ping-Pong Table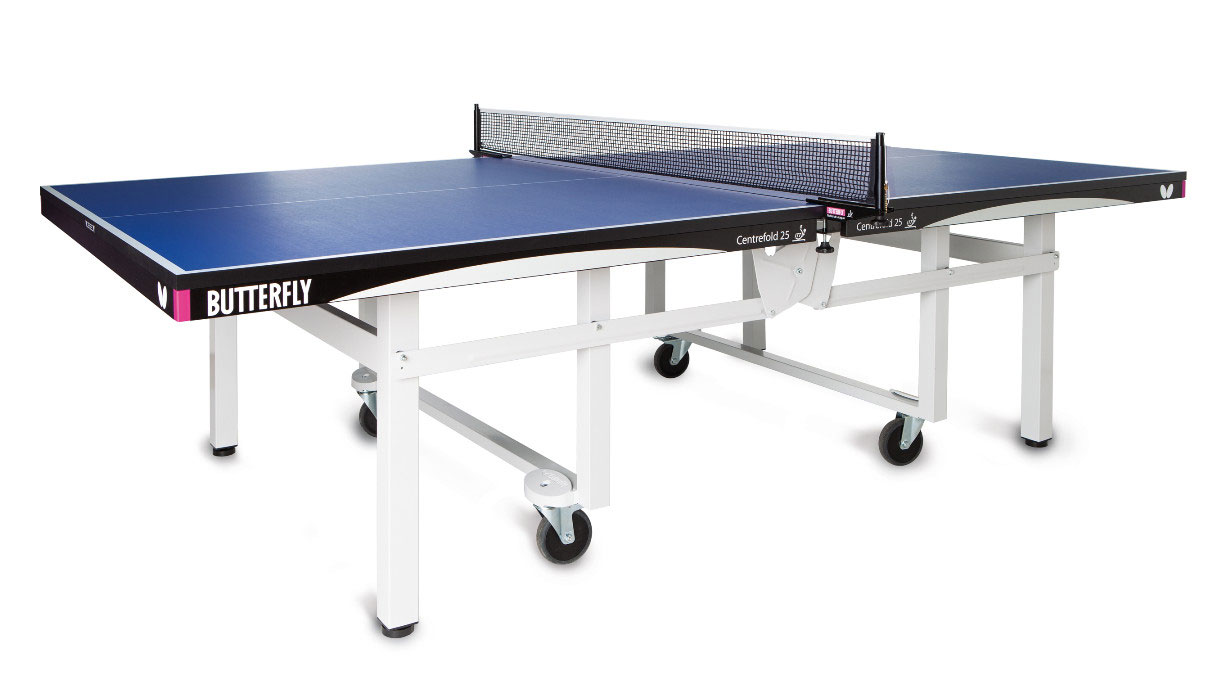 Ping-pong tables come in all different shapes and sizes. Well, maybe not, seeing as they are all rectangular and the overwhelming majority of tables have the same dimensions. There is one standard size defined by the ITTF (International Table Tennis Federation), and all manufacturers comply. Naturally, there are exceptions and some manufacturers offer smaller-sized tables that do not meet any specific criteria.
Dimensions
The regulations set out by the ITTF define the standard dimensions of the playing surface. After all, the playing surface is what directly affects gameplay while other components such as the frame and legs support the table and provide structural integrity. The playing surface does not include the vertical sides of the tabletop, only the horizontal plane.
The playing surface (also known as upper surface) must be rectangular in shape and have the following dimensions:
Length: 2.74 meters or 9 feet
Width: 1.525 meters or 5 feet
Height: 76cm or 2.5 feet above the floor
Net Dimensions
Have you ever seen an umpire measure the net height before a competitive match? They aren't doing this out of curiosity, there are exact standards that need to be met to ensure a fair and consistent playing environment.
The proper net height is 15.25cm or 6 inches, and it is imperative that the whole length of the net is at this height. This is accomplished by maintaining sufficient tension in the cord that runs through the top of the net and attaches to the supporting posts on each end. The posts need to be 6 inches high and extend off the sides of the table by six inches as well. The base of the net needs to be as close to the playing surface as possible.
Color
In addition to the dimensions of the tabletop, the ITTF has outlined what constitutes an acceptable appearance. The tabletop, more specifically the playing surface, needs to have a uniform color scheme with a matt finish. While most tournament tables are a dark blue, the ITTF regulations simply mandate the playing surface to be "dark coloured".
Now, of course you can find light-colored tables. In fact, if you prefer this style, it is a perfectly fine option for most purposes. However, light-colored tables do not comply with ITTF regulations so these tables should be reserved for home, office, and other recreational uses outside of sanctioned tournaments.
Playing Area
We've all seen tables cramped into small spaces out of necessity, but what is the ideal playing area for recreational enjoyment? The recommended playing area is 20 feet by 14 feet in order to play comfortably, regardless of playing level.
However, the ITTF is more strict when it comes to setting up the rectangular playing area. According to ITTF regulations, the playing space should be at least 14 meters long and 7 meters wide. There should also be 5 meters of clearance over the entire playing area. ITTF states that the pieces used to enclose the playing area in each corner must be less than 1.5 meters in length. This allows players to enter and exit the playing area by only moving the corner piece, instead of moving or stepping over the barriers. This detail is most easily seen in the primary playing areas of high-level events.
For wheelchair players and Veteran events, the playing area can be slightly reduced. The minimum playing area for wheelchair events is 8 x 6 meters and for Veteran events, the playing surface must be at least 10 x 5 meters.
Tabletop Thickness
There is no official regulation size but the ball needs to bounce 23cm when dropped from a height of 30cm, to comply with regulations. This needs to be consistent across all parts of the table. ITTF-approved tables are typically 22mm and 25mm thick and have a supporting structure under the table to provide a consistent bounce.
What does ITTF-Approved mean?
If a table is ITTF-Approved, that means it has passed all of the ITTF tests and has received the required certification to be used in ITTF-sanctioned events. This is a rigorous approval process that takes into consideration the factors previously discussed.
However, not all standard (regulation) sized tables are ITTF-Approved. Actually, relatively few tables have this certification due to the additional regulations and certification costs. Most tables found in homes and offices are not ITTF-Approved, and they do not need to be. ITTF Approval is a prerequisite to a table being used in international competition, but it is not required outside of these events. Certain tables, such as the JOOLA Tour 2500, would likely pass the ITTF-compliance test. However, most manufacturers do not pursue this certification if a table is not intended for international competition. Certification carries additional costs, both to receive the designation and to maintain it.
You are most likely to encounter ITTF-Approved tables in table tennis clubs and tournaments. This approval denotes exceptional craftsmanship and performance.
Examples of ITTF-Approved Tables
Here are some of our best-selling ITTF-Approved tables.
Butterfly Centrefold 25 (also available in green): The Centrefold 25 is Butterfly's premier one-piece table. The Centrefold has a 25mm tabletop, sturdy frame, and a secure folding mechanism. This table is wheelchair-friendly, made in Germany, and arrives pre-assembled.
Butterfly Europa 25 (also available in green): The Europa 25 combines Butterfly's competition-grade 25mm tabletop with a stationary two-piece design. While it is best-suited for permanent and semi-permanent use due to the design and weight of the table, it is also extremely compact when stored. This table arrives fully assembled.
JOOLA 3000 SC: The JOOLA 3000 SC is the official table of all major USATT events. The 22mm tabletop is specially treated and allows for fast play. The one-piece design table is supported by a 50mm powder-coated frame that is built to last, and impress. The 3000 SC arrives fully assembled and includes a high-end JOOLA WM net set.
Cornilleau Competition 740 ITTF Indoor: The Competition 740 is a high-end indoor table made in France by Cornilleau. The 740 has a 25mm tabletop with a "SKILTOP" finish for a consistent bounce and optimal friction. The DSI folding mechanism has a central release handle for ease-of-use and the fixed net system remains in place during storage. This table has fold-up playback mode and requires assembly.
Stiga Optimum 30: The Stiga Optimum 30 is a two-piece design table with a 30mm tabletop, a feature that is only found on select high-end tables. The table offers fold-up playback mode, requires some assembly, and has a heavy-duty chassis. Made in Germany, the "Optimum Bounce Technology" ensures a consistent bounce and exceptional performance.
The official list of approved tables can be found at https://www.ittf.com/equipment/.
Conversion Tops
One type of table that you will see very often in homes is the conversion top. These consist of the tabletop playing surface, and usually include a net set to get you started playing right away. There are no legs and besides the tabletop apron, no frame either. You can find quality tops for considerably less than a standard table so it can be a very cost-effective option.
Conversion tops are most commonly used on top of pool tables, as they provide an excellent base and usually have sufficient space on each side for proper play. These tops are very versatile and add an extra dimension to any gameroom. You can also place them on other types of tables, as long as you choose one that is the proper size and sufficiently sturdy. When not in use, conversion tops can be laid flat against a wall or stored with relative ease.
While you may not get tournament level playability, conversion tops are an excellent starting point for many recreational players and enthusiasts.
Example:
Non-Standard Ping-Pong Tables
Non-standard ping-pong tables are exactly what they sound like, non-standard. They don't fit within any general guidelines or specifications. Their designs are dictated by each specific manufacturer depending on the target market or application. Some tables are great for tight spaces and others are meant for younger and smaller players.
Typical dimensions of Non-Standard Ping-Pong Tables
While there are no specific guidelines for these tables, many fall into similar categories. These categories may be labeled; non-standard, small, mini, compact or mid-size. You will need to check the specifications on each table to get an idea of their features since they vary greatly.
Tables with the name "Junior" are often made for younger players. A regulation-sized table is a little too tall for most children, which represents a significant barrier to entry. As we've seen at the professional level, the best players tend to start out at a very young age. Having a smaller table at their disposal, may be the difference between a fast start or frustration.
Compact tables aren't only for children though. These non-standard tables can be perfect for people who don't have a lot of space at home for a full size table. Similarly, bars and clubs may want to add a little entertainment without sacrificing too much space. Lastly, even older players who are just starting out may want to dip their toes in before committing to a large table purchase. These tables offer a different playing experience, but they certainly have their place.
Here are some examples of non-standard ping-pong tables:
Butterfly Junior Stationary Table: The Junior table from Butterfly is a great option for younger players or those with limited space. It is approximately ¾ the size of a regulation table. The 12mm tabletop offers considerable playability for a non-regulation size table. This two-piece design table is especially compact and when stored, the tabletops lay flat against each other with a 3" depth. No assembly required. The Junior table has a playing surface that measures 7 feet x 4 feet, and it is 2.5 feet tall.
Stiga Midi Table: Striking and sleek, the Stiga Midi Table makes a statement with its dark design. The Midi is built for fun with friends and family. The tabletop is 12mm fiberboard and the table quickly folds up for storage. The Stiga Midi's tabletop is 72 inches x 40 inches, and the table is 30 inches tall.
Storage dimensions
An important factor to consider is the storage space needed for the table you are purchasing. Unless you plan to keep the table set up all the time (living the dream), it's certainly worth investigating.
Most manufacturers will provide guidance on this issue by stating the dimensions of the table while it is folded into the storage position. The storage dimensions of the table primarily depend on the table's design, but also the robustness of the various components.
Tables can be broken up into various categories based on their design. The easiest distinction is whether it is a one-piece or two-piece table. Let's take a look at these design differences.
One-piece tables are typically higher-end and have an advanced folding mechanism, by which the two halves are connected. These tables are usually pretty easy to set up and take down, although it can be helpful to have two people (or necessary depending on the table). Some models tout their compact storage dimensions, but generally, one-piece tables are not the most compact since the two sides of the playing surface do not lay flush when folded up.
On the other hand, two-piece tables typically boast the most compact storage dimensions. These tables consist of two separate halves that can be separated for easy portability and then pushed close together for compact storage. Since the table surfaces can be placed right up against each other, there is less wasted space. Perhaps the most compact design is found on two-piece tables without the traditional wheel and leg setup. These are referred to as stationary two-piece tables. Despite the name, these tables still offer some portability but they are more difficult to set up and take down. The legs fold up under each table top to minimize the total storage space needed.
Lastly, there are fully stationary tables with a one-piece design. This is a design commonly found on high-end designer tables and they do not allow for storage in between sessions.
By taking into account your available storage space and how often your table will need to be stored in between playing sessions, you can make an informed decision on which is the best table design for you.
Components of a Table Tennis Table
There are six essential components of a table tennis table.
The Playing Surface
The playing surface must be rectangular and flat with the dimensions of 2.74m x 1.525m (9ft x 5ft) and be 76cm (2.5ft) above the ground. Using the net as the delineator, there are two equal-sized courts on each side. The surface must be continuous over the entire playing area.
There are no specific rules regarding the material used for the playing surface and it is common to see different types of wood and composite materials. The playing characteristics matter most. In order to pass the test, a standard ball dropped from 30cm must bounce to a height of approximately 23cm. This needs to be consistent over all parts of the table.
The Net Assembly
The ITTF states that a net assembly is made up of a net, suspension system, net posts, and the clamps or other fastening method to attach the net system to the table.
The top of the net must be suspended at a height of 15.25cm (6 inches) across its entire length. The bottom of the net is to be as close to the playing surface as possible. The sides of the net must be attached completely to the net posts, top to bottom and without any gaps. Additionally, the net and posts on each side extend 6 inches out from the edge of the playing surface.
The Frame
The frame is the structural support of the table. The apron runs around the edges of the tabletop to provide additional stability and is usually made from a reinforced material that helps protect the tabletop integrity and edges. You will also find additional support pieces in a table's construction that serve different purposes. Certain pieces help alleviate pressure on the tabletop when folding or moving the table. A well-built table has a sturdy frame that protects and supports it over time.
The Legs
A table's legs support the weight of the table and also come into play when considering portability and storage. Low-end tables typically have lighter weight legs since their thin tabletops are not that heavy. This improves portability but lowers the stability and durability of the table. Conversely, higher-end tables are known to have very supportive legs since they need to support a heavy tabletop. These tables will stand up to more shocks and bumps, but moving them up a flight of stairs can be a real challenge.
Seeing as it is illegal to move the table or touch your non-playing hand on the playing surface during a point, the stability of a table should not come into play often. The main concerns are the longevity of the table and ensuring consistent performance over time.
From a design standpoint, there is a very important feature that you will find in certain high-end competition-level tables. For a table to be considered wheelchair-friendly or accessible on an official level, the legs must be set back at least 40cm from the edge of the tabletop to allow for sufficient clearance.
Wheels
Almost all modern tables have wheels, besides the stationary designer tables or very compact and lightweight folding tables. Unless you spend your weekends carrying atlas stones and flipping tractor tires, you can imagine why this is important. It is simply easier to move a table that has wheels. Most tables are designed for enhanced portability and ease of use. Larger wheels work better on rough or uneven surfaces so keep that in mind when choosing a table.
Built-in Racks
Quite a few tables have built-in accessory holders that store table tennis balls and rackets. This is a neat feature to have and you can find it on many recreational tables. Some manufacturers even maintain these features on their higher-end models because it can be a convenient way to keep track of your equipment and many customers like to have them.
Having said that, you won't find these accessory holders on high-end tables built specifically for competition. Serious tournament players have their own storage options, such as racket cases and bags, so these holders aren't needed.
---
Related Articles