Cornilleau 540M Crossover Outdoor
$1,750
$2,100.00
Save $350.00 (17%)
FREE SHIPPING with liftgate delivery to contiguous US locations. Most deliveries take 5-9 business days.
This is the latest edition with larger wheels and better warranty.
Also marketed as Cornilleau Pro 540M Outdoor.
Formerly known as Cornilleau Pro 540 Outdoor.
The Cornilleau 540M Crossover Outdoor Table Tennis Table is a very stable and durable competition table. This foldable table features a solid undercarriage and a fixed, steel net. The Cornilleau 540M Crossover Outdoor Table Tennis Table is ideal for intensive indoor and outdoor use for community services of all kinds, e.g. campgrounds, open air pools or playgrounds. The 7mm thick resin laminate surface is weatherproof. The top can withstand sun, rain, snow and ice and is resistant to bat blows. The non-glare coating provides good playing characteristics for the ball. The integrated score lines do not fade and do not come off.
The Cornilleau 540M Crossover Outdoor table features:
• 7mm resin laminate top provides a hard, dense playing surface which meets ITTF bounce standards - Patented MATTOP® finish provides an anti-glare finish and proper ball adherence
• 2 1/4" structural galvanized steel frame to support the playing surface
• Permanent tamper-proof steel net.
• 8" Double wheels casters with notched tread for superior grip
• 2 Wheel brakes to secure the table in play mode or storage mode
• 10 years warranty on materials and workmanship excluding wear parts (wheels, net and net posts)
The table weighs 185 lbs and folds compactly for storage at 62"H x 74"W x 30" D
SKU#125607
• Package dimensions: 62" x 56" x 6"
• Shipping weight: 216 lbs
Cornilleau has designed, developed, and produced high-quality table tennis (ping pong) tables at their plant in France for more than 45 years. Cornilleau products are available in over 75 countries worldwide. State-of-the-art production methods, high quality materials, and a thorough quality control process result in the best tables on the market. Cornilleau tables are produced using galvanized steel and other anti-corrosion materials to provide many years of play.
Additionally, all of the portable models are easy to fold, provide the playback feature, and include the patented DSI® safety system. DSI® allows the table to be opened and closed quickly and safely with a single handle accessible from the playing-edge. With 16 locking points, Cornilleau tables have the highest level of safety on the market.
Additional Information
Cornilleau has been making tables in France for over 45 years. They utilize state-of-the-art production methods for their tables, use only the highest quality materials, and employ a thorough quality control process resulting in some of the most durable tables on the market.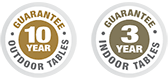 Cornilleau Warranty
Cornilleau tables are backed by some of the strongest warranties in the industry with a 10-year warranty on outdoor tables and a 3-year warranty on indoor tables.
This warranty applies to all the various components with the exception of wear parts (wheels, net and net posts). All Cornilleau tables adhere to the European safety standard EN 14468. In order to ensure the highest level of safety, Cornilleau has positioned itself a long way above this standard.
---
Tables to order in July 2019
What to consider when ordering a table
Truck delivery info, extra services etc.
Best Price Guarantee We guarantee to have the lowest prices (shipping included) in the US. Please tell us if you to lower price.
Reviews