Cornilleau 700M Crossover Outdoor
$2,149
$2,580.00
Save $431.00 (17%)
Sorry, this item is currently out of stock. You may ask us to send you a restocking notification when this item is back in stock.
FREE SHIPPING with liftgate delivery to contiguous US locations. Most deliveries take 5-9 business days.
Formerly known as Cornilleau Performance 700M.
The Cornilleau 700M Crossover Outdoor table is the best foldable outdoor table. Cornilleau is a leader dedicated to the design and production of premium table tennis equipment. Cornilleau relied on their use of high-quality solid materials, an industry leading folding system/safety features and an unmatched warranty to create the Cornilleau 700M Crossover Outdoor table. The following is a more complete list of features:
Cornilleau 700M Crossover Outdoor features
• 9mm resin laminate top provides a hard, dense playing surface
• MATTOP finish provides an anti-glare surface and proper ball adherence
• 2 1⁄2" aluminum/zinc/steel alloy with UV-resistant finish
• Sturdy leg design looks great and provides solid support for the table
• Adjustable leg height to smooth out uneven surfaces
• Racket and ball storage on each side of the table
• 8" double-wheel casters with notched tread for superior grip
• Wheel brakes on all four wheel to secure the table in play mode or storage mode
• Permanent weather-resistant polyester net system with tension and height adjustment
• Corner protectors for added safety
• Ball dispenser on each playing edge of the table
• Retractable net automatically folds in-between the tops for protection and to reduce storage space -Transport handles lets you easily pull and lift the table to avoid obstacles
• 10 years warranty on materials and workmanship excluding moving parts (wheels, net and net posts)
SKU#157607
• Package dimensions: 62" x 56" x 6"
• Shipping weight: 244 lbs
Cornilleau 700M Crossover Outdoor Cons and Pros
Pros
• This is a top-notch outdoor table with incredible performance, portability and features.
• Easy fold-up with playback mode and compact storage.
• Built-in ball and racket holders.
• Cornilleau stands behind their outdoor tables with a 10-year warranty.
Cons
• Fixed net system limits replacement options.
• Considerable assembly required.
• This is an expensive table. For a cheaper option that comes in Blue or Gray check out the 500M Crossover Outdoor with many of the same features.
About Cornilleau
Cornilleau has designed, developed, and produced high-quality table tennis (ping pong) tables at their plant in France for more than 45 years. Cornilleau products are available in over 75 countries worldwide. State-of-the-art production methods, high quality materials, and a thorough quality control process result in the best tables on the market. Cornilleau tables are produced using galvanized steel and other anti-corrosion materials to provide many years of play.
Additionally, all of the portable models are easy to fold, provide the playback feature, and include the patented DSI® safety system. DSI® allows the table to be opened and closed quickly and safely with a single handle accessible from the playing-edge. With 16 locking points, Cornilleau tables have the highest level of safety on the market.
Additional Material
Cornilleau has been making tables in France for over 45 years. They utilize state-of-the-art production methods for their tables, use only the highest quality materials, and employ a thorough quality control process resulting in some of the most durable tables on the market.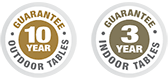 Cornilleau Warranty
Cornilleau tables are backed by some of the strongest warranties in the industry with a 10-year warranty on outdoor tables and a 3-year warranty on indoor tables.
This warranty applies to all the various components with the exception of wear parts (wheels, net and net posts). All Cornilleau tables adhere to the European safety standard EN 14468. In order to ensure the highest level of safety, Cornilleau has positioned itself a long way above this standard.
---
See what's on sale in July 2020.
What to look for, what to avoid, and more.
Truck delivery info, extra services etc.
Warranty Plus: Additional Warranty Support If Needed
Megaspin offers an additional layer of support to standard manufacturer policies, at no extra charge, to ensure that any warranty claim or product defect issue is resolved with the manufacturer in the shortest time possible and to your maximum benefit. Our responsive and enthusiastic support team will be there to help you when you need us. See what others are saying.
Best Price Guarantee
We guarantee to have the lowest prices (shipping included) in the US. Please tell us if you see a lower price.
Reviews of Cornilleau 700M Crossover Outdoor (1)
Review by

edwardjd

(Verified Customer) for

Cornilleau 700M Crossover Outdoor

on November 24, 2016
This is my very first time outdoor table tennis purchase & I just played with it few hours (with my robot butterfly amicus professional). My first feelings about my Cornilleau 700M crossover:

- Delivery from Megaspin to home: At the first time I saw a lot of shoes signs on the big sides of the package. However the package shape looks good with no damage at all.

- Packaging: I had no complains about extrnal packing for my Cornilleau at all. It was packaged very carefully outside, framed with four particle boards that prevent the package from any damage from edge. Two big sides were also secured with two big thick cartons.

However I'm quite disappointed about packaging inside for all plastic parts including legs, wheels & shoes pads, etc. They were not covered by anything. Therefore they moved around in the package during delivery and got scratched (several of them got scratched deeply and one ball dispenser was broken) not only themselves, but also the bottom surface of the table. I know these are not important and don't affect to the quality of my Cornilleau, but they decrease the beauty of a high-end table tennis table. That's why I feel bad when spending almost $2,000.00 for a "crossover" table tennis like Cornilleau 700M.

- Assembly: Honestly assembly Cornilleau 700M crossover takes a lot of time if compared to my indoor Joola Tour 2500 (less than 20 min). With available videos on YouTube plus user manual going together with my Cornilleau, I thought it's not difficult at all at the first time. Luckily I downloaded two versions of videos "How to assembly Cornilleau 700M": one made by Cornilleau, and another one made by Table-Tennis-Tables.co.uk. Video from Cornilleau list all necessary parts with part number for each step. the video from Table-Tennis-Tables.co.uk just show parts without part numbers at all. My plan is that I use the user manual to make sure that I have all necessary parts in the package first, then follow the videos "How to..." from both Cornilleau and Table-Tennis-Tables.co.uk to assembly my cornilleau. According to video of Cornilleau, the assembly process takes about 1 hour and a half to complete, and I think I may spend two hours to finish. In fact, I'm wrong: I spend almost four hours to do assembly. The reason is that I too believe on Cornilleau's video. Several parts they listed in their video are wrong typos, for examples "1140" instead of "1024". So these incidents make me spend more time to look for the parts I need: it might be missed by Cornilleau or I lost it when doing assembly or opening the package, etc. Finally I figured out why... after comparing the installation manual with Cornilleau's video: Cornilleau has wrong typos for a few part numbers in their video.

Another incident occurs when I use screws (#1452) into the pre-drilled wholes to attach the part #7150 with the part #4467.0S8.3/81. A pre-drilled holes are too small and not deep enough so I have to drill more. A little bit nervous because I am afraid to damage the part #4467.0S8.3/81.

Luckily no scratch on the surface of my Cornilleau at all except several oil spots on it from the manufacturer.

- Appearance: I feel that the color of Cornilleau 700M crossover (grey) is not attractive at all if comparing to blue or green. Due to most parts of Cornileau 700M crossover are made from plastic, Cornilleau 700M looks a little bit cheap if comparing to an indoor butterfly centrefold 25.

- Ball bouncing: Comparing to my previous indoor Joola Tour 2500, the ball bouncing looks good and similar to. Cornilleau claims that "The top on the 400M which is 6mm has actually passed the ITTF bounce test and therefore 700M is better". However it's still a big distance if comparing 700M crossover with other high-end indoor table tennis.

Edit: Cornilleau response:

The customer ordered a high-quality outdoor table. It sounds like the assembly went well and if they have the Butterfly Amicus they are a serious player.
DELIVERY: The carrier obviously miss-handled the freight given that it has shoe marks all over the box.
PACKAGING: Cornilleau is aware there is potential of shifting parts but if the carrier handles the product appropriately and leave the table lying flat on a pallet there is no issue. If parts get damaged pictures should be send to support@cornilleau.com and Cornilleau will send replacements.
ASSEMBLY: The Joola Tour may be a "two piece" table. If this is true, the table only requires the upper portion and lower portion of each leg be bolted together the balance of the table is already assemble so yes, the assembly of a "two piece" style table will take less time. Generally, the assembly of a "one piece" table requires about 1-2 hours. A "two piece" style table still folds however you have to take the net off when you want to fold the table as each half gets folded separately. Cornilleau may update the parts for a table but the video may lag behind with regards to the part numbers. The assembly is the same, but the part numbers may differ just a bit. As for assembly the time spent may vary a bit. We think the hands-on assembly may take 1-2 hours depending upon the customer's handiness. If you add the time spent verifying parts is may take longer.
Appearance: Cornilleau does manufacture tables in Blue however we do not manufacture tables in green. Very few manufactures make green tables.
Ball bouncing: Cornilleau manufactures tables with difference thicknesses to fit a customer's budget. The thicker the top the better the bounce.