Butterfly Lezoline Groovy - Black
$114
.99
$124.99
Save $10.00 (8%)
Free US Shipping
The Black Groovy Shoe is smartly designed for the intense footwork of top players
• It provides excellent grip and stabilizing properties
• A thin midsole offers a sense of being 'barefoot', yet is surprisingly comfortable
• The traditional mesh toe has been removed and covered, providing added durability
• Coloring with euphoria!
• Color: Black

Sizing Chart
| US Size | Euro Size | Japan Size | Inches | mm |
| --- | --- | --- | --- | --- |
| 4.5 | 34 | 22.5 | 9 1/4 | 235 |
| 5 | 35 | 23 | 9 1/2 | 241 |
| 5.5 | 36 | 23.5 | 9 3/4 | 248 |
| 6 | 37 | 24 | 9 7/8 | 251 |
| 6.5 | 38 | 24.5 | 10 | 254 |
| 7 | 39 | 25 | 10 1/4 | 260 |
| 7.5 | 40 | 25.5 | 10 3/8 | 264 |
| 8 | 41 | 26 | 10 5/8 | 270 |
| 8.5 | 42 | 26.5 | 10 7/8 | 276 |
| 9 | 43 | 27 | 11 | 279 |
| 9.5 | 44 | 27.5 | 11 1/4 | 286 |
| 10 | 45 | 28 | 11 3/8 | 289 |
| 10.5 | 46 | 28.5 | 11 5/8 | 295 |
| 11 | 47 | 29 | 11 3/4 | 298 |
| 11.5 | 48 | 29.5 | 12 1/8 | 308 |
| 12 | 49 | 30 | 12 1/4 | 311 |
Sizing Instructions
• Before you purchase your shoes, please take the time to measure the insole of a current sports shoe you wear. Then compare it to the chart above and chose the correct size.
• Sizing varies from manufacturer to manufacturer. As such, do not just order a size based on a different brand of shoe you wear.
• The correct way to measure is from the tip of the toe to the back of the heel, between the two furthest points.
---
Customers who purchased Butterfly Lezoline Groovy - Black also purchased:
Butterfly Shoes Comparison Chart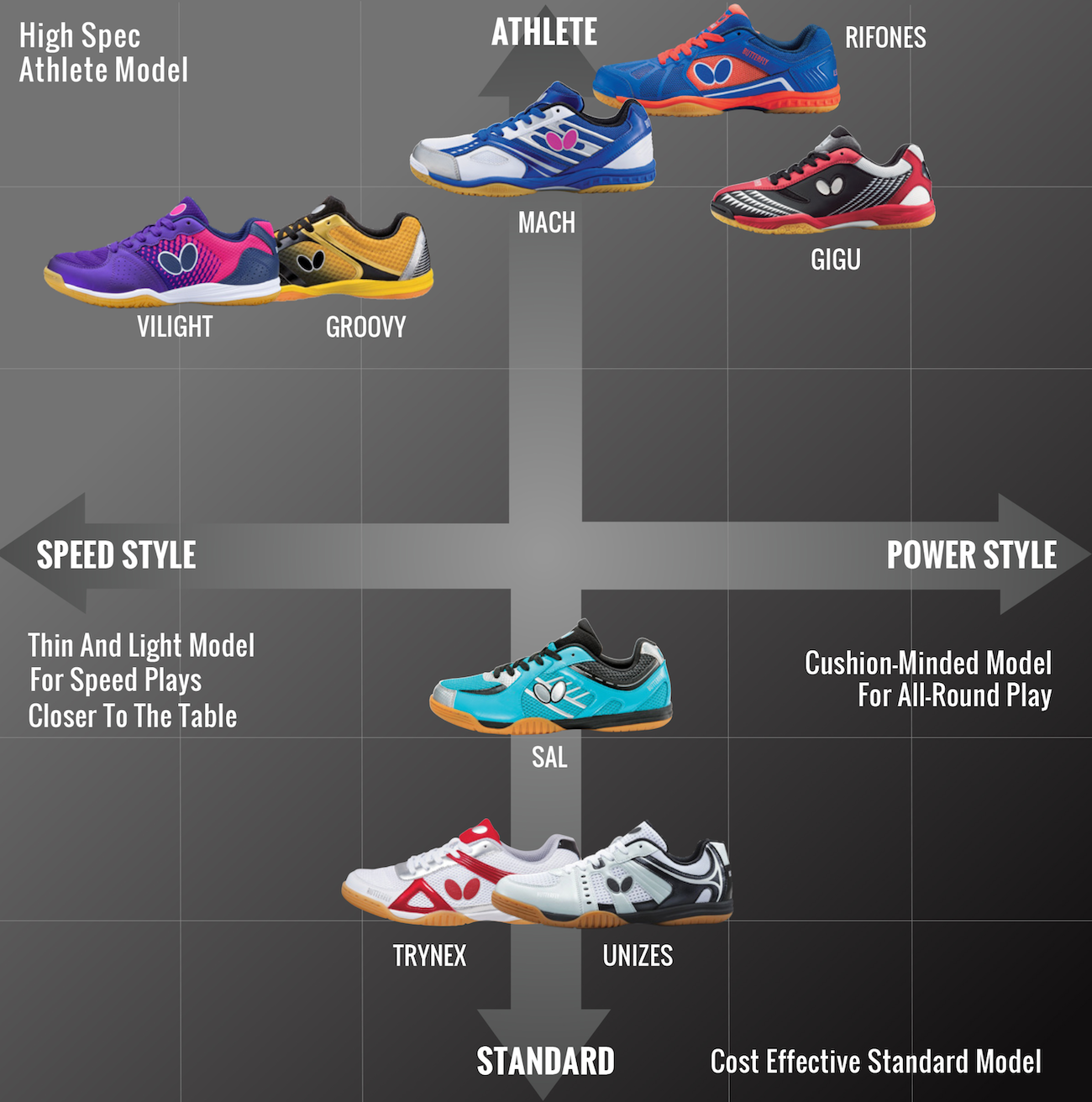 ---
Best Price Guarantee
We guarantee to have the lowest prices (shipping included) in the US. Please tell us if you see a lower price.
Reviews of Butterfly Lezoline Groovy - Black (1)
Review by

suhailalam

(Verified Customer) for

Butterfly Lezoline Groovy - Black

on October 27, 2017
Phenomenal! Prior to this was using an Asics gel type shoe that was recommended on some forum. These shoes are so much better that I don't know how I could play before! Sizing chart is perfect. Shoe looks better in person.. insole as in most shoes is garbage. Highly recommend sport orthotic insole such as Dr Scholl's or others for proper arch support.