XIOM T5
$1,099
$1,799.00
Save $700.00 (39%)
FREE SHIPPING to contiguous US locations.
Comes with a competition-grade net set.
The 25mm Tough Coat/Tourna Surface top and Muscle Back features make it one of the sturdiest, most durable and best-made tables on the market.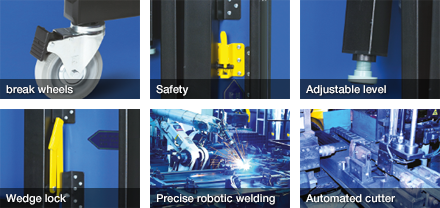 PRECISION STRUCTURE / Precise Specification Of Undercarriage
Table tennis tables may seem similar to ordinary furniture but in reality, it is a sporting equipment that requires high precision manufacturing. Playing on a table that does not meet the precision requirements is like playing soccer on a field with irregular lines. In order to manufacture accordance to specifications, bound requirements, and other standards set by ITTF, tables require advanced engineering and excellent quality control. To meet such precise requirements, XIOM uses robotic welding and automated cutters/drillers to achieve high quality and precision.

SEPARATE ROLLAWAY SYSTEM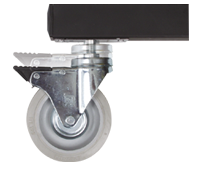 XIOM T5 can be split into 2 pieces that are easily movable with T-shaped wheel leg unit. The tops are connected with a net post, and you may practice by yourself in playback mode by setting up-right position.

WHEEL HEIGHT ADJUSTMENT
There can be gaps between the wheels and the floor if the floor is not flat. With XIOM T5's patented height adjustment mechanism, you can adjust the height of the wheel by turning the wheel or the lower round part indicated. Front legs are pre-fitted with height adjustment screws at the bottom of the legs.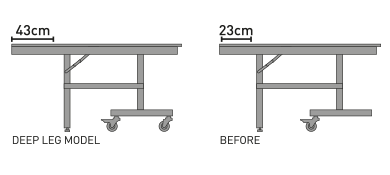 DEEP LEG / Increased Play Space
To eliminate interference of the legs with play XIOM's new design pushes the legs inside, over 43 cm from the end line.

SCRATCH FREE / Powder Coating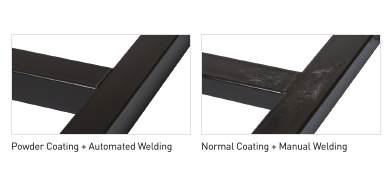 The powder coating is electronically applied over the metal parts of the table and baked in high temperatures make it shock-resistant and scratch-resistant.

TOURNA SURFACE / ITTF Standard Bounce
ITTF only recognizes table tops with over 67% bound ratio as standard products. All models of XIOM's indoor tables comply with this standard. XIOM tops have a high reflection angle and good spin reflex thanks to its high-grade coating method.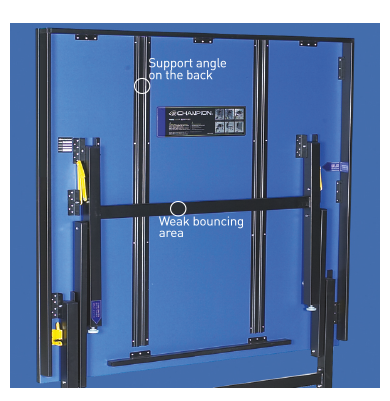 MUSCLE BACK / Bounce Support Angle
Normally the bounce is different between the edge of the table and the central area. XIOM T5 is fitted with support angles underneath the surface top for a highly consistent bounce.


TOUGH COAT / Durability Coating
XIOM tables are manufactured with water and heat resistant laminating materials on the flat base coat to increase the lifespan of the table. XIOM's internationally patented lamination is used to produce high-quality bounces for professional table tennis.


BOUNCE COAT / Quality Bounce Coating
Finished with special coating materials, XIOM tables have a greater frictional force which allows high angled bounce and minute reflex on the ball. Tables are produced with protection film on the top.
HDPB Surface
Compared with MDF (Medium Density Fiberboard), HDPB is harder, lighter and less affected by moisture.
Specifications
Top
Surface: 1" (25mm) HDPB surface
Playback mode: Yes
Wheelchair-friendly: Yes
Surface Coating: Tough Coat and Anti Gloss
Legs: 50 x 50mm (1.4mm thickness), adjustable height, Power Coating finish
Frame: H60mm
Bound: ITTF Standard, Support Angle 1 per Top
Structure: Separate Rollaway, Deep Leg
Safety: Safety Lock 1 per each side (tot2)
Locking: Manual wedge Lock - 2 each side
Wheels: 5" x 8 (4 Break Wheels)
Assembly time: 30 minutes
Weight: 123kg /271lbs
Made in: Korea
ITTF-approved: ITTF approval certificate was not renewed for this table but it still meets ITTF standards.
Warranty
XIOM Table Tennis Tables include a 1 year warranty against factory defects. Warranty does not cover misuse of product.
Download Product Manual (PDF file)
Additional Information
Tables to order in December 2018
What to consider when ordering a table
Truck delivery info, extra services etc.
Best Price Guarantee We guarantee to have the lowest prices (shipping included) in the US. Please tell us if you to lower price.
Reviews of XIOM T5 (2)
Review by

guest_242464ve

(Verified Customer) for

XIOM T5

on June 22, 2015
It's a really good table. Ball bounce nice and before I bought it from your company I made research so definitely I would recommend this product.
---