Cornilleau 400M Crossover Outdoor
$1,449
$1,740.00
Save $291.00 (17%)
FREE SHIPPING with liftgate delivery to contiguous US locations. Most deliveries take 5-9 business days.
This is the latest edition with larger wheels than the previous edition.
Cornilleau standard features include quality production and materials, ease of use, best safety design, excellent warranty, and playback mode.
Formerly known as Cornilleau Sport 400M Outdoor and Cornilleau Performance 400M Outdoor.
Cornilleau standard features include quality production and materials, ease of use, best safety design, excellent warranty, and playback mode. In addition, the Cornilleau 400M Crossover Outdoor features:
• 6mm resin laminate top provides a hard, dense playing surface
• Patented MATTOP® finish provides an anti-glare finish and proper ball adherence
• 1 3/4" structural galvanized steel frame to support the playing surface
• Ball and racket storage on each side of the table
• 6" double-wheel casters with notched tread for superior grip
• Permanent weather-resistant polyester net system with tension and height adjustment
• Retractable net that automatically folds in-between the tops for protection and to reduce storage space
– Corner protectors for added safety
• Special Outdoor Double wheels oversize
• 2 Wheel brakes to secure the table in play mode or storage mode
– Adjustable leg height to smooth out uneven surfaces
– Available in Blue or Gray colored playing surface
• 10 years warranty on materials and workmanship excluding wear parts (wheels, net and net posts)
Blue top SKU#134605 - Gray top SKU#134607
• Package dimensions: 62" x 56" x 5"
• Shipping weight: 174 lbs
Cornilleau has designed, developed, and produced high-quality table tennis (ping pong) tables at their plant in France for more than 45 years. Cornilleau products are available in over 75 countries worldwide. State-of-the-art production methods, high quality materials, and a thorough quality control process result in the best tables on the market. Cornilleau tables are produced using galvanized steel and other anti-corrosion materials to provide many years of play.
Additionally, all of the portable models are easy to fold, provide the playback feature, and include the patented DSI® safety system. DSI® allows the table to be opened and closed quickly and safely with a single handle accessible from the playing-edge. With 16 locking points, Cornilleau tables have the highest level of safety on the market.
Cornilleau 500M Crossover Outdoor Pros and Cons
Pros:
• Anti-glare finish and 7mm table top provides a quality playing experience for all ranges of players.
• Easy fold-up with playback mode and compact storage.
• The DSI folding and locking mechanism is one of the most secure systems on the market. With a central release handle that controls 16 locking points, it's incredibly safe and easy to use.
• Built-in ball and racket holders.
• Large 8" wheels for great portability.
• Cornilleau stands behind their outdoor tables with a 10-year warranty.
Cons:
• Fixed net system is convenient but limits replacement options.
• Considerable assembly required.
• For a thicker table top that comes in gray, check out the 700M Crossover Outdoor.
Additional Material
Cornilleau has been making tables in France for over 45 years. They utilize state-of-the-art production methods for their tables, use only the highest quality materials, and employ a thorough quality control process resulting in some of the most durable tables on the market.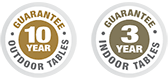 Cornilleau Warranty
Cornilleau tables are backed by some of the strongest warranties in the industry with a 10-year warranty on outdoor tables and a 3-year warranty on indoor tables.
This warranty applies to all the various components with the exception of wear parts (wheels, net and net posts). All Cornilleau tables adhere to the European safety standard EN 14468. In order to ensure the highest level of safety, Cornilleau has positioned itself a long way above this standard.
---
See what's on sale in July 2020.
What to look for, what to avoid, and more.
Truck delivery info, extra services etc.
Warranty Plus: Additional Warranty Support If Needed
Megaspin offers an additional layer of support to standard manufacturer policies, at no extra charge, to ensure that any warranty claim or product defect issue is resolved with the manufacturer in the shortest time possible and to your maximum benefit. Our responsive and enthusiastic support team will be there to help you when you need us. See what others are saying.
Best Price Guarantee
We guarantee to have the lowest prices (shipping included) in the US. Please tell us if you see a lower price.
Reviews of Cornilleau 400M Crossover Outdoor (2)
Review by

fredzemail74

(Verified Customer) for

Cornilleau 400M Crossover Outdoor

on February 20, 2017
Table arrived on a wooded skid made specifically for shipping it safely. Outstanding job on the packing and shipping of the table. Very pleased.
Assembly – Overall, the assembly is straightforward and easy. However, I would like to say that the quality of the screws supplied could have been much better. They are Philips headed and not the strongest metal. Anyone who has used poor quality Philips headed screw knows how difficult they can be to manage. The heads can deform easily if you are not careful. That was almost the case here. I wouldn't say they were the worst I've seen but certainly not the best. I'd also like to mention that many screws would have been more easily installed if they were socket head cap screws (or hex head screws). Hex headed screws and a hex key (or Allen wrench in my part of the world) would have be a great addition to this table. Other than that…..the table went together just as the supplied instructions show.
Now for the good stuff -
I love playing on this table! Bounce is great (in my opinion). Quality of the product is very good. The automatically folding net is a great feature. It's sure to keep the net and it's uprights in good shape. If you've had other tables, you know the uprights for the net can break easily if neglected. The table folds nicely and the overall assembly didn't take too long. About an hour or so. Make sure you have a friend with you while you assemble it. There are many areas whereas a second pair of hands greatly helps. Trust me.
I really wish they would supply a cover with it though. For the price point it's at, a cover would certainly be a nice touch……just a thought.
FYI, I would certainly buy it again. Outstanding product overall. But I might upgrade the screws myself on the next go around ;0)

---
Review by

yardsale

(Verified Customer) for

Cornilleau 400M Crossover Outdoor

on October 21, 2016
This table has met my expectations for durability and play.
I expect it to hold up to many players over many years.
The ease of folding with a auto-retractable net is especially important to our many users allowing the table to be put away with ease.
Super service too.
Thank you.