Cornilleau Turn 2 Ping Indoor Conversion Top - Blue
Sorry, this item is currently out of stock. You may ask us to send you a restocking notification when this item is back in stock.
FREE SHIPPING with liftgate delivery to contiguous US locations. Most deliveries take 5-9 business days.
The Cornilleau 18mm Indoor Ping Pong Conversion Top allows you to convert your pool table or dining table to a fun-packed ping pong table in minutes. Constructed of two 18mm thick trays of agglomerated wood for indoor use. System includes two posts and net with adjustable height and tension. Protective felt under the tray protects the top of your table or billiard table. Easy to install and store.
FEATURES:
• Converts a pool table, game table or any table into a ping-pong table in just 2 minutes
• For indoor use only
• Two 18mm agglomerated wood trays
• Felt strips under the trays protect the top of your table or billiard table
• Easy to install and store
• Includes set of posts and net
SPECIFICATIONS:
• Thickness: 18mm
• Material: Agglomerate Wood
• Color: Blue
• Dimensions: 9' x 5' (Full-size table)
• Weight: 139 lbs
Cornilleau has been making tables in France for over 45 years. They utilize state-of-the-art production methods for their tables, use only the highest quality materials, and employ a thorough quality control process resulting in some of the most durable tables on the market.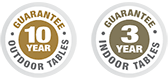 Cornilleau Warranty
Cornilleau tables are backed by some of the strongest warranties in the industry with a 10-year warranty on outdoor tables and a 3-year warranty on indoor tables.
This warranty applies to all the various components with the exception of wear parts (wheels, net and net posts). All Cornilleau tables adhere to the European safety standard EN 14468. In order to ensure the highest level of safety, Cornilleau has positioned itself a long way above this standard.
---
See what's on sale in June 2020.
What to look for, what to avoid, and more.
Truck delivery info, extra services etc.
Warranty Plus: Additional Warranty Support If Needed
Megaspin offers an additional layer of support to standard manufacturer policies, at no extra charge, to ensure that any warranty claim or product defect issue is resolved with the manufacturer in the shortest time possible and to your maximum benefit. Our responsive and enthusiastic support team will be there to help you when you need us. See what others are saying.
Best Price Guarantee
We guarantee to have the lowest prices (shipping included) in the US. Please tell us if you see a lower price.
Reviews