JOOLA Rossi Jr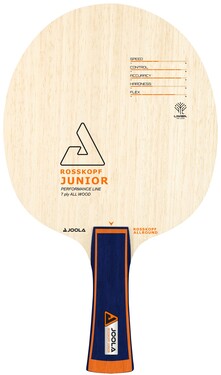 $34
.95
$39.95
Save $5.00 (13%)
"There is no suitable blade for beginners, couldn't you develop one?" This is one of the inquiries we constantly get asked.
Here is our answer: The blade ROSSI Junior was developed in close cooperation with Germany's top coaches Dirk Schimmelpfennig and Richard Prause.
The grips are narrower - especially made for a child's hand - and the blade is slightly smaller, so that an optimal distribution of weight is achieved.
The ROSSI Junior is an exact reproduction of our classic blade ROSSI All Around, just for a child's hand. For this blade all features like speed, control as well as quality are achieved.
In combination with the Mambo rubber, the new JOOLA Junior blade is the perfect start in table tennis.
Type: ALL
Speed: 63
Control: 88
Bending Resistance: 88
Weight: 80g
---
Customers who purchased JOOLA Rossi Jr also purchased:
Additional Information
JOOLA Blades Comparison Chart
Blade FAQ and Guide - what you need to know when buying a blade.
Compare Blades - blade rating comparison chart.
Blade Weight Variations - Actual blade weight may vary by up to 8g.
Best Price Guarantee We guarantee to have the lowest prices (shipping included) in the US. Please tell us if you find a lower price.
Reviews of JOOLA Rossi Jr (1)
External Review

for

JOOLA Rossi Jr

on September 19, 2008
This blade surprised me! It's a cheap allround blade, and I thought it would be a slow beginners blade of poor quality. I actually ended up using it for quite some time! It's stiff, with a soft feel. It loops good, and blocks absolutely amazing! Good to produce spin with, and great control! You feel like you can direct the ball wherever you want. Last but not least, it's great value for your money! It's cheap, the handle is really good, and you can use it for everything from loopin to chopping (I've used it for both) Works good with softer rubbers.