Yasaka Dynamix 17 with Mark V Rubber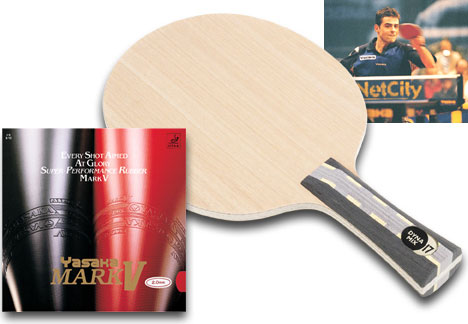 Sorry, this item is currently out of stock. You may ask us to send you a restocking notification when this item is back in stock.
Blade: Yasaka Dynamix 17
Yasaka DYNAMIX 17 is a state of the art product.
A never seen before 17 extremely thin layers of wood plys, yet it comes in at a low weight of only 90 gram.
Another powerful weapon you can depend on.
Speed: 92
Control: 78
Weight: 90
Ply: 17
Rubber: Yasaka Mark V
Was one of the first rubber blending natural and synthetic rubbers. It is more than 2 decades that this rubber has been a strong weapon in world class championship play with its dynamic speed and spin.
Speed: 90
Spin: 90
Control: 78
FAQ: What is the rubber thickness of this combo?
Unless otherwise stated, all Yasaka/Donic/XIOM Pro Combos come with 2.0mm or 2.1mm rubber but can be ordered in all other available sizes if a note is placed in the "other instructions" section of the order form.
FAQ: Is this racket assembled for me?
Yes, you can play with it right out of the box! We assemble this racket using VOC-free glue. We cut the rubber sheets using professional tools and we add free side tape that matches the blade. We will package your racket with padded material to avoid delivery damage.
FAQ: Can I replace this racket's rubber sheets?
Yes, we assemble with VOC-free table tennis glue so you will be able to replace the rubber sheets.
FAQ: Do you apply blade sealing to this racket?
Yes, we seal your racket free of charge to make it easier to replace the rubber sheets in the future without damaging the blade.
Racket Assembly FAQ - Learn about free racket assembly, pre-assembled rackets and more.
Best Price Guarantee
We guarantee to have the lowest prices (shipping included) in the US. Please tell us if you see a lower price.
Reviews