10% off
orders of 2 or more
Gewo rubber sheets
. Your discount will appear on the shopping cart.
15% off
20% off
if you add a
Gewo blade
(discount on entire combo).
GEWO Nexxus XT Pro 48
The GEWO Nexxus XT is a powerful modern day offensive table tennis sponge designed for the high spin, and power play of today's professional table tennis game. This rubber is engineered to produce high performance of the new ABS 40+ ball.
The Power Package of the Nexxus series Maximum dynamics and a flat trajectory combined with enormous catapult effect are the prime features of this modern day offensive rubber. FLEX-TEC technology provides for maximum speed, while the DGC40+ 2.0 top sheet guarantees consistent and reliable coupling when the bat hits the ball., especially if used with maximum sponge thickness of 2.3mm. This power package unfolds all its power and energy potential. Despite the speed and dynamics of the 48° hard sponge, GEWO Nexxus XT Pro 48 provides for astonishing feel, thanks to its grippy top sheet, and unbelievable reliability for passive strokes used in modern serve/return situations, blocking and flips.
Features:
• Flat and direct trajectory characterize this power package.
• Attacking rubber with optimized speed and catapult features, unfolding its full strength and power when taking it to the limit.
• Uncompromising attacking power!
Ideal for modern attackers relying on dynamic, speed-focused, close-to-the-table and mid-distance topspin playing.
Due to the arrival of the new ABS 40+ ball into international competitive play, rubber top sheets had to be adjusted accordingly to maximize new performance demands from the professional player. The latest ball generation produces less rotation and speed. To compensate for this loss in rotation and speed, you have two options: Adjust your technique or your material. GEWO aims at supporting the necessary physical adjustments with innovative solution approaches - a thin, high-grip top sheet (nexxTT) compensating the loss in speed and rotation with its inherent dynamics and higher tension. Combined with a medium-pore, dynamic sponge which, depending on the performance variant chosen (XT for speed or EL for spin), makes the Nexxus Pro Series your choice for the best energy transfer possible.
Speed: 126
Control: 90
Spin: 123
Hardness: Medium Hard Euro 48.3, Japan 35.5
---
Customers who purchased GEWO Nexxus XT Pro 48 also purchased: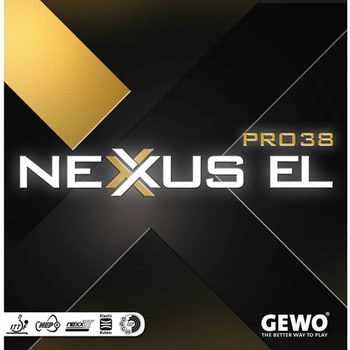 Rubber FAQ and Guide - what you need to know when buying rubber sheets.
Compare rubber ratings - compare ratings to other sheets.
Best Price Guarantee
We guarantee to have the lowest prices (shipping included) in the US. Please tell us if you see a lower price.
Reviews of GEWO Nexxus XT Pro 48 (6)
View all 6 reviews
Very good rubber that makes the nexxus series the most durable sponge. Good on both sides.
---
Use it on BH of my Tibhar Cedric Nuytinck blade for about 1.5 month now... It's really great with 40+ ABS balls, with which is overall not easy to create much spin, but somehow with this rubber it really becomes easier to generate spin with this balls, also the trajectory is tends to be quite low, espessially close to the table, so it's really not comfortable for your opponent... It's show it's best qualities close to the table, "bananas", flicks are just amazing, blocks are also fantastic and precise. Far from a table it's also plays quite nice, but you have to have at least OFF blade and put quite some power to your shot so that your topspin will be dangerous for your opponent...

All above is about BH, for me this rubber is too soft for FH, but it maybe only my own issues, I just like quite hard rubbers on FH, so I tried GEWO Nexxus XT PRO 48 on my FH about a week ago and so far like it very much, really great for my FH (for BH for me it's a bit too hard, but main issue it's too fast for my BH, IMHO it's much faster than it's EL "brother")...
---
Really nice OFF rubber! You don't feel the 48 thanks to the thin topsheet. It's very stable. Not the fastest, nor spinniest, but a mix of qualities that implies great confidence while using it. Maybe one of the most balanced recent rubber.
Edit: After few hours, the spin increased! I can impart as much spin on my serve as with a T05! Great rubber from Gewo!
Give it a try, really.
---
View all 6 reviews

Gewo Rubber

Table Tennis Rubber
---
All items are in stock unless otherwise stated. All prices are in USD.
If you need help or advice please contact us. We are happy to help!