Butterfly Nakama P-4 Japanese Penhold Racket
Free US Shipping
Great Racket For Accomplished Recreational Players
• Great Racket For Accomplished Recreational Players
• Nakama Series
• Includes 2 40+ Balls
• Recommended For Intermediate Level Players
The Butterfly Nakama P4 Japanese Penhold Table Tennis Racket is a one-ply juggernaut. Solid and well balanced for an all-round style of play. Flextra is a terrific intermediate level rubber with a bit more spin than speed. The softer sponge layer of Flextra will 'hold' the ball longer making it ideal for learning the basics. The backside of the blade is painted black as traditional Japanese penhold rackets are constructed with rubber on only one side of the blade surface. Both forehand and backhand shots are executed using the same side of the paddle.
• Blade Construction: 1-Ply Wood
• Handle: Japanese Penhold - Cork Mounted On Top Of Handle & Back Of Blade For Comfort
• Rubber: Flextra - Sponge Thickness 1.9mm
• Comes with two 40+ (poly) balls
• International Table Tennis Federation Approved
Speed: 82
Spin: 87
Control: 60
PLEASE NOTE: Like most recreational rackets, this racket is assembled with a glue that is intended to keep the rubber permanently attached to the wood for the life of the racket.
---
Customers who purchased Butterfly Nakama P-4 Japanese Penhold Racket also purchased: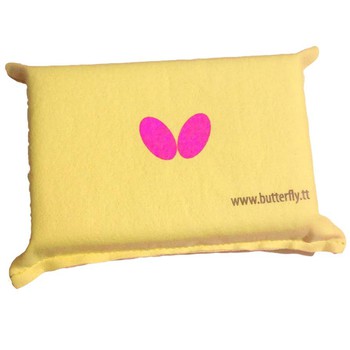 Racket Assembly FAQ - Learn about free racket assembly, pre-assembled rackets and more.
Best Price Guarantee
We guarantee to have the lowest prices (shipping included) in the US. Please tell us if you see a lower price.
Reviews

Butterfly Recreational Rackets

Table Tennis Rackets
---
All items are in stock unless otherwise stated. All prices are in USD.
If you need help or advice please contact us. We are happy to help!