XIOM Vega X
Xiom Vega X is a topspin rubber of the latest generation. This top notch table tennis rubber is one of the best spin-creating topspin rubbers in combination with the plastic ball. Due to its playing characteristics and hardness, the rubber is a worthy successor to the Xiom Vega Pro. The surface of the Vega X was completely reworked resulting in an improved overall performance.
Speed: 91
Spin: 92
Control: 91
---
Customers who purchased XIOM Vega X also purchased: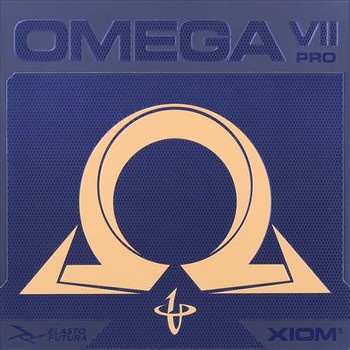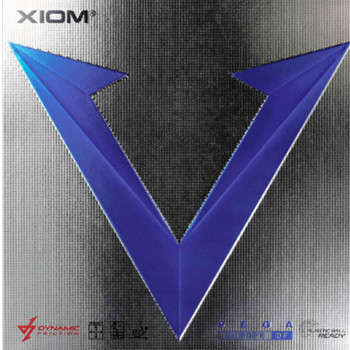 Rubber FAQ and Guide - what you need to know when buying rubber sheets.
Compare rubber ratings - compare ratings to other sheets.
Best Price Guarantee
We guarantee to have the lowest prices (shipping included) in the US. Please tell us if you see a lower price.
Reviews of XIOM Vega X (6)
View all 6 reviews
Very good fh rubber! I used to use omega 7 pro on the forehand but I struggled with the slow spinny opening loops.O7P is "kill or be killed" type of rubber.. Vega X has higher arc, generally slower speed(not much), less spin ..but much much more control. If I were competitive player I would definitely choose O7P but for hobby weekend-to-weekend game VX is the right choise because of the its ease of play
---
Currently I am searching for less spin sensitive rubbers for my FH and I came to this rubber. Some say, that it is an upgrade to the Vega Pro. Usually I play modern looping/attacking rubbers on my FH (Like M1, Omega V PRO, MX-P). I was searching for a fact, but bit less spin sensitive and forgiving gear. So this rubber has a soft upper rubber, that absorbs the ball and helps to get a prolonged contact during your hit. But when you engage the sponge it simply explodes. This rubber is fast. The general throw of the rubber is flat, but it always clears the net, I did not have to alter my technique from them M1 to play with this rubber. When you loop, the throw angle can get really high. This is a really stable rubber, mainly for FH. Cut down to standard butterfly head size it is 53 g. Compared to the modern tensors it does not have a huge spin potential, it is only decent. On the other side, this rubber is simply a confidence booster, it has insane amount of controlled speed paired with resistance to incoming spin. If your game is about (fast) looping and counerlooping and quickly playing the ball out of the reach of your opponent, this rubber will help you to do that. The price is really good, the durability is also good. Maybe this is not recommended generally to pro players, because of the lack of monster spin, but every intermediate player should check it out if it suits their playing style.
---
I use VX black sheet max on my FH. Speed is equal to Vega Pro(OFF),but VX has more spin. Suitable for develop players who wanna improve their stroke. Overall VX is a good rubber for 33(TT11) price range.
*I paired VX with TB ZLF blade.
---
First day having XIOM Vega X. (i change from Omega 7 Pro)
overall experience compare to Omega 7 Pro, significantly is heavier (entire movement speed slower).
But they stroke improve a lot. Accuracy improve a lot. Spinny more or less compare O7P.
Very fast speed, and tacky. Overall is a good rubber with this price point, easy to use. not require high skill to control the rubber.
*DSH 301 blade.
View all 6 reviews

Xiom Rubber

Table Tennis Rubber
---
All items are in stock unless otherwise stated. All prices are in USD.
If you need help or advice please contact us. We are happy to help!