RITC 804 Anti-Spin Rubber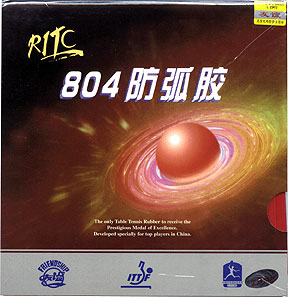 Sorry, this item is currently out of stock. You may ask us to send you a restocking notification when this item is back in stock.
RITC Friendship 804 Anti-Spin rubber,
Incoming spin has little effect
Sinking ball
Precision placements
Great for Defensive players
ITTF/USATT/CTTA approved
Specifications:
Speed: 50
Spin: 0
Control: 90
Deception: 0
Turn your racket face slightly to return topspin, as this rubber does generate some spin.
804 can hit the ball pretty hard, but placement is the key, sloppy chopping will cause minimal spin and the ball will sit up and get killed.

Rubber FAQ and Guide - what you need to know when buying rubber sheets.
Compare rubber ratings - compare ratings to other sheets.
Best Price Guarantee
We guarantee to have the lowest prices (shipping included) in the US. Please tell us if you see a lower price.
Reviews of RITC 804 Anti-Spin Rubber (17)
View all 17 reviews
Quite grippy for an anti and strangely enough creates more difficulties for the opponents than many others famous anti.It plays like an old inverted. Put it on the fast carbon blade and you will have many gears. Cheap and strange rubber, so it deserves a try.
---
An interesting anti - this is my first anti. Some more experienced pimple/anti players quite like it, and it certainly creates some problems for many players, however a few players cope with it fine. One player in particular handles it without thinking, and he can't handle pips at all. IMO, definitely fine for a first anti, and for $10, it's worth a try.
---
View all 17 reviews

Ritc-Friendship Rubber

Table Tennis Rubber
---
All items are in stock unless otherwise stated. All prices are in USD.
If you need help or advice please contact us. We are happy to help!