RITC 729 Focus I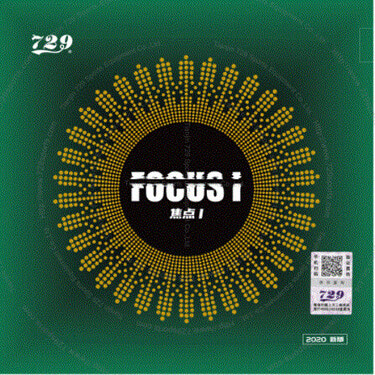 Price: $13.95

High speed inverted rubber
Superior speed and spin
Suitable for mid distance loop
Made with special sponge
ITTF/USATT/CTTA approved
Specifications:
Speed 100
Spin 120
Control 84
Notes: New concept in Chinese rubber. Increased elasticity with an extremely flexible under pip structure give Focus more dwell time and more power. The pip structure of Focus allows the ball to better friction through increased contact area.
---
Customers who purchased RITC 729 Focus I also purchased:
Additional Information
Rubber FAQ and Guide - what you need to know when buying rubber sheets.
Compare rubber ratings - compare ratings to other sheets.
Free shipping over $50 to contiguous US.
Best Price Guarantee We guarantee to have the lowest prices (shipping included) in the US. Please tell us if you find a lower price.
Reviews of RITC 729 Focus I (21)
Submit a short review about RITC 729 Focus I.

View all 21 Reviews
| | |
| --- | --- |
| | External Review on August 20, 2014 |
great rubber, for all round with max sponge, everything can be played.. it has great control, best thing is that you can create strong serves...
---
| | |
| --- | --- |
| | External Review on February 22, 2013 |
We put this rubber on both sides of a Joola Carbon Pro preassembled racket of a friend of mine (the racket originally came w. 4you rubbers) There was an immediate improvement in his game. His pushes came back just shaving the net like never before his blocking became very controlled. I had to try it myself. Control is amazing, spin is very good, a bit slow but very good rubber indeed.
---
External Review on March 3, 2012
| | |
| --- | --- |
| | External Review on February 5, 2012 |
its very nice ruber for anyone, the only problem is speed but if u have long swing u can create solid speed for long game. . . its for spiny loops, bloks are controled, short game, chops
---
| | |
| --- | --- |
| | External Review on April 3, 2011 |
Compared to Sriver and Cream Transcend, this one is slower but spinnier. I can make my shots land more precisely. The rubber is very forgiving, meaning you can swing differently and the shots will still go out pretty much the same way. Because this rubber is good at spinning and control (but not speed), I can initiate third-ball attack by looping or chopping easily. However, into the fifth ball I feel it lacks speed / aggressiveness.

View all 21 Reviews