RITC 563 Tack Speed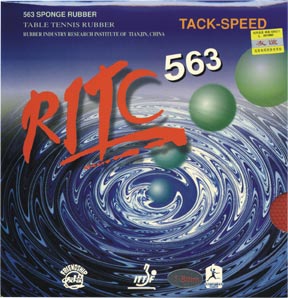 $9
.95
$12.95
Save $3.00 (23%)
RITC-563 Medium Long Pips out rubber.
The all new design, very good attacking properties with some of the knuckle ball effects of a long pips out rubber. Improved quality, good elasticity a excellent guard against loop drives!
Speed: 70
Spin: 70
Control: 80
---
Customers who purchased RITC 563 Tack Speed also purchased:
Additional Information
Rubber FAQ and Guide - what you need to know when buying rubber sheets.
Compare rubber ratings - compare ratings to other sheets.
Best Price Guarantee We guarantee to have the lowest prices (shipping included) in the US. Please tell us if you to lower price.
Reviews of RITC 563 Tack Speed (10)
External Review

for

RITC 563 Tack Speed

on February 12, 2017
I have this on a PH kevlar/balsa custom (see my other reviews for context) so keep this in mind. This is the 35 degree sponge. I looked at the pips under a loupe with measurement marking. The pips are the same height as several short pips I have, but I am guessing why they are "medium" is the aspect ration. They are cylindrical and thinner than 802 or Waran etc. It hits fast, blocks fast but this is probably a function of the blade. You can scrub speed off with a sidespin block , sidespin push, chop block and a loose grip block. This give the maximum "weirdness". Otherwise this is very similar to a short pips. hitting is well controlled and consistent. You can "dummy loop"

I highly recommend this rubber. But, a student of mine has this on the FH side of a 729 Bomb and it does not play as consistently and easy-hitting. So it might depend a lot on which wood couples well with it.

Update. pips are breaking at the base after one session, hard hitting and heavy blocking. So it seems to me not suitable for offensive game may last longe for chopping, softer games.
---
External Review

for

RITC 563 Tack Speed

on October 7, 2016
Very very nice medium pimples! I'm reviewing this in OX (no sponge), and I find it chops very nicely. great control, blocks well, and hits beautifully on my backhand! I haven't quite got the hang of it on the forehand when twiddling, but it is certainly nice on the backhand. As far as reversal goes, I think it's a little closer to a short pimple than a long pimple: it just seems to kill the spin, and adds a little bit of its own. That being said, I haven't played any really heavy spinners with it yet. Seeing as it's so cheap, it's definitely worth a try!
---
External Review

for

RITC 563 Tack Speed

on January 1, 2016
External Review
for
RITC 563 Tack Speed
on June 25, 2014
External Review

for

RITC 563 Tack Speed

on June 1, 2014
Excellent medium pips,plays like 802 but with good reversal. old classic still excellent...
---
External Review

for

RITC 563 Tack Speed

on December 19, 2013
Easy-to-use rubber, has lots of control and great feeling when hitting with it.
Tested on a Donic Waldner Allround Senso blade, its speed isn't very fast. Perhaps it might perform better on an offensive blade.
Not a very spinny rubber, unable to generate much spin. when chopping a backspin, chances are that it would go back as a float due to the low spin.
Good for flicking. As long as the opponent's push is slightly too high, it is easy to attack it quickly.
Good for driving, extremely consistent and has excellent control.
Provides disruptive effect as the ball would land shorter and lower on the opponent's side compared to smooth rubber.
The deception isn't very high though.
Not good for spinny/bursh shots , due to the straight arc. Looping/far from table chopping isn't consistent since the ball doesn't curl much.
Excellent choice for transition from inverted rubber to medium pimples. All that is needed is a flatter stroke and slightly more open angle on drives.
One of the best parts of this rubber is its relatively low price compared to other rubbers.
---
External Review
for
RITC 563 Tack Speed
on October 17, 2011
I've tried different Pimple rubbers from short to long, i can tell you this is the best Pimps rubber i have used so far. The control is very good, and it can almost put a stop to most spin. It played like a short pimps but have the characteristic of a long pimps. This is the rubber for someone who want both. I use it on my 729 All Japanese penhold blade, and it is a good combination.
---
External Review
for
RITC 563 Tack Speed
on October 5, 2011
External Review

for

RITC 563 Tack Speed

on August 9, 2009
This is the classic mid-pips imo, and im surprised to see that no one has offered a review so far.

For speed, i feel that it isn't as fast as short pips like 802-40, but its fast when u hit with it. If one adds sponge to this mid-pips, you could actually spin with it alright. The spin certainly surprises me.

Blocking and everything else is just fine, but it has much more deception than short pips. It has more reversal than short pips as well, and i have actually seen someone chopping with 563 and producing extremely spinny shots.

Definitely worth a try for pple looking for a cross between short and long pips.
---
External Review

for

RITC 563 Tack Speed

on January 15, 2009
it is a medium pips rubber.easy smash,hitting,block.better control like lp.more confusion factor then sp.relativity speed.suitable for all,all+,off- game .Only use it close the table!!!it's not good def play over the table.