→
Sponges
→ Yasaka Fukuda Rubber Wiper
Yasaka Fukuda Rubber Wiper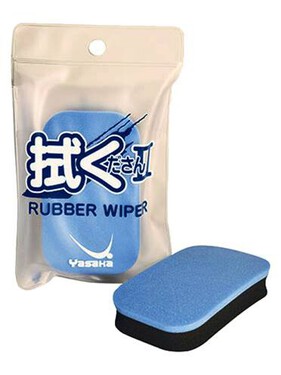 The all new Yasaka rubber sheet cleaning sponge, comes in his own protective plastic cover as shown.
Its important to keep your rubber sheets clean so you will get better performance and a longer life from them!
Remember dust and heat is the biggest enemy for table tennis rubber.
---
Customers who purchased Yasaka Fukuda Rubber Wiper also purchased:
Best Price Guarantee
We guarantee to have the lowest prices (shipping included) in the US. Please tell us if you see a lower price.
Reviews of Yasaka Fukuda Rubber Wiper (19)
View all 19 reviews
Great sponge, but don't wipe to hard, or dry, pieces of the sponge come off easily
---
Works great as a wiping tool, but it picks up dirt/dust very easily, which transfers to your rubbers, thus requiring more cleaning and defeating the purpose.
---
Best rubber wiper for use with any cleaner. I have at least 3 of them laying around.
View all 19 reviews

Yasaka Cleaners

Table Tennis Cleaners
---
All items are in stock unless otherwise stated. All prices are in USD.
If you need help or advice please contact us. We are happy to help!