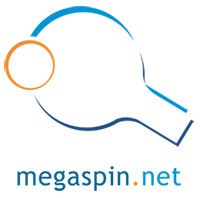 Donic Acuda S2
$47.95
$49.95
Save $2.00 (4%)
Donic Acuda S2 is a very fast rubber with outstanding spin qualities. Close to or away from the table it is possible to play "loop-loop" as in the days of speed glued rubbers. Despite its medium-hard sponge, ACUDA S1 is easily controllable and has a great feel. You can count on ACUDA S1 even in an awkward situation. This rubber may be fast but ball control is excellent. Basic character: spin-focused, high precision fast rubber. Player's style: aggressive, first ball attack, close to the table.
Type: Smooth
Speed: 92
Spin: 98
Control: 69
Hardness: 42.5

---
Customers who purchased Donic Acuda S2 also purchased:
Additional Information
Rubber FAQ and Guide - what you need to know when buying rubber sheets.
Compare rubber ratings - compare ratings to other sheets.
Best Price Guarantee We guarantee to have the lowest prices (shipping included) in the US. Please tell us if you find a lower price.
Reviews of Donic Acuda S2 (47)
| | |
| --- | --- |
| | External Review on March 19, 2016 |
Fast and nice rubber to spin mid-table but you must hit the ball for maximum top spin because it's sponge medium . Use it with Tibhar COS3 defensive
---
| | |
| --- | --- |
| | External Review on May 1, 2015 |
not a bad choice if you prefer an all-rounded game, just it is not a sharp weapon for far-distance shots.
---
External Review on February 11, 2015
External Review on February 9, 2015
| | |
| --- | --- |
| | External Review on February 3, 2015 |
Good Rubber. Played it 1 season. U can do every shot with this rubber but the durability isn't the best. 1st pair had a good durability and the 2nd pair i had to change after 2 months.
My 3rd was better then the 2nd pair but not good enough.
In my opinion it is better than Acuda S1 overall.
U can get this rubber for 30 and i think it is a really nice prize for such a good rubber.
---
| | |
| --- | --- |
| | External Review on July 27, 2014 |
First time using such a PRO rubber...

Amazing spin and speed. Perfect for my Forehand.

Very good for drives and serves. You will get lots of spin doing the right movements with the ball.

Havent tried blocking a lot with it, but you might have just to adjust your angle acording to the spin and strength.

Glued in a Tibhar Red Cypress. Very nice (y)
---
| | |
| --- | --- |
| | External Review on June 6, 2014 |
This is good rubber, needed a week of hiting to break through the spange and then it start playing relly well... it has pretty consistent strong spin, and moderate speed. It has high arch on slow loops and medium to low on fast loops. I am Using it on forehand and t64 on backhand of my t-8 blade. Pretty happy with it, A2 doesn't excel in any particular aspect, but does everything well, and overall very solid Rubber.
---
| | |
| --- | --- |
| | External Review on May 11, 2014 |
One of the Best rubber i ever had.
Incredible spin. I top everything with this rubber.
Good control.
It is harder and faster than m2.
With m2 i fell that tje speed os not enought. With s2 the speed os OK
Not as fast as s1, bit it is OK if you hit harder
---
| | |
| --- | --- |
| | External Review on March 21, 2014 |
Acuda S2 look a bit tacky .The sponge seem soft but the Acuda S2 will be the softer one it seems. My serves are usually side spin with combination of backspin, abit like Wang Haos serve, and it usually goes to the middle/far table. As for service return, as a penholder, it is normally a push or flick. Forehand wise, I attack the wings of the table. I will use fast attack when near table while looping more when I get further away from the table.
For the forehand rubber, which I put the DONIC Acuda S2, I can say that this rubber will be much better if you think that DONIC Bluefire M2 is good. Although DONIC Acuda S2 is not somewhat like have more technology than the DONIC Bluefire M2, but I can say it is better and also suit me better. This rubber not only have the control but also the power spin. Why do I say this rubber suit my forehand? Cause I use the flat hits when nearer to table, but as I step back, Ill start to use topspin as it is harder to flat hit but sometimes if it is too fast, i will still use flat hits. This rubber ensure that the ball will land onto the opponent table with great spin. This rubber can give u very short balls that is near the net. But if you are a looper or like me a Near table fast-attack player, this rubber will be the best for you. No matter if it is you put it on the forehand or the backhand, this rubber is a great combination of all both qualities of spin and most importantly control. I would not say it has the fastest and spinniest spin, but I would say that the amount of control is definitely excellent, plus the addition of good spin, it is more than sufficient to kill of your opponent with either fast shot or topspin. Plus the weight is somewhere in the middle, comfortable for both Forehand and Backhand. The throw angle wise is also somewhere in the middle, you will find that you will play comfortably with this rubber. I recommend this rubber to all players who want to have excellent control with also tremedous extreme spin.
---
| | |
| --- | --- |
| | External Review on January 30, 2014 |
I currently use this on BH side in 2.0 on Xiom Aria blade (5 ply wood). This rubber is a good choice for offensive players that want a great deal of control in their game. It��s not too fast, and feels very linear in terms of speed being directly proportional to how much you put on it. It has very good spin, but not as much as I typically like and expect out of a tensor, especially on serves. I felt like it was very easy to hit the table on loops, drives and blocks due to the control factor. This rubber has one of the most unique and satisfying sounds when you make optimal topspin contact. Sponge hardness feels similar to Barracuda, maybe a bit harder.

Update: I've had this on my BH for 5 months, and the topsheet shows hardly any signs of wear. Durability is better than anything I've used
---
External Review on January 22, 2014
| | |
| --- | --- |
| | External Review on August 27, 2013 |
I tried it with my new Zhang Jike blade and it lacked the dinamism and speed. COntroll was good. I changed to Tibhar MX-P.
---
External Review on August 20, 2013
| | |
| --- | --- |
| | External Review on August 15, 2013 |
Use it on BH with Xiom Vega Pro for FH on Xiom offensive S blade. I've been through a lot of rubbers in the past 8 months, searching for a good BH rubber and this one is a keeper. I love this rubber.
---
| | |
| --- | --- |
| | External Review on May 25, 2013 |
amazing rubber, very good control, good speed and spin, on my Korbel is perfect, slower than Baracuda but more control !
---
| | |
| --- | --- |
| | External Review on May 5, 2013 |
Sorr for my bad english, I am german

I play this rubber on my VH on an Baum Esprit blade. This rubber has a lot of Spin and Control with good speed. I can advise this rubber for Spin orriented Player who wants to play close the table and mid distance
---
| | |
| --- | --- |
| | External Review on May 2, 2013 |
A very balanced offensive rubber. It really gives a lot of spin to the ball.

It takes time to get used to the blocking. It's quite sensitive to opposite spin, and you can't be passive on your blocks.

Topspins and services are a real pleasure with this
---
| | |
| --- | --- |
| | External Review on April 24, 2013 |
just got mine and i think is a nice rubber, using it on bh, and i can say that it has monstruous spin, but is so controlable...

After 2 months with it, still awesome but i had discovered that is good for blocking, still good spin but lacks some speed at mid distance and throw is a little low for mid -distance, still a great bh rubber for me, just i have to be more carefull when i use it in that distance, btw lift a ball with backspin in it is easy near to the table

update, after 3 months with it, it has started to notice the use spin and speed still the same, i just hope that it last for 1 month more. i play 4 hours 3 or 4 times a week
---
External Review on April 18, 2013
| | |
| --- | --- |
| | External Review on April 11, 2013 |
this is my first review here and i was restarting with table tennis a year ago after a break of about 10 years.

acutally i using acuda s2 on forehand (black 2.3) and backhand (red 2.0) on a donic dotec blade. my impression is that the accuda is an good allround offensive rubber without real weak points. for this reason it will be for me the reference rubber for all future review.

the acuda s2 has a good speed, good spin and good control. the throw angle was lower than the rubbers i have played years ago. compared to them (donic vario, vario mach 1) the biggest difference is that the acuda s2 has a better speed (especially when you are away from the table and a lower throw angle and a lot more gears. spin seem to me more or less the same.

***general characteristic***
the biggest strength of this rubber is in my opinion that you can do it all (top, block, shot, chop...). it generates good topspins on every distance with sufficient (but not extraordinary) spin , blocking is quite easy, shots and counter attacks can be hard and precise, good serving and returns are also not a big deal with it. you can play slow and on shorter distances as well as you can play away from the table means that this rubber has many gears.

***comparison of different accuda rubbers***
the 2.3mm will get you again some more speed for playing with topspins away from the table compared to the 2.0mm. the red version which i use on backhand seem is noticeable heavier than the black version.


*** short characteristic***
+ a real offense "all you can do rubber"
+many gears


- i am dissapointed of the durability(quality) =>there is again a spot where the pips shining through after only 15h of playing on may forehand. on the other hand i was able to play nearly 6 month with the old 2.0mm black on my forehand it it was still spinny and speedy)
---
| | |
| --- | --- |
| | External Review on March 6, 2013 |
It's a fantastic rubber. Incredibly controllable i don't know how at this moment it has only 8.2 at control, it's around a 9.0. You can do any shot with it. Because of its great spin and control i am able to do a smash hit with deadly accuracy. This will be my forehand rubber for a long time. It's only minus might be in the serving area, it's not very grippy so serves are not very spiny. But when the sponge comes into play on loops, the spin is incredible. And the lack of tackiness makes the top sheet less spin sensitive giving you better serve returns. I don't know how to explain this, it has a "meaty" feeling, if you hit hard you don't get to feel your blade, but still the tensor sponge which feels soft-ish at high speeds, which is great for me. Great rubber.

Update 1: I have the Acuda S2 on the backhand too and guess what, it's just as great! I have a killer set-up, light but with a lot of power and spin with Acuda S2 on both fh and bh.

Update 2: Bought a fresh one in 2015 and is a bit faster with a little more kick. Probably they are adapting to the polyball. Still same good feeling though.
---
| | |
| --- | --- |
| | External Review on October 10, 2012 |
Excellent rubber for FH. I used it on my FH with Joola Rosskopf emotion carbon blade, with Mark V on BH. It gives excellent control on the blade. Lifting the ball (flick on FH) is very easy. May be coz the ball stick to the rubber. The spin that it could create while service is also good, but not too good to my expectation, or i am not sure if i am still not practiced with it much. FH blocks and very controllable. I could get the ball in on very fiercy shots of opponents (provided i get the angle correctly). I was earlier using Joola Exp-2 rubber in which i miss a lot. Either ball would hit the net, or travel out side. The FH chops are mostly controllable, but still i feel it is not as controllable like mark V which i used on FH long time back. Overall, i am much satisfied with it. Thanks Ganesh
---
| | |
| --- | --- |
| | External Review on September 2, 2012 |
| | |
| --- | --- |
| | External Review on June 3, 2012 |
just bought the rubber yesterday, good but not 10percent satisfied.wanted something with more control and spin. Vibrations on rubber are evident and im not liking them..maybe coz its new?
---
| | |
| --- | --- |
| | External Review on May 16, 2012 |
Awesome rubber, very good on the offensive and serves. Even good with defensive chopping! I used it with a Galaxy Y-4 allround blade.
---
| | |
| --- | --- |
| | External Review on April 18, 2012 |
Its great rubber.Very spinny and good speed with better control than tenergy.But its not durable.
---
| | |
| --- | --- |
| | External Review on March 17, 2012 |
alternative to tenergy 05, but slower 20%,
but very nice rubber for looping and smashing, chop is strange but u can chop but if u use to it.. i used it almost whole year..better for carbon blades...
---
External Review on February 4, 2012
| | |
| --- | --- |
| | External Review on January 18, 2012 |
use it with kreanga powerspin and i can say that is nice rubber for advanced players, nice for loops, very spiny and durable( i have it about 8m .. 5 day in a week 2-3h training and dont have to be replaced), but i think that it needs more speed for fast serves..
---
| | |
| --- | --- |
| | External Review on December 26, 2011 |
Very good rubber if you want to play close to the table.

Speed: medium+
Spin: good
Control: good
---
| | |
| --- | --- |
| | External Review on November 29, 2011 |
If you look at all the previous reviews you will see that this is a very good rubber and at the price a very goog buy.

Interestingly, check out Yasaka Raksa7. I have a distinct feeling that Acuda S2 and Raksa7 are one and the same. Both made in Germany, they have an identical topsheet and indentical sponge. Difference is the Yasaka rubber is a little cheeper !!
---
| | |
| --- | --- |
| | External Review on November 25, 2011 |
Rubber for allround attacker. Pushes and serves have bites and control. Makes flicks and opening loop are very easy. Not bouncy. Speed is fast though speed glue sound is not prominent like JO Silver. Durable.
---
| | |
| --- | --- |
| | External Review on October 19, 2011 |
A tremendous forehand rubber. I use it on a Butterfly Timo Boll T5000. It has lots of spin . whenever you hit a top-spin it just spins tremendously!! First time I played with it, I was truly impressed. It has very good durability also. It has a soft feel which is nice.
---
| | |
| --- | --- |
| | External Review on October 19, 2011 |
Quite disappointed because it is slower than Rakza 7 soft. Not a good combination when attached with Jun blade because of a lack of feel and sound. Also, the topsheet is harder than I expect.
---
| | |
| --- | --- |
| | External Review on October 19, 2011 |
This is a great rubber for forehand on stiff blades. (max thickness)

The throw stays high enough for forehand, even on very hard carbon blades like Galaxy T4 (OFF+). Throw is lower than vega pro, but higher than vega europe, and much higher than calibra.

Gears: even on fast carbon, the low gear is still there.

Spin: excellent.

Speed: excellent. More than Vega pro, less then Acuda S1 of course.

Arc: like other rubbers in the acuda series (s1, s2 and s3), the arc is rather straight, i.e. it does not have as much arc as vega pro or T05 or bluefire M1 or Sanwei T88-i. However, the trajectory of Acuda S1 is low and long, whereas S2 is rather low and shorter.

Strong point: very easy opening loops, which can be executed with a suprisingly slow motion, yet are spinny and long and penetrating. The arc is not high, but the spin is there and they are very easy to execute. This way, this rubber allow you to slow down the game a bit when you have a difficult ball.

short game: good. (on stiff 7 ply all-wood blade, xiom extreme s).
---
External Review on October 17, 2011
This is an awesome rubber. I bought this rubber just a few days back and it is really worth the money (Rs 1800... That would be approximately $40).
Spin is amazing. Speed is good. Blocking is easy and my game seemed better instantly when i started playing with this rubber. Best rubber i have played with. I have not played with Tenergy. So i cant compare Tenergy and S2 :). I have played with Donic Coppa JO gold, Donic sonex JP gold, Euro-Chelonz, Joola express 2, Joola Energy. I must say Donic Acuda S2 is far better than any of these rubbers. Now I have Acuda S1 on backhand and S2 on forehand.
The only negative perhaps is the return of serve. Since this rubber is spinny (ball grips more), my return of serve was not easy but with some patience and some slight changes i managed to return quite well after some practice.
Only slight adjustment was needed to play with this rubber. Previously i used to play with Doppa JO gold on FH and Joola energy BH
Well done DONIC for giving us such a good rubber :).
---
| | |
| --- | --- |
| | External Review on October 15, 2011 |
amazing rubber, has it all: speed, incredible spin, and amazing for loop-to-loop rallies from mid-distance.
---
External Review on July 8, 2011
External Review on May 2, 2011
External Review on April 2, 2011
Other rubbers have worn out to, at least, half their lifetime, while this S2 looks and plays virtually like new. By reading blogs about modern rubbers I learned about "bringing back to life" the spin characteristics of this rubber using paraffin oil (which I do every once in a while). I'm afraid it's going to be disapointing to go back to any other rubber regarding durability. In my opinion, it's a very controllable attacking rubber.
---
External Review on March 18, 2011
| | |
| --- | --- |
| | External Review on February 20, 2011 |
I have used this rubber for a while, and have tried lesser priced alternatives, and found nothing exact to it as far as total performance. I have seen alot of tenergy users switch to this or s1 rubber. It is insanely spinny, very fast but not the fastest, and control is good. Looping is easy blocking is good, but due to its spring, it's hard to keep short. If you hold a ball 6in above it and drop it at just a slight spin, it will bounce stright across the blade and acually accelerate and sometimes bounce off the blade! This is a perfect tensor for intermediates and up for a german loop game. Anyone looking to save $30 on your rubber without giving up much, here ya go.
---
| | |
| --- | --- |
| | External Review on February 16, 2011 |
This is a great rubber. It can grab the ball much better than rubbers like Calibra LT, Boost TC, Xiom Omega European, Hexer, and Calibra LT Sound. Compared to Tenergy 05, it is a little bit lighter, but the ball does not dwell as much as Tenergy 05. However, the dwell time in S2 is much better than any of the previous rubbers mentioned. I don't have to adjust almost at all to play my normal strokes.
---
| | |
| --- | --- |
| | External Review on December 24, 2010 |
This is a hi-tech rubber that can help you perform difficult strokes with control. This is my main impression after playing only 4 hours with it. I am a jpen player and always rely very much on defensive and agressive blocking at close and mid range, for this, the rubber is excellent with the added bonus of good pushing abilities: for the first time in 45 years of my experience as a player I could use pushing as a weapon with a fast raquet. It is also sensitive to your opponents spin. I must point at that the manufacturers review is pretty accurate: speed 9+, spin 10++,control 7- and medium sponge. By the way it looks very symilar to t64 sponge. It is also said that it is for "power allrounders and attacking players". Again they nailed it if you consider the tennergy 64 the perfect attacking rubber. The S2 allows you to "slow down" your attacking game while you think of a weakness of a more agressive opponent without loosing your pressure noticeably. In my opinion this rubber can give you power from it's good control. Very soon you will be experimenting w/. spiny loops and drop shots and yet it is a good attaking rubber.
---
| | |
| --- | --- |
| | External Review on December 5, 2010 |
This rubber play my game very good. It is justified its value. Play similar to Bryce Speed FX but is not as soft, which I like great deal.
---
| | |
| --- | --- |
| | External Review on November 23, 2010 |
Fantastic topsheet and sponge. This rubber is an amazing spinny rubber with a throw angle very similar to Tenergy 05. It is a little slower than Tenergy because the sponge is softer than usual although not at all soft like Tenergy 05 FX. If I would compare percentage of speed with Tenergy 05, it would be 95% speed (very tiny variation).

Spin is great and spinny loops jump off of the topsheet. Power loops (drive loops, smash loops, etc.) are amazing when you get the ball into the sponge. Short game is very controlled because sponge does not react like a hard rubber, such as Platin, and, therefore, allows for short backspin returns. Pushing is great because you can control the direction of the ball with the topsheet, not having to contact the ball with the sponge (you can grab the ball with the topsheet to push).

Flipping is not as balanced as everything else though. You can't do a "satisfying" medium flip although you can get a lot of speed by the two other ways. Because of the high spin, you can do very deceptive wrist flips using a very tiny arm movement and get plenty of speed on it. With power flip, like Schlager flip or Suss flip, you get amazing control and feel. However, when you try to combine 50% power and 50% wrist, you don't get the desired speed although this is tiny problem. Difference with Tenergy is that the rubber catapults at all speed of incoming ball and Donic Acuda S2 needs a little more speed for strong catapult. however, when you make a fast ball, it can be faster than Tenergy because sponge really explodes for fast shots.

I don't know what gears are, it is probably an American thing, so I rated average because I do not know. I am going through my 6th sheet in this past 4 months (playing every day at least 2 hours) and I must say durability is impressive, especially better than old Donic rubber. It still does not last as long as the Tenergy 05, but if you compared costs, you are saving around $33 a sheet. Percentage for durability compared to Tenergy is 85% and I have not received a bad Acuda S2 yet (I have probably got 1 defect Tenergy 05 out of 40 when I played with that rubber).
---
| | |
| --- | --- |
| | External Review on November 20, 2010 |
Great rubber. I switched to this from Tenergy 05 on FH and BH and did not have to change my stroke whatsoever. Better yet, it is not overpriced like Butterfly Tenrgy. FINALLY AN ANSWER TO BUTTERFLY'S MONOLOPY.

Donic Rubber

Table Tennis Rubber
All items are in stock unless otherwise stated. All prices are in USD.
If you need help or advice please contact us. We are happy to help!