Learning from Defeat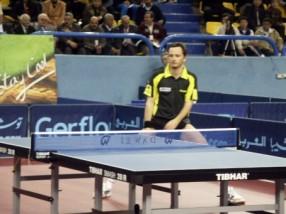 Use your mistakes to improve your game
Wednesday, July 17, 2002
Naturally a win makes mostly more favourable conditions for the coach to appreciate than a defeat. The wins are important for gaining self-confidence. The players, the coach everybody is happy after the win and this is a proof that we made good preparation and succeded in our targets. However the player remains superficial if he thinks only on his successful winning points and he doesn't see his mistakes during the game.
Defeats are necessary for the future work of the coach and the player. Defeats help them to enter into all details and find the reason for the unpleasant result. It is usually normal to discuss about tactical mistakes after the game as well as part of the match during which the opponent was dominant. It is necessary for the coach to discuss with the player at the first training session after the match and analyze the match from a tactical point of view. Video tapes help to point out the special moments of a match. At this moment the coach will give the player new instructions for the following work.
If the score of the match was close enough, we must analyze the match from the psychological side. We have to find out also, whether the mistakes were caused by the nervousness or by excessive aggression. Even more, it is possible that the wrong serve was chosen and that it was not noticed where the opponent made more mistakes as well. We have to find out -even at the time of the defeat- some positive details in order to give the player the most positive objective picture of his game.
Don't forget not to analyze a game in which the opponent was the total dominant. Try to analyze the game which can give you most details on how to win the next time you play the same opponent!
© Dimosthenis Messinis
Denis' Table Tennis World
---
Related Articles:

How to Serve Like a Pro

Tactical Intelligence

Backhand Topspin

Mental Workout

The Shakehand Grip

Equipment Facts - Part 2

Equipment Facts - Part 1

Spinning the Ball

Serving Effectively

Receiving Services