Butterfly Viscaria - Detailed Review
Tuesday, April 26, 2022
by ThePongProfessor
In what I hope will be the first of many Butterfly blade reviews for Megaspin, I here set out to evaluate the classic Butterfly Viscaria blade. It is not only a 5+2 ply composite blade that has been used by many professional and recreational players over the past decade, but it will also serve as an important reference point against which I will be comparing other Butterfly composite blades.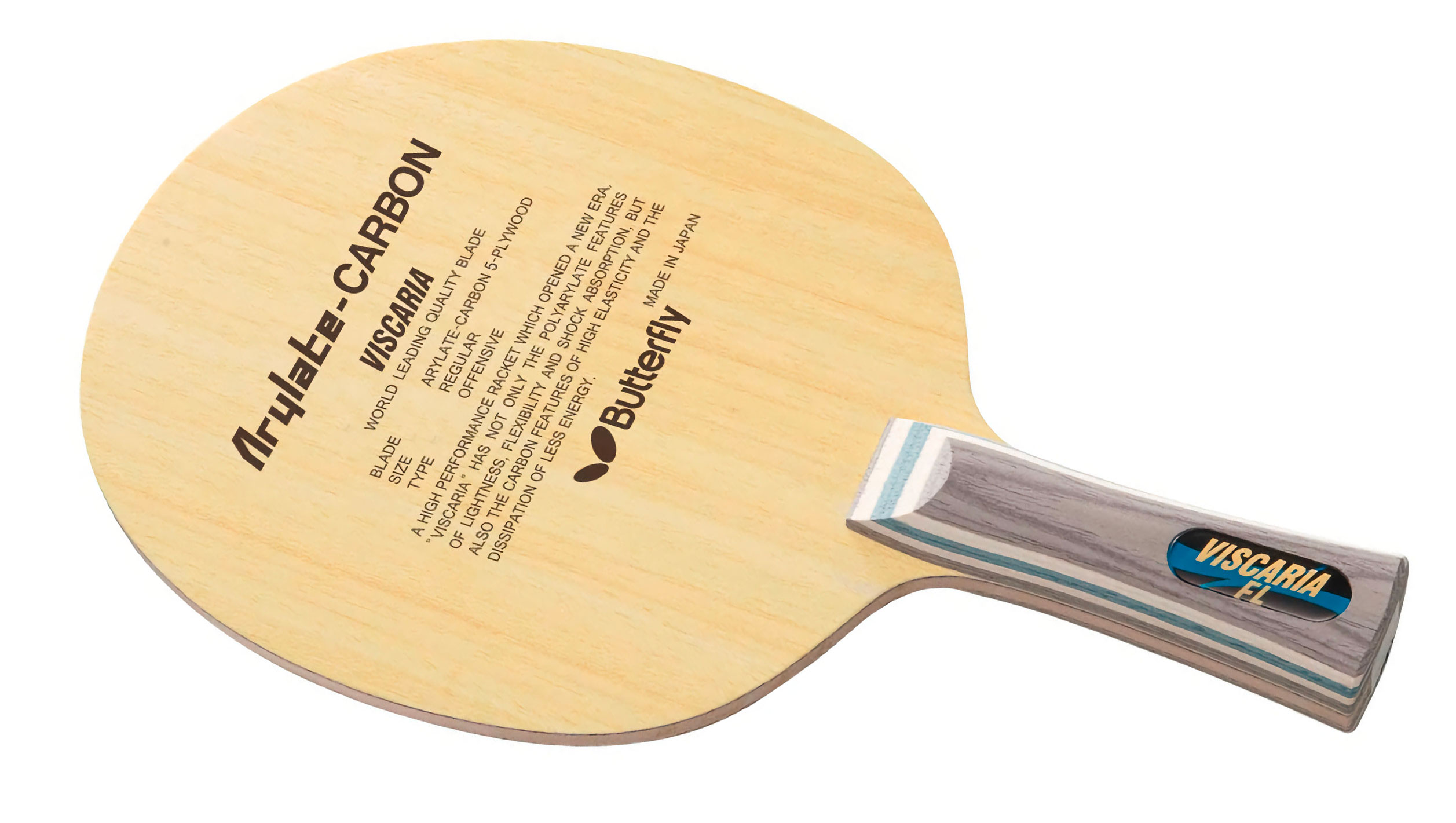 Butterfly describes the Viscaria as an offensive blade, giving it reaction and vibration ratings of 11.8 and 10.3, respectively. The ALC fiber combines the properties of Arylate fiber (i.e., lightness, flexibility, and shock absorption) with those of Carbon fiber (i.e., high elasticity and minimal dissipation of energy) to yield a material that promises to provide increased stability and a medium-soft touch, that facilitates versatile spin-based play.
The Viscaria arrives in a sturdy, blue-toned box that provides great protection during shipping and which lists the blade name on the front lip of the box, along with some (unnecessary) handling information on the back. Detailed information about the blade is printed on the FH-side of the straw-colored playing surface, whereas there is no text on the BH side. The handle is grey with a grey-straw colored-light blue vertical stripe pattern, which gives it a classic look. The FH side of the handle features an oval plastic lens that covers the blade name written in golden font against a light blue and black background. A silver, rectangular Butterfly tag is placed on the bottom of the handle. The BH side of the handle features a small, circular holographic lens. The build quality of the blade seems to be good, although the wings could have been sanded for greater comfort.

The Viscaria has a thick kiri core, a thin intermediate limba ply, a thin layer of Arylate Carbon, and a thin outer koto ply. According to my measurements, the playing surface of the Viscaria has the following dimensions (height x width): 158 mm x 150 mm with a thickness of 5.7 mm. The FL handle has the following dimensions: length ~99.9 mm, width ~26.5-34.0 mm, and height ~22.7-25.0 mm. The test blade weighed 83 g and produced a main resonance frequency of ~1440 Hz.
Testing Protocol
I tested the Viscaria blade using Butterfly Dignics 09C in my FH (black, 2.1 mm) and a driving-type short pip in my BH. I attached the rubbers using two layers of Butterfly Free Check Pro glue. I tested the set-up over 3-4 sessions playing a mix of regular and match-like drills against my regular high-level practice partner (two-winged looper) using 40+ ABS training balls throughout this test.
Playing Characteristics
Initial Impressions
The Viscaria set-up felt supremely nimble during gameplay with a center of gravity that is slightly tilted towards the head, which encourages an aggressive game style. The Viscaria is very comfortable to hold despite its relatively short handle, in large part due to its narrow wings which encourage a loose grip.
Driving
The Viscaria produces a supremely crisp feeling on FH and BH drives. In fact, the feeling produced is unlike any of the many other blades that I have tested. Composite blades with carbon outer plies normally feel too metallic and thin to me, especially on the BH side where I use short pips. Seven ply all-wood blades feel organically stiffer and thicker, whereas all-wood blades with tempered kiri cores tend to produce a cracking but empty feeling. The Viscaria produces a sensation that is sharp, dynamic, and precise, but not metallic or stiff. On one hand, the Viscaria blade absorbs the incoming energy, resulting in an extended dwell time and cracking sensation, which I attribute to the ALC layers and kiri core, respectively. On the other hand, I got the impression that the outer koto ply is responsible for the blade's dynamic characteristics. In many respects, these are opposing characteristics, but they blend brilliantly in the Viscaria. Irrespective of the underlying reasons, I enjoyed sky-high control on FH and BH drives as the sensation and audible feedback on striking the ball is brilliant. Crisp and precise, which increased my confidence in these types of shots. The Viscaria is fast but not extremely so (mid OFF), which meant that I rarely overshot the table.
As a BH short pips player, I have struggled with composite blades as their dwell time typically is too short, resulting in BH drive trajectories that are too flat, with too many shots getting caught in the net or going long. The Viscaria seems different as it offers a great mix of forward momentum, yet sufficient net clearance.
Looping
The feeling produced whilst FH looping with the Viscaria/D09C set-up is equally sharp and precise and simply lovely. FH warm-up loops are quite dynamic with long trajectories. The shots clear the net rather comfortably due to an extended dwell time, which results in a medium throw angle and respectable spin levels. My FH 3rd ball attacks against pushes were very consistent but not necessarily fast or spinny enough to yield direct winners. Instead, I had to be ready to follow up on my 3rd ball attacks with aggressive 5th ball attacks. The crisp feeling of the Viscaria/D09C set-up gave me high confidence on my 5th attacks, allowing me to use a variety of shot types, i.e., fast loop-drives, soft angled loops, inside-out loops, down-the-line loops, etc.
The Viscaria feels very stable on topspin shots from mid-distance and in FH loop-to-loop rallies far from the table. Since neither the Viscaria nor the D09C are insanely fast, it is possible to use more physical effort on these shot types without running the risk of overshooting the table.
By my standards, I also enjoyed supremely good consistency on BH short pip openers against long pushes, provided I used a forward- rather than upward-directed stroke. The forward-directed stroke resulted in an above-average percentage of shots landing dangerously on the table, whereas the upward motion resulted in many shots overshooting the table. I felt that the head-tilted center of gravity was particularly advantageous during gameplay as it encouraged forward-directed BH strokes, which produced unusually many direct winners.
Flicking
The crisp feeling of the Viscaria worked supremely well for me on flicks. The blade gives instant feedback on how the ball was hit and allowed me to adjust my approach on the subsequent flick. FH pancake-type flicks worked better for me than mini-loop-type flicks, as the former put my opponent under high pressure. The Viscaria is sufficiently well-behaved for a high percentage of these shots to land. BH flicks executed with the softer short pip rubber were fast, flat, and difficult to return for my practice partner.
Blocking
The crisp feeling produced by the Viscaria is also highly beneficial whilst blocking. On passive blocks, it feels like the ALC layer absorbs the incoming energy, producing a sense of stability. The blade's crisp feeling and dynamic outer koto ply gave me the confidence to engage incoming topspins with a more aggressive wristy motion that produced blistering fast FH blocks. Similarly, Viscaria's balance and feeling gave me the confidence to be more aggressive and forward-oriented on my BH blocks, resulting in flatter and faster BH shots.
Smashing And Flat Hitting
The Viscaria's crisp feeling and respectable speed work supremely well in the execution of smashes and flat hits, which were near-unreturnable.
Short Game And Pushing
When combined with a grippy rubber like the D09C, the Viscaria's crisp nature gave me the confidence to be more aggressive whilst pushing against backspin serves, resulting in flat, fast, yet decently spinny pushes, which were challenging to counter. However, the Viscaria is still a mid-OFF blade, which means that it is necessary to moderate one's input power against no-spin serves to avoid overshooting the table. The blade's crisp feeling and absorbing properties are advantageous in the short game, as it allows for precise titration of input power.
Serves
The Viscaria also produces a crisp sensation whilst serving, which in turn allowed me to feel the ball contact and provided instant feedback on how much spin was imparted on the ball. This is very useful in preparation for the subsequent shot. With an essentially non-tacky rubber like D09C, I found it necessary to use soft hands to produce high spin levels on my pendulum backspin serves, whereas I was able to impart very high spin levels when using a tacky Hurricane 3 in my FH, since the contact time with the ball is extended, allowing for maximized spin. Thanks to its relatively high speed, yet respectable dwell time, the Viscaria works very well on long top/side-spin serves, which are fast and spinny.
Conclusion
The Butterfly Viscaria is an outstanding composite blade and it is clear why it has been used by – and continues to be so popular with – many professional and advanced-level recreational players. It offers a unique blend of dynamic properties on high-impact strokes, absorbing capabilities on passive strokes, extended dwell time to provide sufficient clearance over the net on topspin shots, and a crispness that allows the player to feel the ball. The Viscaria is a blade for advanced and professional players employing aggressive strategies. In my opinion, the blade can be used from all distances from the table. Hands down, my favorite composite blade so far.
About The Author
Patrick "ThePongProfessor" Hrdlicka is a table tennis enthusiast, who was introduced to the sport by his parents at the age of six. He progressed to play in the top national cadet and junior leagues in his native Denmark. With college looming, Patrick quit the sport for nearly twenty years. During this hiatus, he obtained a Ph.D.-degree in chemistry and moved to the US as he accepted a chemistry professor position. Since his return to the sport in 2015, he has been combining his analytical skills with his passion for table tennis by testing and writing about a wide range of table tennis equipment. He is a ~2200-USATT-rated left-handed doubles specialist who counts his 2017 US Open (O40 doubles) and 2018 Portland Open (open doubles) titles and Top-16 finish at the 2018 World's Veteran Championships (40-44 year doubles) among his fondest memories. He has a controlled offensive playing style and currently uses a 7-ply limba/ayous based all-wood blade and DHS Hurricane 3 and driving-type short pips in his FH and BH, respectively.
Related Links
---
Related Articles