Falco Tempo Booster - 150ml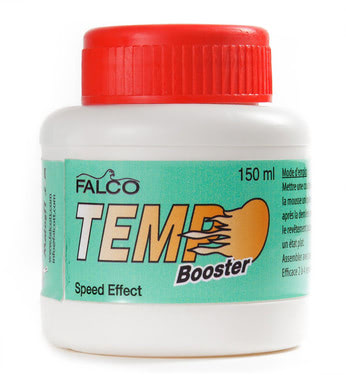 150ml (40 to 60 layers)
Brush attached to lid.
See also:
Falco Tempo Long Booster (longer lasting effect)
Works very well with Falco Life Expander.
Falco Tempo Booster provides a safe, VOC free, speed glue effect to your rubbers. Effective 2 to 4 weeks.
Falco Tempo Booster is an alternative to speed glue. It is VOC-free and compliant with ITTF regulations.
Boosters are not glues so water-based glue is still required to attach the rubber to the blade after boosting. Boosters improve the speed and spin of the rubber sheet while giving you a better feel of the ball.
To apply the booster,
1. Remove any plastic cover or protection sheet from the rubber's topsheet. This will reduce strain on the topsheet as the rubber sheet expands with the booster.
2. Apply a layer of Falco Tempo Booster on the sponge. After a few hours the rubber sheet will "dome" due to the expanding sponge.
3. After about 12 hours, repeat (2) for 2nd layer of booster to obtain a greater speed glue effect. Chinese rubbers may require a 3rd layer for optimal effect.
4. Allow the rubber to become flat again and the booster to dry. This may require an additional 24-48 hr.
5. Glue the rubber to the blade using any water-based glue.
6. The effect should last around 2-4 weeks. As the effect wears off, remove the rubber from the blade and remove the layer of glue from the rubber.
7. Leave the rubber unglued for 24 hrs to shrink back slightly.
8. Repeat the steps above to reboost your rubber.

Falco's statement regarding ITTF regulation compliance of their boosters
As stated by the ITTF, a racket covering should be used as it has been approved. The ITTF does not approve a racket covering, but rather the  Top-sheet  (the black or red rubber). Then manufacturers may choose a type of sponge that could hard or soft, thin or thick, boosted or not! Moreover, any player may change the sponge and use the sponge of his choice (this is very common in Asia). So FalcoBoosting is 100% legitimate: this technique does not touch the approved rubber since it only  boosts  the sponge previously unglued.
ITTF advice on use of this product
Megaspin.net consulted ITTF about whether using this product complies with ITTF regulations. We were told you cannot boost a sponge without an influence on the top sheet and we were referred to the law below:
2.04.07 The racket covering shall be used without any physical, chemical or other treatment.
Best Price Guarantee
We guarantee to have the lowest prices (shipping included) in the US. Please tell us if you see a lower price.
Reviews of Falco Tempo Booster - 150ml (2)
I have used the booster on some old rubbers to see if it would rejuvenate them. It works like a charm. The spin is amazing and takes a while to get used to, but once you do it's fun to see. I only bought the booster to use in open play at my club since it's not allowed in sanctioned tournaments and it sure makes for some interesting points. My friends like it too for just goofing around. The product definitely works as advertised.

Falco Boosters

Table Tennis Boosters
---
All items are in stock unless otherwise stated. All prices are in USD.
If you need help or advice please contact us. We are happy to help!