Donic Glue Sheet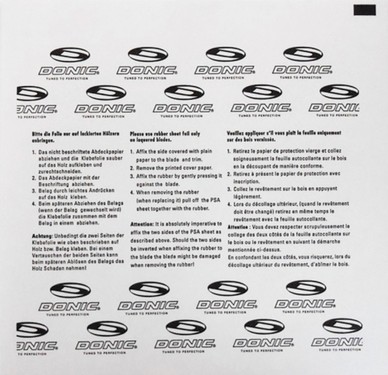 DONIC Glue Sheet without any volatile organic compound (VOC).
Ideal for a first application of rubbers to the blade.
Also suitable for pimple out rubber sheets without sponge.
---
Customers who purchased Donic Glue Sheet also purchased:
Around 8-10ml of glue are needed to assemble 2 rubber sheets to a blade. A 100ml bottle of glue assembles at least 10 rackets.
How to Glue - Racket Assembly Guide - Read this if you are new to gluing your racket.
Looking for a speed glue effect? Check out our boosters.
Best Price Guarantee
We guarantee to have the lowest prices (shipping included) in the US. Please tell us if you see a lower price.
Reviews of Donic Glue Sheet (3)
Review by

nathanso

(Verified Customer) for

Donic Glue Sheet

on May 24, 2019
The best glue sheet available, hands down. I've bought and used close to 100 of these over the years to attach OX LP and sponged rubber alike. The dual-strength adhesives allow rubber that's mounted with a Donic glue sheet to be removed and reapplied to a clean blade many times.
---
Review by

phil

(Verified Customer) for

Donic Glue Sheet

on January 10, 2019
Don't buy this product. I am surprised that this is a Donic product. The sheets I have don't work at all. I can't use them. The glue layer doesn't separate from the printed paper.
I have used many other glue sheets with great ease and success. Donic should review and change this product.
I normally like Donic blades, rubber, clothes etc. But this product is not good.
---
Review by

dawg15

(Verified Customer) for

Donic Glue Sheet

on May 8, 2011
Of all the glue sheets I have used this is the weakest. Even just gluing OX LP it tends to peel off at the edges very easily. While playing (backhand) my index finger's movement peels the edge off constantly. The rest of the rubber stays down ok though (I'm sure the edge tape helps a little). And it still plays fine, just aggravating to play like this.