→
Outdoor Tables
→ Butterfly Easifold Outdoor Rollaway - Green - Melamine top
Butterfly Easifold Outdoor Rollaway - Green - Melamine top
Free curbside shipping with liftgate delivery to contiguous US locations.
Color: Green
Butterfly Easifold Outdoor Ping Pong Table | Rolling Outdoor Table Tennis Table | 3 Year Warranty | 10 Minute Assembly | All Weather Ping Pong Table | Weatherproof Ping Pong Net
The Butterfly Easifold Indoor/Outdoor Rollaway table tennis table is the ideal choice for those looking for an excellent table at an affordable price. It requires minimal assembly time and has a 3-year warranty, providing countless hours of fun without the hassle. The 5mm Melamine top provides a quality bounce and keeps the table lighter, making it easier to move around the yard. A perfectly level playing surface is guaranteed with height adjusters on each leg. The extra strong top incorporates a special coating of DuPont paint which protects it from adverse weather conditions and is virtually unbreakable. Further protection is provided by a strong steel rail and attractive magenta corner pieces that perfectly accentuate the vibrant green top color. The Butterfly Easifold Outdoor Rollaway ping pong table divides into two equal halves, each half consisting of 2 legs that fold into the top for easy movement and storage. Each half has four independent wheels, one of which has a brake to secure the table during play or storage. A double locking mechanism prevents the table from opening or closing accidentally. Another popular attribute of this table is the playback feature where one half can be set in the storage position, providing the opportunity for extra practice when a partner is not available. A Butterfly outdoor net and post set is provided, which includes a rubber cover on the clamp to avoid damage to the center corners of the table. Enjoy a great indoor/outdoor table at a great price - The Butterfly Easifold Indoor/Outdoor Rollaway.
• DURABLE OUTDOOR TABLE TENNIS TABLE – High-quality, all-weather ping pong table contains a regulation size compreg top with a rust proof frame that is perfect for your patio or garage
• WARRANTY – 3-Year warranty on this foldable outdoor table tennis table is designed to withstand outdoor elements
• TOP – 5mm Melamine top offers consistent bounce and easy to move around
• EASY STORAGE - Each ping pong table half folds for compact storage. The double locking mechanisms holds the table safely in the storage position, while rotating wheels easily allows transportation to your storage area.
• PLAYBACK MODE WITH ALL WEATHER NET SET - Play table tennis without a partner by unfolding one half in play mode and leaving the other half vertical. Includes a weatherproof net set
---
Customers who purchased Butterfly Easifold Outdoor Rollaway - Green - Melamine top also purchased: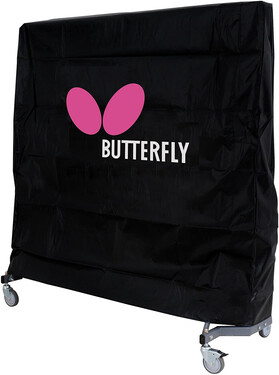 ---
---
Warranty Plus: Additional Warranty Support If Needed
Megaspin offers additional support to standard manufacturer policies, at no extra charge, to ensure that any warranty claim or product defect issue is resolved in the shortest time possible and to your maximum benefit. You can communicate with the manufacturer directly but if you are not happy and need our support team to step in, we will be there to help. See what others are saying.
Best Price Guarantee
We guarantee to have the lowest prices (shipping included) in the US. Please tell us if you see a lower price.
Reviews

Butterfly Tables

Table Tennis Tables
---
All items are in stock unless otherwise stated. All prices are in USD.
If you need help or advice please contact us. We are happy to help!