Mr. Unbeatable Lost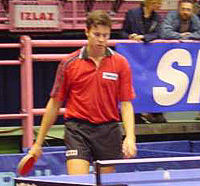 Samsonov wins Men's World Cup
Sunday, November 11, 2001
ITTF Press Release
Courmayeur, 11 November 2001: For more than one year the World Champion WANG Liqin (CHN) has not lost one single match in an individual event on the international scene. At the Men's World Cup it happened - and the defeat was a tough one.
In the World Cup final he was simply outclassed by Vladimir SAMSONOV (BLR) who beat him 4-0 and never left any doubt.
The first 3 games came easy to SAMSONOV. In the 4th WANG took the lead 9-5 but not even that disturbed big "Vladi". He took 6 points in a row to win the game and match.
"I cannot remember when I have ever played that well. Everything was fitting together for me in this tournament. Before the match I decided to be very aggressive, and I succeeded because I received his services very well," says the World Cup winner adding with a smile that with 44.000 US Dollars in prize money his new born son Victor (from September) can expect a nice present.
The World Champion WANG Liqin - as everybody else - was saluting SAMSONOV.
"He played extremely well, and I congratulate him. I was not happy with my game here in Courmayeur. I used to be a slow starter, and playing to 11 is disturbing me. I'll have to adjust to that," says the World Champion who - had to settle - with 22.000 US dollars for the 2nd place.
---
Related Articles:

Timo Boll writes his name in history books

Sensational Singapore in Moscow

Samsonov wins his 3rd World Cup

Michael Maze and Wu Jiaduo are European Champions

Obama Purchases Stiga 410Q Table Tennis Table

Vote for Biba!

Wang Hao is new World Champion

First WTTC without speed glue

Killerspin signs India no. 1

Table Tennis on TV (US Only)