New Year, Big News for Killerspin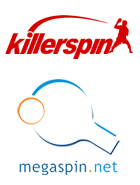 Wednesday, January 30, 2008
Killerspin Press Release
Chicago, IL-- Killerspin rounded off 2007 with one of the U.S.'s most important professional table tennis tournament -- its annual Spinvitational & Holiday Open Tournaments at Mayor's Daley's Sports Festival, December 27-30. The event showcased some of the world's best professional table tennis players, including: European Champion, 2x US Open Champion, and Olympian Aleksander Karakasevic; U.S. National Champion and 5x Olympian Ilija "Lupi" Lupulesku; as well as dynamic newcomer, Chinese Junior Champion Xu Ruifeng, who took the '07 Spinvitational Men's Title.
In the women's arena, top players Georgina Pota of Hungary and KangKang Huang of Singapore played tough, but couldn't match Killerspin's phenom and Rolling Stone 'Hot Lister' Biba Golic, who took the championship.
As part of this year's Spinvitational, Killerspin supported U.S. Paralympic Table Tennis Championships. The competition was one of the last important qualifying tournaments to take place prior to the 2008 Beijing Paralympic Games. Over 150 athletes with physical disabilities from 28 countries around the world participated in the competition.
Following the Spinvitational, Killerspin President Robert Blackwell, Jr. has been highlighted in Crain's Chicago Business Online "Entrepreneurs in Action". The unique 'mini-documentary' focuses on Mr. Blackwell's role in making a name for Killerspin in the world of table tennis that is primarily dominated by European and Asian brands.
Killerspin player Biba was also recently featured on CBS2 Chicago. The video highlights Biba's success in table tennis in the United States and also her role in the blockbuster Hollywood hit 'Balls of Fury'.
And last, but not least, Killerspin player Eric Owens was a top four finisher at the US Olympic Table Tennis trials in Philadelphia! Eric is an accomplished player who has been playing for Killerspin since he moved to Chicago in 2007. He will now advance to the North American Trials in early April in Vancouver, Canada, where the U.S. athletes will compete against Canada for the final Olympic selection slots for the 2008 Olympic Games in Beijing.
"The business of table tennis is growing, we've made a lot of Hollywood connections in the past year, and the Beijing Olympics are a monumental event for the sport," stated President Robert Blackwell, Jr. "It's been an exciting year for Killerspin so far, and we're looking forward to keeping the momentum going."
---
Check out our Killerspin store
---
Related Articles:

Timo Boll writes his name in history books

Sensational Singapore in Moscow

Samsonov wins his 3rd World Cup

Michael Maze and Wu Jiaduo are European Champions

Obama Purchases Stiga 410Q Table Tennis Table

Vote for Biba!

Wang Hao is new World Champion

First WTTC without speed glue

Killerspin signs India no. 1

Table Tennis on TV (US Only)