Ma Lin Wins Fourth World Cup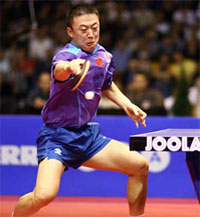 Monday, October 30, 2006
Ma Lin won the Liebherr Men's World Cup in Paris on Sunday 29th October 2006 and in so doing wrote his name indelibly in the history books of table tennis.
It is the fourth time he has won the title, no other player has won the coveted crown more than twice.
In the final he beat Chinese national team colleague Wang Hao 6-11, 8-11, 11-7, 11-7, 11-9, 4-11, 11-4
It was to prove a case of first and last when considering close examinations; those were the two occasions that he was severely tested and extended to seven games.
In his opening encounter he beat Patrick Chila in seven games, in the final against Wang Hao it was also a full distance duel.
Slow Start
"I made a slow start in the qualification group matches, playing Patrick Chila was really tough and the match against Werner Schlager in the quarters was also hard", said Ma Lin. "My coach, Liu Guoliang, gave me solutions and I improved my play, my goal is now to keep my shape to compete and win in Doha at the Asian games."
Goals
Table tennis at the Asian Games starts on 29th November 2006 and Ma Lin starts as one of the favourites in the competition, then the next goal is on home soil in China, the Beijing Olympic Games 2008.
More titles for Ma Lin? The form he is enjoying in 2006 suggests that the answer could well be in the affirmative.
Ma Lin's Year
He has won three Men's Singles titles on the ITTF Pro Tour in 2006 and now he's won the Liebherr Men's World Cup.
The year 2006 is the year of Ma Lin.
Photo: Ma Lin, the winner of the Liebherr Men's World Cup and champion for the fourth time
Source: ITTF
---
Read what others have to say:
Ma Lin Wins Fourth World Cup
by Dat Nguyen
Ma Lin Wins Fourth World Cup
Posted by Dat Nguyen on 10/31/2006 11:19:00 AM
It's a wonder that Ma Lin hasn't won the World Champion Title. He deserves that title for many years but still hasn't made it.
Related Articles:

Timo Boll writes his name in history books

Sensational Singapore in Moscow

Samsonov wins his 3rd World Cup

Michael Maze and Wu Jiaduo are European Champions

Obama Purchases Stiga 410Q Table Tennis Table

Vote for Biba!

Wang Hao is new World Champion

First WTTC without speed glue

Killerspin signs India no. 1

Table Tennis on TV (US Only)