New man on top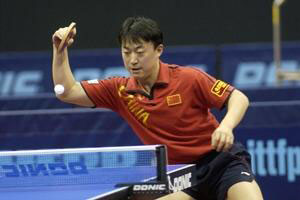 November World Rankings
Wednesday, November 06, 2002
ITTF Press Release
Lausanne, Switzerland, 5 November 2002. Good results at the German and the Dutch Open has taken MA Lin (CHN) to the top of the World Ranking – and compatriot WANG Liqin is "punished" for not playing the two Pro Tour events. After having been nr. 1 in the World since December 2000, WANG is now "only" nr. 2.
MA Lin won the German Open and reached the semi-finals at the Dutch Open and since both MA Lin and WANG Liqin lost in the quarter finals of the World Cup last week, the European results made the difference.
Young German Timo BOLL remains on the 3rd place in spite of his World Cup victory but he is closing the gap between himself and the two Chinese. It will be a close race for the nr. 1 spot at the end of 2002.
CHUAN Chih-Yuan (TPE) has been moving forward all year and his place in the final at the Dutch Open moved him from nr. 10 to nr. 7. Croatian Zoran PRIMORAC is back in top 10 after he reached the semi-finals at the World Cup. CHUAN lost to WANG Hao (CHN) in the final in Eindhoven and WANG Hao is now also very close to top 10. The young Chinese is nr. 12.
The big mover on the men's ranking is Chinese HOU Yingchao. After reaching the semi-finals at the Dutch Open he moved from nr. 57 to nr. 29.
On the Women's Ranking WANG Nan is still on top. Aya UMEMURA has had some good months, and she jumps 9 places to nr. 14.
Also FAN Ying (CHN) makes a big step forward. She goes from nr. 38 to nr. 20.
---
Related Articles:

Timo Boll writes his name in history books

Sensational Singapore in Moscow

Samsonov wins his 3rd World Cup

Michael Maze and Wu Jiaduo are European Champions

Obama Purchases Stiga 410Q Table Tennis Table

Vote for Biba!

Wang Hao is new World Champion

First WTTC without speed glue

Killerspin signs India no. 1

Table Tennis on TV (US Only)