Li-Ning Products Now Available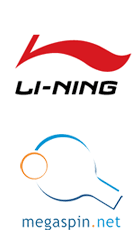 Li-Ning Clothing, Shoes and Accessories
First published on Saturday, March 22, 2008
Last updated on Tuesday, April 1, 2008
We are happy to announce that Li-Ning products are now available at our online store.
Li-Ning is one of the largest sports manufacturers in China and has been sponsoring the Chinese National Table Tennis Team since 2000 with professional apparel, shoes and accessories. The Chinese manufacturer is the sponsor of top players Wang Liqin and Zhang Yining. Li-Ning have recently became the official apparel sponsors of USA Table Tennis (USATT).
Li-Ning orders are supported by a generous International Return Policy. If you are not satisfied with the product, you can return it for a full refund, and your return shipping will also be paid for you, irrespective of which country you are ordering from.
---