Yasaka Swift Net & Post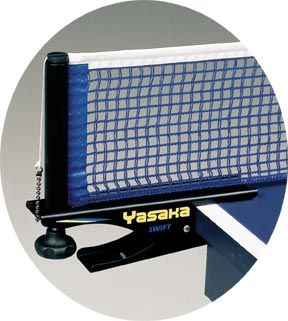 Sorry, this item is currently out of stock. You may ask us to send you a restocking notification when this item is back in stock.
Yasaka Clip on net & post, strong mounting bracket with height and tension adjustment.
Set up and removal is a snap, ideal where net sets have to be removed every day!
Clamp opening is 1-1/4" meaning that for table tops that are thicker than 1" this net bracket will not fit.
Comes with net height gage.
Best Price Guarantee
We guarantee to have the lowest prices (shipping included) in the US. Please tell us if you see a lower price.
Reviews of Yasaka Swift Net & Post (1)
External Review

for

Yasaka Swift Net & Post

on December 12, 2009
I use this on a cheaper STIGA table that I set up and take down constantly. The table is a bit uneven-the clamp on this net is strong enough to true the table up completely. I have the top of the line Butterfly on one table and the STIGA Clipper on another-this is as good. For schools or areas where the table needs to be set up and taken down often-this is a winner. The depth of the grip is not very large though