Yasaka Luna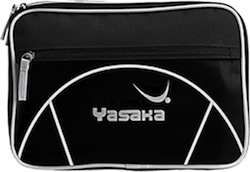 Sorry, this item is currently out of stock. You may ask us to send you a restocking notification when this item is back in stock.
Racket Case for two rackets, with two separate compartments in midnight black, with stylish rubberized print and silver piping. Features an additional zipped outer pocket.

Best Price Guarantee
We guarantee to have the lowest prices (shipping included) in the US. Please tell us if you see a lower price.
Reviews of Yasaka Luna (5)
The interior is not as soft as expected, but it's rather durable and can protect your paddle even from a 25ft drop (accidentally dropped it from the balcony on the second floor. The paddle was perfectly fine).
---
This case has very good padding on the outer sides. Zipper opens up across one of the long sides and one of the short sides. This allows one to place and retrieve the racket in the cover without touching the rubber.

The racket sleeves are a bit snug. I recommend putting a paper sheet or some other protector on the rubber before placing your racket in.

Yasaka Cases

Table Tennis Cases
---
All items are in stock unless otherwise stated. All prices are in USD.
If you need help or advice please contact us. We are happy to help!