Holiday Deadline For delivery by Dec 24 we recommend ordering this item by: Dec 15
Sanwei Echo
New Item
The ultimate control experience brought by the Trio series: Before designing the blade, Sanwei's designers needed to determine its main attribute, and no doubt perfect control is what the designers wanted to express in the Trio series.
Delicate Limba surface and unique thick Ayous core: The delicate Limba surface provides soft contact and control, and the thick core gives it the ability to actively finish the attack.
100% top quality raw materials: Sanwei guarantees that all raw materials for its production of the blade are organic, safe and high-quality.
• Perfect craftmanship and fine polishing: You can see the perfect texture on the blade.
• Superior Quality: All of Sanwei's products are thoroughly tested by professional athletes before shipped out to you. Sanwei simulated various extreme situations in the process of storage conditions and competition in the test.
After the success of the previous Fextra series of SANWEI's best all-wood blades, they introduced the Trio series. Echo as an all wood table tennis blade, offers perfect control. The superior limba surface gives the paddle a refined ball-hitting touch and unmatched directional control, making it easy to handle balls in the short and middle court.
The structure of the best 5 ply all wood blade is Limba surface — Ayous — Ayous
Designed for ultimate control and to deliver a finishing blow, this blade has experienced numerous tests by professional athletes to achieve the Sanwei Trio series — Echo.
Sanwei aimed to create a chic Limba surface that offers impeccable control, while the 5 Ply all wood structure enhances the transfer of power. The 3.5mm-3.8mm Ayous wood core of the sweet spot lends it the capacity to deliver a powerful shot. The all wood table tennis blade provides perfect power feedback and reduces energy loss during transmission when delivering a punishing strike using your forehand or backhand. Overall, this is a control-oriented sweet spot that's ideal for pushing and spin techniques. If you're an advanced player with a control style, the Echo is an optimal choice.
Speed: All
Ply: 5 Ply All wood table tennis blade
Thickness: 5.9mm+/-0.2 mm
Reaction: 110
Control: 130
Vibration: 130
Impact: Mid
Weight: 80g
---
Customers who purchased Sanwei Echo also purchased: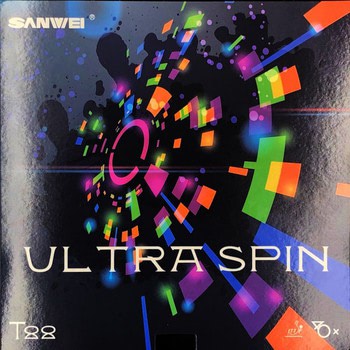 Blade FAQ and Guide - what you need to know when buying a blade.
Compare Blades - blade rating comparison chart.
Blade Weight Variations - Actual blade weight may vary by up to 8g.
Best Price Guarantee
We guarantee to have the lowest prices (shipping included) in the US. Please tell us if you see a lower price.
Reviews

Sanwei Blades

Table Tennis Blades
---
All items are in stock unless otherwise stated. All prices are in USD.
If you need help or advice please contact us. We are happy to help!