KETTLER Indoor 10 w/4-Player Racket Set
Sorry, this item is currently out of stock. You may ask us to send you a restocking notification when this item is back.
FREE SHIPPING to contiguous US locations.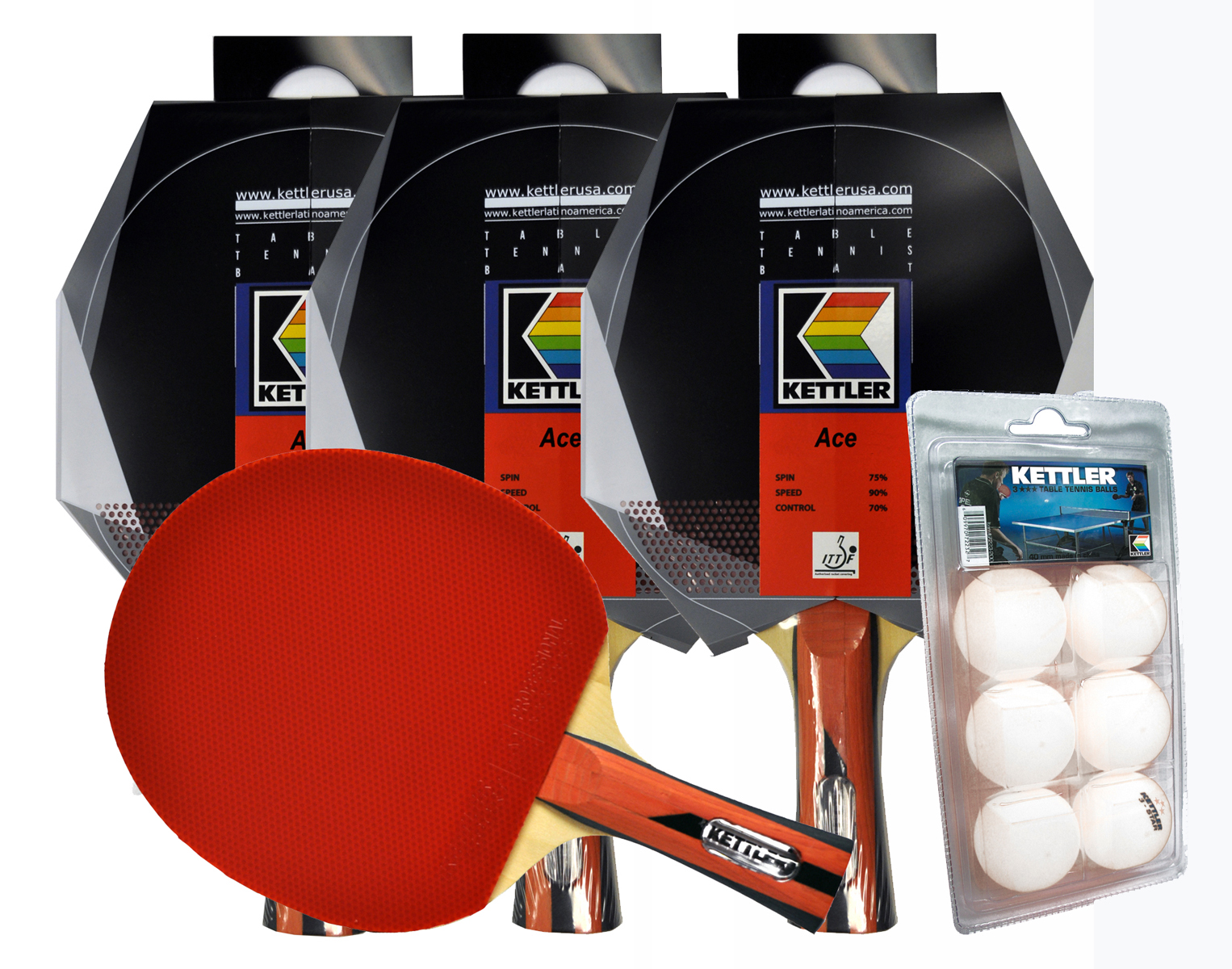 Includes (4) Ace rackets, (1) 6 pack of KETTLER 3 Star white Tournament size balls
• 7/8" wood top with medium density rating. All outer edges are protected and supported by a 2.5" wide tubular steel apron. Removable - soft-touch edge protectors protect the top during transportation and the player during the game
• Easy to use, single hand locking mechanism
• Folds to 25" wide x 66" high x 72" long for compact storage and transport
• True play-back feature for warm-up or solo play has no wide gap for ball to drop in
• Ball box on each table half for collecting balls that can be easily filled into an open flap and singly removed from the dispenser
• Elastic band storage under each net post stores bats, bags, etc.
• 2" wide square steel legs equipped with levelers for easy adjustment
• 5.5" dual swiveling wheel with rubber tread; two of which have an integrated locking system
Item No: 7138-900PROMO
Description: INDOOR 10 W/ 4-PLAYER SET
Country of Origin: Germany
Setup Length/Width/Height: 108 x 60 x 30 inches
Setup Weight: 231 lbs
Package Length/Width/Height: 63 x 58 x 6 inches
Package Weight: 248 lbs
Residential Warranty: 5 YEAR
Assembly Required: Yes
Additional Information
Tables to order in October 2017
What to consider when ordering a table
Truck delivery info, extra services etc.
Best Price Guarantee We guarantee to have the lowest prices (shipping included) in the US. Please tell us if you find a lower price.
Reviews