KETTLER Champ 5.0 Outdoor w/2-Player Racket Set and Table Cover
$1,049
$1,099.00
Save $50.00 (5%)
Sorry, this item is currently out of stock. You may ask us to send you a restocking notification when this item is back in stock.
FREE SHIPPING to contiguous US locations.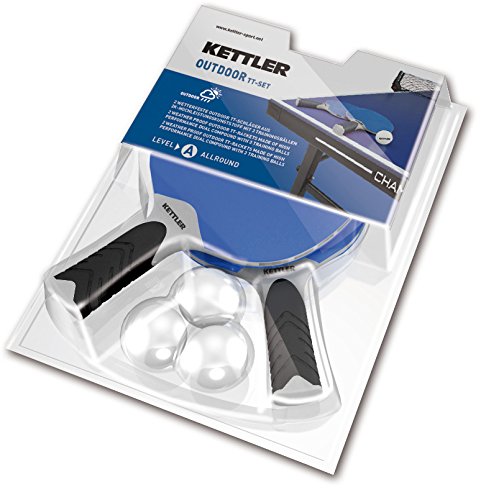 Included: Kettler Halo 5.0 Outdoor Racket Set ($60 value) →
• Absolutely waterproof and exceptionally durable
• Unmatched true playing characteristics
• Air channel high performance core
• Infused smooth rubber surface and a concave rubberized Ergo-Grip
• Includes two HALO 5.0 weatherproof racquets and three balls
Included: Kettler Heavy-Duty Outdoor Table Cover ($99 value)
• Heavy Duty UV Resistant PVC cover with specially engineered weatherproof backing to provide a barrier against rain, snow, dirt, sun, mold - and mildew
• Tough reinforced corners add strength and durability to protect your investment and increase cover life
• 63" x 3" built-in top Air Vents allow heat and moisture to escape as well as reduce uplifting of the cover from wind
• Velcro side opening for simple and convenient covering/uncovering
• Unique design fits all KETTLER Table Tennis Tables
• Measures 63"(long) x 33.5"(wide) x 62"(tall)
• Cover fits only in the folded position
About Kettler Champ 5.0 Outdoor
• Absolutely weatherproof sealed aluminum composite tournament top with proprietary ALU-TEC™ Climate-Control™ underside that controls expansion and contraction due to weather changes
• All four edges of each top half internally supported by square aluminum tubing
• Certified true tournament bounce for unmatched quality and performance
• All outer edges are protected & supported by a 2.25" high impact resin apron. Apron design cradles table top to resist warping
• International tournament size of 9' x 5'
• Patented Safety-Fold® with Dual Lock Safety™ to prevent unintended opening or closing of table
• True play-back feature for warm-up or solo play has no wide gap for ball to drop in
• Tournament lines are smooth and even with playing surface. Unique water based paint and topcoat are UV, scratch and fade resistant
• 2" square steel legs with synthetic powder coating and galvanized treatment to guard against corrosion and scratches. Legs equipped with levelers for easy adjustment
• 6" swiveling casters;two of which have an integrated locking system
• Net and durable resin net-posts remain in the play position even when folded for storage. Net can be adjusted for height and tension
• Space saver technology for compact storage and low center of gravity for easy transport
• Folds for compact storage to 25" wide x 64.75" high x 72" long
• Tubing manufactured according to ISO 9002 standards
• Integrated racquet holder with rain cover and ball holder. Racquets and balls sold separately
Item No: 7178-600
Description: CHAMP 5.0 TTT, OUTDOOR
Country of Origin: Germany
Package Length/Width/Height: 63 x 57 x 6 inches
Package Weight: 176 lbs
Residential Warranty: 5 YEAR
Assembly Required: Yes
Kettler Champ 5.0 Outdoor - Pros and Cons
Pros:
• Fantastic value and performance from a long-time leader in outdoor tables.
• Included accessories (racket set and table cover) give you everything needed to get started.
• Sturdy construction and secure folding mechanism.
• Fold-up playback mode for solo practice.
• Built-in ball and racket holders for convenient storage.
• Great Kettler 5-year warranty.
Cons:
• Fixed net system is convenient but limits replacement options.
• Only available in blue. For a comparable table that comes in blue or gray, take a look at the Cornilleau 250S Crossover.
• This table requires some assembly. Check out the Butterfly Garden Rollaway 7000 for an outdoor table that arrives nearly fully-assembled and has a detachable net.
No matter whether you consider yourself a ping pong or table tennis player, KETTLER has the table for you. If you're a recreational player or competitive player, we carry outdoor KETTLER tables that will suit your needs.
In the 1960's KETTLER engineers discovered how well aluminum tables could play. All KETTLER outdoor tables are created with ALU-TEC technology in Germany that encapsulates a resin treated board in aluminum. The technology is tested with respect to the bounce of the ball and against various climate conditions.
---
See what's on sale in July 2020.
What to look for, what to avoid, and more.
Truck delivery info, extra services etc.
Warranty Plus: Additional Warranty Support If Needed
Megaspin offers an additional layer of support to standard manufacturer policies, at no extra charge, to ensure that any warranty claim or product defect issue is resolved with the manufacturer in the shortest time possible and to your maximum benefit. Our responsive and enthusiastic support team will be there to help you when you need us. See what others are saying.
Best Price Guarantee
We guarantee to have the lowest prices (shipping included) in the US. Please tell us if you see a lower price.
Reviews