JOOLA Blade Sealing Varnish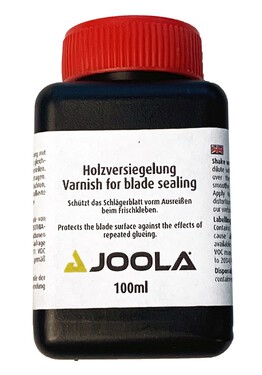 $9
.49
$11.95
Save $2.46 (21%)
* Protects the blade surface against the effects of repeated glueing.
* 100 ml
This specially developed blade sealing varnish is ideal protection against both the lifting/stripping of the upper veneers and absorption of glue and solvents. It is particularly suited for players who use speed glue before every training session or players who regularly change rubbers as this water based varnish offers the best protection for the blade surface.
Working steps:
1. Clean the blade surface of any remnants of glue (best by using a thinner applied thinly using a cloth and then wipe off the surface).
2. Rub the blade surface with sand paper (at least with a graining of 120 or finer), then carefully remove dust.
3. Apply plenty of the blade sealing varnish evenly over the blade surface.
4. Let dry for approx. 4 hours.
5. For safe adhesion of the rubber slightly sand the blade's rim with abrasive paper.
6. For safe and long-lasting protection the whole process should be repeated after complete drying (24 hours).
If the varnish has dried up in the bottle after a longer period of time, dilute with approx. 10% water.
The varnish is almost free of harmful substances - however please follow precautionary measures:
* Use only for intended purpose!
* Keep away from children!
* Use in a well ventilated area during and after use!
* In case of contact with eyes or skin carefully rinse off with water!
* Do not permit escape into water courses or ground!
---
Customers who purchased JOOLA Blade Sealing Varnish also purchased:
Additional Information
Best Price Guarantee We guarantee to have the lowest prices (shipping included) in the US. Please tell us if you to lower price.
Reviews of JOOLA Blade Sealing Varnish (6)
Review by

fma1377

(Verified Customer) for

JOOLA Blade Sealing Varnish

on November 17, 2017
Great sealing varnish other than the brush head is a bit small for sealing the blade quickly.
---
Review by

paisamaster

(Verified Customer) for

JOOLA Blade Sealing Varnish

on October 18, 2017
Review by

iceman3825

(Verified Customer) for

JOOLA Blade Sealing Varnish

on March 13, 2017
I bought this after i bought a couple of blades, i wish i sealed each of them before. It gives me peace of mind that i could peel off rubber from any of my blades without damaging the rubber or blade. A must have
---
Review by

icontek

(Verified Customer) for

JOOLA Blade Sealing Varnish

on April 12, 2016
Great product for rubber cement gluing; used it for years and it works as advertised. Some water based glues will still pull splinters.
---
Review by

mattyd1977

(Verified Customer) for

JOOLA Blade Sealing Varnish

on December 10, 2015