→
Gewo Rackets
→ GEWO Aruna Hinoki Carbon w/Nexxus 50 XT and 48 EL
GEWO Aruna Hinoki Carbon w/Nexxus 50 XT and 48 EL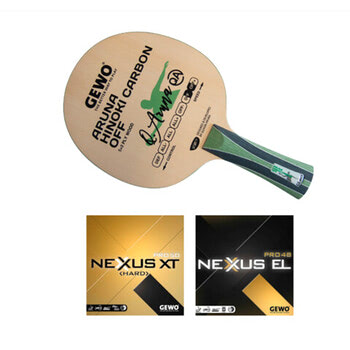 Free US Shipping
Combine the GEWO Aruna Hinoki Carbon blade with Nexxus XT Pro 50 Hard Max Black on the forehand and Nexxus EL Pro 48 Max Red on the backhand. The Aruna Hinoki Carbon possesses speed, and the famous softwood feeling of the Japanese hinoki outer plies offer. This blade is perfectly balanced and is suited for modern-day table tennis play. This is the perfect forehand drive racket with backhand spin and speed. Suitable for professional, tournament or league player who favors forehand drive and backhand topspin play.
FAQ: Is this racket assembled for me?
Yes, you can play with it right out of the box! We assemble this racket using VOC-free glue. We cut the rubber sheets using professional tools and we add free side tape that matches the blade. We will package your racket with padded material to avoid delivery damage.
FAQ: Can I replace this racket's rubber sheets?
Yes, we assemble with VOC-free table tennis glue so you will be able to replace the rubber sheets.
Racket Assembly FAQ - Learn about free racket assembly, pre-assembled rackets and more.
Best Price Guarantee
We guarantee to have the lowest prices (shipping included) in the US. Please tell us if you see a lower price.
Reviews

Gewo Rackets

Table Tennis Rackets
---
All items are in stock unless otherwise stated. All prices are in USD.
If you need help or advice please contact us. We are happy to help!