Korean Open: Titles for Nineteen Year Old Chinese Stars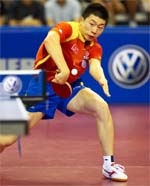 Monday, June 02, 2008
ITTF Press Release
Chinaís Ma Long and Guo Yue, both nineteen years old, won the Menís and Womenís Singles titles respectively at the Volkswagen Open Korea in Daejeon on Sunday 1st June 2008.
At the final hurdle Ma Long overcame Chinese national team colleague Ma Lin, who at the penultimate stage had ended the progress of another nineteen year old Germanyís Dimitrij Ovtcharov. One day earlier Dimitrij Ovtcharov had beaten third seed, Wang Liqin in round three and fifth seed, colleague Timo Boll, in the quarters.
Meanwhile, Guo Yue accounted for compatriot Guo Yan to capture gold, the former having beaten Wang Nan in the semis, the latter Fan Ying; all four players being from China.
Also there was also success for Guo Yue in the Womenís Doubles event; she partnered seventeen year old Liu Shiwen to victory over Chinese national team compatriots Li Xiaoxia and Wang Nan.
However, for Ma Long there was no second title; in the final of the Menís Doubles event, Ma Long and Ma Lin lost to Wang Hao and Wang Liqin.
Menís Singles
Semi-Finals:
Ma Long (CHN) bt Wang Hao (CHN) 9-11, 11-9, 13-11, 11-9, 11-7
Ma Lin (CHN) bt Dimitrij Ovtcharov (GER) 11-7, 11-8, 11-2, 11-3
Final:
Ma Long (CHN) bt Ma Lin (CHN) 11-8, 4-11, 11-3, 15-13, 3-11, 11-5
Womenís Singles
Semi-Finals:
Guo Yue (CHN) bt Wang Nan (CHN) 11-7, 11-9, 11-8, 11-6
Guo Yan (CHN) bt Fan Ying (CHN) 11-4, 10-12, 11-9, 8-11, 11-4, 8-11, 11-5
Final:
Guo Yue (CHN) bt Guo Yan (CHN) 12-14, 11-8, 8-11, 7-11, 12-10, 11-9, 11-5
Menís Doubles
Final:
Wang Hao/Wang Liqin (CHN) bt Ma Long/Ma Lin (CHN) 11-8, 11-1, 6-11, 9-11, 9-11, 11-5, 11-7
Womenís Doubles
Final:
Guo Yue/Liu Shiwen (CHN) bt Li Xiaoxia/Wang Nan (CHN) 8-11, 11-5, 7-11, 11-5, 11-7, 15-13

Photo: Ma Long (Courtesy of ITTF)