Samsonov wins Slovenian Open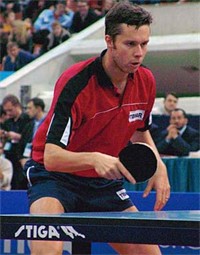 Sunday, January 20, 2008
Vladimir Samsonov of Belarus, the number one seed, won the Menís Singles title at the Slovenian Open in Velenje on Saturday 19th January 2008 to collect his sixteenth such career crown on the ITTF Pro Tour; meanwhile, Li Jiao of the Netherlands, seeded two, secured gold in the Womenís Singles competition to open her account.
At the semi-final stage Vladimir Samsonov defeated Germanyís Dimitrij Ovtcharov before overcoming Hong Kongís Li Ching in the final; it was the first career appearance for Li Ching in an ITTF Pro Tour Menís Singles final and it was the fifth time he had met Vladimir Samsonov in a World Ranking event. It was also the fifth time he had lost.
Yet more silverware for Vladimir Samsonov whilst for Li Jiao, it was her first ever ITTF Pro Tour Womenís Singles final and she made the most of the opportunity by overcoming the surprise finalist, Veronika Pavlovich of Belarus in straight games to clinch gold. Seeded thirty, Veronika Pavlovich had reached the semi-final stage with a series of fine wins where faced a player who was very much to her liking, the number five seed, Polandís Li Qian.
Born in China, the adopted Pole is a defensive player and with the twin sister of Veronika Pavlovich, Viktoria and team mate Tatyana Kostromina both being outstanding defensive players, Veronika Pavlovich excels against those who exploit the backspin art. However, in the final, the attacking style of the left handed penholder Li Jiao, was not to her liking and a straight games verdict was the order of matters.
Gold in the Womenís Singles event but with Spainís Zhu Fang in the Womenís Doubles, Li Jiao had to settle for silver; in a final that saw two pairs in action who had progressed successfully through the qualification rounds, victory eventually went to the pairing of Irina Kotikhina and Li Jie, the former from Russia, the latter from the Netherlands.
No seeded pairs in the Womenís Doubles final but that was not the situation in the Menís Doubles final, where the number two seeds overcame the number five seeds; Chinese Taipeiís Chang Yen-Shu and Chiang Peng-Lung beat the Russians, Dimitrij Mazunov and Alexei Smitnov to clinch the top prize.
It was the seventh career ITTF Pro Tour Menís Doubles title for the Chinese Taipei duo as pairing but their first since winning in the United States in 2001, in Velenje the drought came to an end.
Menís Singles
SF: Vladimir Samsonov (BLR) bt Dimitrij Ovtcharov (GER) 11-6, 12-10, 11-9, 11-3
SF: Li Ching (HKG) bt Jo"o Monteiro (POR) 11-7, 11-9, 11-9, 11-4
F: Vladimir Samsonov (BLR) bt Li Ching (HKG) 10-12, 11-4, 11-7, 4-11, 11-8, 11-9
Womenís Singles
SF: Veronika Pavlovich (BLR) bt Li Qian (POL) 13-11, 11-6, 5-11, 11-9, 11-5
SF: Li Jiao (NED) bt Irina Kotikhina (BLR) 11-3, 6-11, 8-11, 4-11, 11-7, 11-1, 11-5
F: Li Jiao (POL) bt Veronika Pavlovich (BLR) 11-6, 11-7, 11-3, 11-8
Menís Doubles
F: Chang Yen-Shu/Chiang Peng-Lung (TPE) bt Dimitrj Mazunov/Alexei Smirnov 8-11, 11-9, 11-6, 11-8, 11-7
Womenís Doubles
Irina Kotikhina/Li Jie (RUS/NED) bt Li Jiao/Zhu Fang (NED/ESP) 6-11, 11-5, 11-7, 11-8, 12-10
Source: ITTF