German Open: Ma Lin and Guo Yue Retain Top Spots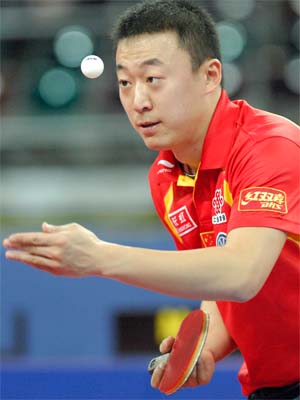 Tuesday, November 13, 2007
Victory for Ma Long at the Liebherr German Open sees him move into third place on the ITTF Pro Tour Menís Singles Standings behind his compatriots Ma Lin and Wang Hao, with fourth and fifth places also being occupied by players from the Peopleís Republic of China.
Chen Qi is in fourth spot with Wang Liqin fifth.
Meanwhile, on the Womenís Singles Standings, Guo Yue retains her number one position despite her third round exit at the hands of sixteen year bold compatriot, Liu Shiwen in Bremen.
Like the Menís Standings, the Womenís Standings are dominated by Chinese players. Wang Nan is in second places being followed by Zhang Yining, Li Xiaoxia and Guo Yan.
Top Sixteen
In the singles the top sixteen players, with the proviso that they must have competed in a minimum of six tournaments on the ITTF Pro Tour in 2007 or on three continents, qualify for the prestigious end of year Volkswagen Pro Tour Grand Finals to be staged in Beijing from 13th to 16th December 2007.
The one other criteria is the there must be one player from the host nation present; that criteria has been met five fold in both Menís and Womenís Singles Standings.
One Remains
One tournament remains on the 2007 calendar, the Swedish Open which commences on Wednesday 14th November 2007 and will finally determine the names of those who will receive invitations for Beijing.
It is the players who occupy the last three qualifying positions in the Standings who will be looking over their shoulders in Sweden.
Anxious Glances
In the Menís Singles Standings Hong Kongís Tang Peng is in fourteenth place with Germanyís Dimitrij Ovtcharov fifteenth and Chinese Taipeiís Chuan Chih-Yuan sixteenth, their destiny is in their hands.
All three are competing in Sweden.
Not Possible
The man in seventeenth place, Croatiaís Zoran Primorac is not on duty in Sweden and has not met the qualification criteria and neither is Spainís enigmatic He Zhi Wen.
He has met the criteria but is not playing in Sweden and thus a place for the forty-five year old is not now a possibility.
Make a Difference
However, there are two players who if they excel in Stockholm could make a difference; Singaporeís Yang Zi is in eighteenth spot whilst Japanís Jun Mizutani is twentieth. Both are talented players, both are capable of beating high level players; should they excel in Sweden and any of the players in the current lower qualification positions falter, then they could force themselves into the reckoning.
In Germany, Dimitrij Ovtcharov excelled to reach the third round of the Menís Singles event but both Tanf Peng and Chian Chih-Yuan departed in round one.
Nail-Biting
Meanwhile, in the Womenís Singles Standing the player who will be biting her nails is Germanyís Wu Jiaduo.
She has met the qualification criteria, she occupies sixteenth spot but she is not competing in Sweden. The two players immediately above her will be present, whilst Japanís Saki Kanazawa and Hong Kongís Zhang Rui, who are just below the line, will be on duty.
Also, with an outside chance is the Korean defender, Kim Kyung Ah, she is in twentieth place and will be in Stockholm.
The Swedish Open is decision time.

Photo: Ma Lin in top place on the ITTF Pro Tour Men's Singles Standings
ITTF Press Release