Hong Kong Prevents Chinese Clean Sweep in Russia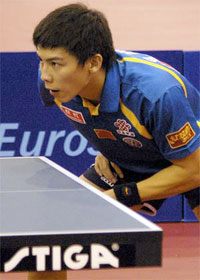 Tuesday, October 23, 2007
ITTF Press Release --
Hong Kongís Ko Lai Chak and Li Ching won the Menís Doubles title at the Eurosib Russian Open on Sunday 21st October 2007 and in so doing prevented a clean sweep of titles by China on the final dayís play in St Petersburg.
Seeded one, they beat the second seeds, Chinaís Chen Qi and Qiu Yike in a closely fought seven games final. It was the eleventh Menís Doubles title of their careers; the victory puts them in equal second place on the all time ITTF Pro list with Chinaís Kong Linghui and Liu Guoliang and two behind the leaders Wang Liqin and Yan Sen, also from China.
Kong Linghu, Liu Guoliang and Yan Sen have all retired from international play and thus the top spot is well within the reach of the duo from Hong Kong.
The Menís Doubles final was the only gold medal contest on the concluding dayís play that was not an all-Chinese affair.
In the Menís Singles third seed Chen Qi beat top seed, Germanyís Timo Boll in the semis and Li Ping in the final, the latter having ousted Li Ching in the semis to reach his first ever ITTF Pro Tour Menís Singles final.
It was a second career ITTF Pro Tour Menís Singles crown for Chen Qi, whilst for Chang Chenchen in the Womenís Singles event it was her first. She beat Rao Jingwen, the winner of four titles at the Universiade in 2007, in the final with Hong Kongís Lin Ling and Chinaís Peng Luyang being the respective runners up.
Disappointment for Peng Luyang in the Womenís Singles but success in the Womenís Doubles; partnering Li Nan the duo clinched the title, overcoming Chen Qing and Rao Jingwen in the final.
Menís Singles
Semi-Finals
Chen Qi (CHN) bt Timo Boll (GER) 11-8, 11-7, 7-11, 6-11, 11-7, 8-11, 11-6
Li Ping (CHN) bt Li Ching (HKG) 11-7, 11-5, 11-3, 11-3
Final
Chen Qi (CHN) bt Li Ping (CHN) 11-3, 7-11, 11-8, 11-4, 11-1
Womenís Singles
Semi-Finals
Chang Chenchen (CHN) bt Lin Ling (HKG) 12-10, 11-9, 11-8, 11-13, 11-7
Rao Jingwen (CHN) bt Peng Luyang (CHN) 11-6, 11-6, 9-11, 15-13, 13-11
Final
Chang Chenchen (CHN) bt Rao Jingwen (CHN) 11-6, 11-9, 11-4, 5-11, 11-9
Menís Doubles
Final
Ko Lai Chak/Li Ching (HKG) bt Chen Qi/Qiu Yike (CHN) 11-6, 11-8, 10-12, 8-11, 11-6, 9-11, 11-5
Womenís Singles
Final
Li Nan/Peng Luyang (CHN) bt Chen Qing/Rao Jingwen (CHN) 11-6, 11-5, 11-8, 11-8
Photo: 23 year old Chen Qi overcame Li Ping to clinch Men's Singles gold in St Petersburg (Courtesy of ITTF)