Samsonov wins Chinese Taipei Open in Style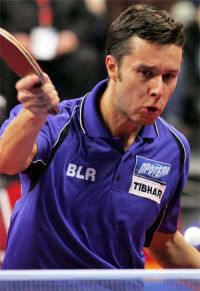 ITTF Press Release
A decade after winning the Menís Singles title at the ITTF Pro Tour Grand Finals in Hong Kong, Vladimir Samsonov clinched his sixteenth ITTF Pro Tour Menís Singles gold medal when he succeeded at the Chinese Taipei Open on Sunday 26th August 2007.
Seeded two, the man from Minsk in Belarus, was in outstanding form beating top seed, Germanyís Timo Boll in straight games to win his first ITTF Pro Tour title of 2007.
Vladimir Samsonov won 11-4, 11-8, 11-8, 11-3.
It was by any standards a most impressive performance.
Break
ďIíve had a break of two months but Iíve still been practisingĒ, said Vladimir Samsonov. ďI was in good shape today, especially in the semi-final.Ē
The comment was one of the understatements of the year. Vladimir Samsonov was in top class shape.
Peaked
ďI donít think Timo was one hundred per cent todayĒ, continued the newly crowned champion. ďI was at the top of my game and with the season about to begin and the Champions League about to start, I am very motivatedĒ
Honours Even
The meeting in the Menís Singles final at the Chinese Taipei Open was the twenty-fifth time that the pair had met in World Ranking events, prior to the golden duel honours were even; each player had twelve wins to their credit. Vladimir Samsonov is now one to the good.
Pertinent
Nothing to choose between the two players but perhaps more pertinent is their results in 2007. The meeting in Chinese Taipei was their sixth of the year.
In the first two meetings in February 2007 Vladimir Samsonov had succeeded. He had beaten Timo Boll at the quarter-final stage of the Menís Singles event at the Europe Top Twelve and he had prevailed when the pair met in the first semi-final of the European Champions League.
Wins for Timo Boll
However, the next three meetings all went the way of Timo Boll.
The German won when his club TTV GŲnnern met Royal Villette Charleroi in the second semi-final clash in the European Champions League plus he succeeded on two occasions in the Liebherr European Championships.
He beat Vladimir Samsonov in the quarter-final stage of the Menís Team event and in the final of the Menís Singles.
Advantage to Timo Boll before the match and in gold medal duels he also had the advantage. In Menís Singles finals Timo Boll and Vladimir Samsonov had previously met eight times with Timo Boll, the victor on five occasions.
The deficit has now been reduced to one as a result of Vladimir Samsonovís efforts in Chinese Taipei. He was outstanding from start to finish.
Photo: Vladimir Samsonov outstanding on Sunday (courtesy of ITTF)
Related Articles:

Spanish Open: Oh Sang Eun Beats Local Hero

Polish Open: Lee Sang Su Overcomes Alexander Shibaev

German Open: Zhang Jike Proves Unbeatable

UAE Open: Four Titles for Fourth Time for China

China Supreme in Qatar

English Open: China Totally Dominant

Slovenian Open: New Generation Strikes Gold in Velenje

Jun Mizutani Captures KAL Cup Pro Tour Grand Finals Menís Singles Crown

Polish Open: Winners Secure Passports to Grand Finals

Austrian Open: Sensational 24-year old Apolonia defeats Boll in final