Killerspin Signs Top Ranked Chen Qi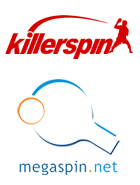 Friday, May 18, 2007
CHICAGO, IL, May 17, 2007 – Chicago-based Killerspin, table tennis equipment manufacturer and international event producer recently signed on another impressive table tennis athlete. Killerspin welcomes Chen Qi, currently ranked as the No. 7 top table tennis player in the world.
A native of China, Chen Qi began to receive training in Nantong Spare-time Sports School in 1990. He became a member of the provincial team at the age of 12, joined the No. 2 Chinese National Team in 1999 and then the No. 1 Chinese National Team in 2002.
He became a member of the National Team at age 15, of which he is currently still a member. Chen is the youngest male ever to receive an Olympic Gold Medal, winning this title at age 20 in the Men's Doubles category at the 2004 games in Athens. On the court he is recognized as a fierce and determined competitor with incredible speed and fast attacking topspin strokes. Off the court he is known as a true gentleman -- polite and courteous.
"Chen is an exciting addition to the Killerspin team," remarked Killerspin Founder and President Robert Blackwell, Jr. "His talent is inspiring, and he shows tremendous potential to be one the world's greats. You will definitely be hearing about Chen Qi even more in the near future."
Chen Qi and various other "Killerspin Krew" athletes will be playing in the upcoming World Championship Table Tennis Competition to take place May 21-27 in Zagreb, Croatia.
---
Killerspin is a megaspin.net shopping partner.
You can find Killerspin products at our Killerspin store.
---
More on Killerspin Sponsored Athletes
Killerspin sponsored athlete Aleksander Karakašević brought home the gold in the mixed doubles competition in the European Table Tennis Championship in Serbia this past March. Karakašević and partner Ruta Paskauskiene were favorites for this competition, and went on to successfully win the gold for the third consecutive year!
Another recent addition to the Killerspin Krew is Eric Owens. Eric has been on eight U.S. National Table Tennis teams and recently qualified for the 2007 U.S. National Team. In 2001 he was the U.S. Champion in both singles and doubles, and most recently won the Western Open in 2007. He will represent the United States in the World Table Tennis Championships in Croatia this May, as well as in the Pan American Games in Brazil this summer.
About Killerspin
Founded in 2001, Chicago-based Killerspin is the leading American table tennis retailer and top table tennis event producer in the world, with distributorship in the United Kingdom, Germany, Israel and South Korea. Killerspin's premium quality tables, rackets, blades, rubbers, apparel and accessories are used by some of the sport's best players, and the company sponsors an impressive team of top ranked players from around the globe. Killerspin products and players have been highlighted in Hollywood television productions including MTV's "The Real World", "The Simple Life", HGTV's "Don't Sweat It", as well as feature films "Balls of Fury" and "Ping Pong Playa".

---
Related Articles:

Timo Boll writes his name in history books

Sensational Singapore in Moscow

Samsonov wins his 3rd World Cup

Michael Maze and Wu Jiaduo are European Champions

Obama Purchases Stiga 410Q Table Tennis Table

Vote for Biba!

Wang Hao is new World Champion

First WTTC without speed glue

Killerspin signs India no. 1

Table Tennis on TV (US Only)