Major Titles for Japan at Serbian Open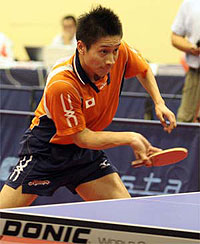 Penholder Kaii Yoshida wins power contest
Kaii Yoshida and Sayaka Hirano, both from Japan, won the Menís and Womenís Singles titles respectively at the Serbian Open in Belgrade on Sunday 22nd October 2006.
It was for both players their first ever titles on the ITTF Pro Tour.
In the Menís Singles final Kaii Yoshida, the number three seed, powered his way to victory over Austriaís Kostadin Lengerov, winning in four straight games. Throughout the contest he strained every sinew to play his favoured forehand topspin, his ability to serve and follow with a tirade of devastating attacks winning the day.
Kaii Yoshida won 11-9, 11-5, 11-8, 11-8.
A straight games success for Japan in the Menís Singles final but in the Womenís Singles final it was a different scenario. The top two seeded players faced each other with Sayaka Hirano justifying her number one place in the draw to beat the more experienced Wenling Tan Monfardini of Italy.
Fast exchanges were the order of the day, with the tactic of attacking Wenling Tan Monfardiniís forehand eventually paying dividends for the twenty-one year old Japanese lady.
Sayaka Hirano won 12-10, 11-7, 9-11, 11-8, 9-11, 6-11, 11-7.
Defeat for Wenling Tan Monfardini in the Womenís Singles but there was success; earlier in the afternoon she partnered colleague Nikoleta Stefanova to victory in the Womenís Doubles final. Seeded two the Italians recovered from a two games to nil deficit against the top seeded Japanese pairing of Ai Fujinuma and Sayaka Hirano to secure victory.
Nikoleta Stefanova & Wenling Tan Monfardini won 9-11, 9-11, 11-9, 11-9. 11-4, 11-3.
Titles for the visitors to Serbia but to the delight of the home crowd there was a title for a host nation player. Aleksandar Karakasevic in partnership with Romaniaís Andrei Filimon won the Menís Doubles title beating Polandís Wang Zeng Yi and DŠniel Gorak in the final.
Aleksandar Karakasevic & Andrei Filimon won 11-5, 9-11, 11-8, 11-5, 11-5.

Photo: Kaii Yoshida, the winner of the Men's Singles title at the Serbian Open in Belgrade
Source: ITTF
Related Articles:

Spanish Open: Oh Sang Eun Beats Local Hero

Polish Open: Lee Sang Su Overcomes Alexander Shibaev

German Open: Zhang Jike Proves Unbeatable

UAE Open: Four Titles for Fourth Time for China

China Supreme in Qatar

English Open: China Totally Dominant

Slovenian Open: New Generation Strikes Gold in Velenje

Jun Mizutani Captures KAL Cup Pro Tour Grand Finals Menís Singles Crown

Polish Open: Winners Secure Passports to Grand Finals

Austrian Open: Sensational 24-year old Apolonia defeats Boll in final