Samsonov Captures Crown at Chile Open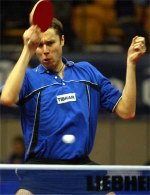 Tuesday, July 04, 2006
Vladimir Samsonov won his fourteenth career ITTF Pro Tour Men's Singles title when he prevailed at the Liebherr Chile Open on Sunday 2nd July 2006 but of all the many titles that have come the way of the man from Belarus, the crown gained in Santiago was one of the hardest fought successes.
He saved two match points in the decisive seventh game before emerging successful 9-11, 11-8, 5-11, 11-5, 11-9, 7-11, 12-10.
It was a titanic struggle, a match that was a fitting end to the tournament, a match that was a credit to both players; a match that highlighted the very best aspects of table tennis.
Crucial Game
In the decisive seventh game the players were level at 6-all, then Samsonov took a two point lead, he went ahead 8-6, surely a gap had opened and he would take advantage.
Gardos had other ideas, he was superb, he won the next four points and at 10-8 he had two match points. The Austrian had won four points in a row, now the tables turned, Samsonov saved both match points; then at 11-10 he had match point. There was an opportunity; he did not let the opportunity slip through his fingers. He won his fourth consecutive point and he was the victor.
Fantastic Match
"It was a fantastic match and I was lucky; at 10-all Robert had a high ball, he should have won the point, he missed", said Vladimir Samsonov. "Everything about the match was good; the standard of play was tremendously high."
The comments made by Samsonov pay credit to Gardos, he had contributed to a wonderful spectacle; the best match in the tournament had been saved to last.
Concentration
"At times in the match I lost concentration", added Samsonov. "However, I must pay credit to the way Robert played today, he was outstanding; he served well, he received service well; for me it was a really tough match."
Second Meeting
It was the second time that Vladimir Samsonov and Robert Gardos had faced each other in a World Ranking event; the previous meeting had been in the Brazil Open in 2004 when Samsonov had won in straight games in round two.
It was another tournament in which he had clinched victory from the jaws of defeat, he saved match point after match point against Romania's Adrian Crisan in round three before securing victory, a match that must still haunt Crisan.
Step Forward
Samsonov went on to take the title in Brazil in 2004 beating Werner Schlager in the final, in Santiago he beat another Austrian at the final hurdle, Robert Gardos and he won one of the most testing finals of his illustrious career.
At the Liebherr Chile Open in 2006 Vladimir Samsonov emerged as the champion; no doubt Robert Gardos feels the pain of defeat. He came so close, so very close but one factor is now clear. He knows now that he can compete at the very highest levels.
In Santiago Robert Gardos made a major step forward.
Image: Vladimir Samsonov, the winner of an epic Men's Singles final in Santiago
Source: ITTF