Nineteen year old wins Brazil Open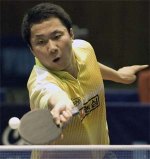 Monday, June 26, 2006
Nineteen year old Cho Eon Rae won the all Korean Menís Singles final at the Brazil Open in S"o Paulo on Sunday 25th June 2005.
The slight degree of extra experience proved a telling factor as he overcam his eighteen year old compatriot, Lee Jin Kwon, in five games.
Cho Eon Rae won 11-3, 11-9, 9-11, 11-2, 11-5.
ďI enjoy coming to South AmericaĒ, smiled Cho Eon Rae. ďIím really pleased to have won; I feel a great sense of pride.Ē There is no wonder the nineteen year old Korean enjoys visiting South America. In 2003 he was the runner up in the Boysí Singles event at the World Junior Championships in Chile and in 2005 he reached the semi-final of the Under 21 Menís Singles event in Brazil whilst one week later in Santiago, he captured the title.
Mentally Strong
ďCho Eon Rae was strong mentally todayĒ said Korean coach Jae Hwa Lee. ďAlso he is a more powerful player than Lee Jin Kwon and that made a difference.Ē Although he faced a fellow Korean, Cho Eon Rae was in no mood for charity; the home of his adversary was irrelevant. He was in a determined mood to capture a title that could prove a watershed in his career.
Lee Jin Kwon tends to concentrate on trying to play his fast forehand as often as possible, his backhand being less potent. Cho Eon Rae was prepared to move around his backhand early in the rallies and attack the Lee Jin Kwon backhand, thus minimising the effectiveness of his adversary.
Most Successful
It was for Cho Eon Rae his most successful ITTF Pro Tour tournament ever, his previous best, the quarter-finals of the Menís Singles event at the Volkswagen Open Korea during the first week of June 2006.
Meanwhile, for Lee Jin Kwon, it was the first time he had ventured beyond the round of the last sixteen in a Menís Singles event on the ITTF Pro Tour. He had reached that round on three previous occasions: the Volkswagen Open Korea and the Panasonic China Open in 2005 whilst in 2006 he had reached the same stage at the Volkswagen Open Korea.
Third Medal
Defeat in the final for Lee Jin Kwon but a third podium finish on the ITTF Pro Tour within the space of three weeks. He won the Menís Doubles title with Ryu Seung Min at the TMS Chinese Taipei Open and in Kunshan, he was crowned Under 21 Menís Singles champion the following week at the Volkswagen Open China.
Impressive
A very successful time for Lee Jin Kwon but in S"o Paulo the honours went to Cho Eon Rae, he was the Menís Singles champion and he had won in impressive style. He lost only two games en route to the title, those being in the opening round against Rodolphe Despres of France when he won in five and in the final against Lee Jin Kwon.
It was a most impressive performance.
Source: ITTF